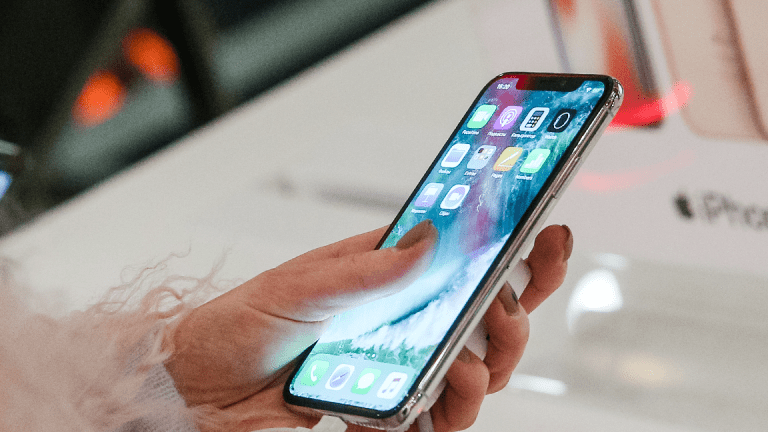 Apple's Bet on Its Own MicroLED Displays Could Pay Off -- Eventually
On paper, MicroLEDs sport major advantages relative to both LCD and OLED displays. But it could be a while before such smartphone panels are mass-produced.
Much like the 3D depth-sensing investments it made to enable the TrueDepth front-camera system that debuted on the iPhone X, Apple's (AAPL) - Get Apple Inc. Report efforts to make smartphone and smartwatch MicroLED displays a reality could eventually give it a valuable hardware edge against rivals.
But it could still be a few years before this happens. And as a failed effort earlier this decade with sapphire cover glass makes clear, not every bet the company makes on a promising new hardware technology pans out.
Bloomberg reported on Sunday that Action Alerts Plus holding Apple has built a 62,000-square foot facility to produce screens relying on MicroLED technology for testing purposes. It adds that engineers "managed to manufacture fully functional MicroLED screens for future Apple Watches" in late 2017, and have recently "grown confident in their ability to eventually replace screens from Samsung SSNLF and other suppliers."
Sources do caution that iPhones sporting MicroLEDs are unlikely to arrive "for at least three to five years." Bloomberg also notes that Apple's MicroLED Watch prototypes require the screen portion of the hardware to be connected to an external computer board. Should it move forward with commercializing its MicroLED designs, Apple is reportedly "likely" to outsource production to third parties.
Like OLED displays such as the one found on the iPhone X, and unlike the LCD displays going into other Apple devices, MicroLEDs require no backlight. They also carry advantages in brightness, power draw and color accuracy, and unlike OLEDs aren't at risk of suffering from screen burn-in. The technology's backers also insist MicroLEDs will be cheaper than OLEDs, once mass-production is achieved.
Apple's interest in MicroLEDs has been well-known for years: The company bought MicroLED startup LuxVue in 2014, and has filed for a number of patents related to the technology. But Bloomberg's report, together with fresh Korean patent filings, suggests the company has gotten more serious lately about commercializing the technology.
Shares of OLED materials and patent-licensing firm Universal Display (OLED) - Get Universal Display Corporation Report fell about 13% on Monday on the news; though still up about 20% over the last 12 months, they're now down nearly 50% from their January peak of $209. Meanwhile, Apple display suppliers Sharp, Japan Display and LG Display (LPL) - Get LG Display Co. Ltd. Report each posted losses of less than 3%.
Apple isn't by any means the only company to be investing in MicroLED R&D. At CES, Samsung (the world's biggest OLED panel supplier) showed off The Wall, a "modular" 146-inch MicroLED TV set whose size can be adjusted; it's safe to assume the set won't be cheap when it launches. LG reportedly plans to show off a MicroLED TV set in September (the IFA trade show would be a logical venue).
Still, when it comes to developing smaller MicroLED panels, Apple might be ahead of the pack, given the breadth of the company's patent filings and what has been reported about Apple and third-party MicroLED efforts to date. If the company succeeds -- with the help of display panel partners -- in mass-producing MicroLED smartphone panels based on home-grown technology, it would both gain a fresh iPhone selling point and lower its dependence on archrival/iPhone X panel supplier Samsung, whose OLEDs remain best-in-class.
But it looks as if Apple still has a ways to go before this happens. It's one thing to make a few Apple Watch screen prototypes in a lab; it's another to cost-effectively make hundreds of millions of flawless smartphone-sized panels. And as Bloomberg notes, manufacturing MicroLED screens, whose pixels each contain red, green and blue sub-pixels that need to be fine-tuned, is pretty complicated.
OLED supporters know as well as anyone how long it can take for a promising display technology that has made its way onto low-volume experimental products to go mainstream. Though predictions of OLED's eventual triumph over LCDs go back more than two decades -- Universal Display went public in 1996 -- it has only been over the last several years that OLED panels became a common sight on phones, in spite of advantages in contrast, viewing angles, thinness and saturation.
And even now, thanks to the relatively high cost of OLED panels, LCDs remain widely used on low-end and mid-range phones. They also of course remain the most popular display technology for TV sets and PC displays.
It's also worth remembering that some Apple R&D and manufacturing initiatives don't go as planned. In the fall of 2013, the company struck a deal with then-public GT Advanced Technologies under which GT -- with the help of prepayments from Apple -- would manufacture huge quantities of sapphire cover glass for future iPhones. Investors in Corning (GLW) - Get Corning Inc Report , whose Gorilla Glass had long been used to protect iPhones and iPads, didn't take the news well.
Less than a year later, GT Advanced filed for bankruptcy, and not long after that the company began liquidating its sapphire manufacturing equipment to help pay its debts to Apple. Though some Apple Watch models use sapphire glass, Apple gave up on putting it on top of iPhone displays. To this day, iPhones and iPads continue relying on Gorilla Glass to protect their screens.
What went wrong? It turned out that sapphire smartphone cover glass was much better in theory than in practice. Though it was more scratch-resistant than cover glass, it was also much more brittle, which made it far more susceptible to shattering when a phone is dropped (for obvious reasons, this is less of a concern for watches).
In addition, sapphire is much costlier than Gorilla Glass, and GT struggled to ramp production and improve manufacturing yields to the levels needed to satisfy Apple's huge needs. It didn't take long for Apple to decide it was better off pulling the plug and sticking with Corning.
None of this is to say that Apple's MicroLED investments will meet the same fate as its sapphire investments. Or even that MicroLEDs will take as long as OLEDs to see mass-market adoption. But it is worth remembering that the road to commercializing promising hardware technologies on a large scale tends to feature at least one or two unexpected speed bumps.