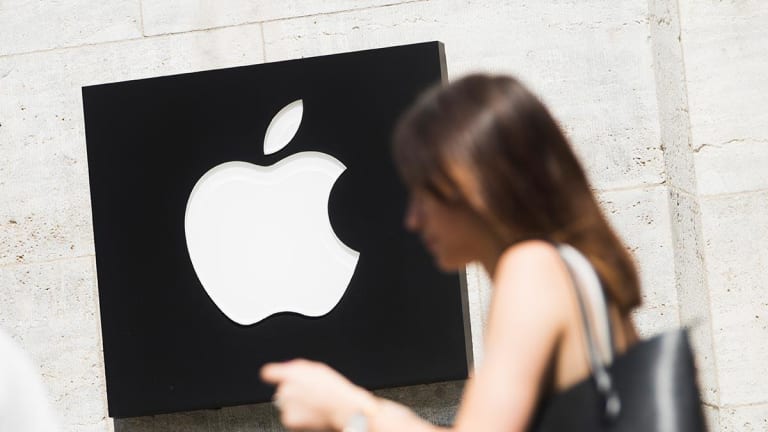 Apple Won't Talk About Its Autonomous Driving Plans, but They're Happening
Apple could be making solid progress in its autonomous driving efforts, but we likely won't find out anytime soon.
Think Apple Inc.  (AAPL) - Get Apple Inc. Report will talk about its autonomous driving efforts during the company's third-quarter conference call Tuesday afternoon?
Don't count on it. But that doesn't mean the Street isn't talking about it, as the ever-secret tech giant is clearly working on it behind closed doors. 
At first glance, the auto market may not make the most sense for a company like Apple to get involved in. However, further inspection suggests that's not the case. The auto market is ripe for innovation, as technology intensely disrupts the industry.
Talk to anyone in the auto market -- be it auto supply consultants or General Motors (GM) - Get General Motors Company Report  CEO Mary Barra -- and they'll likely tell you the industry will change more in the next few years than it has in the last few decades.
That's why we see companies like Alphabet's (GOOGL) - Get Alphabet Inc. Class A Report (GOOG) - Get Alphabet Inc. Class C Report Waymo making its footprint, while others like Nvidia (NVDA) - Get NVIDIA Corporation Report and Intel (INTC) - Get Intel Corporation Report aggressively position themselves for the future.
AAPL, GOOGL and NVDA are holdings in Jim Cramer's Action Alerts PLUS member club. Want to be alerted before Jim Cramer buys or sells Apple, Alphabet or Nvidia? Learn more now.
So where does Apple fit in all of this? A few months ago reports surfaced That the iPhone-maker made an agreement with Volkswagen (VLKAY) for some of its Transporter T6 vans. The goal was to retrofit them with Apple's self-driving systems and autonomously transport its workers around its campus by the end of the year.
However, those plans seem to be running behind schedule and Apple has run into plenty of headaches. From the outside looking in, it looks as if Apple has never really had a set strategy to leverage the potential in autonomous driving. It would constantly change its direction with the program, and other high-end automakers, like Mercedes and BMW, wouldn't cede the control that Apple was looking to take over regarding the user experience.
Therein lies both the problem and the potential. Apple makes an amazing user experience. That's why its products have gone on to make it one of the most highly valued companies on earth, with a market cap approaching $1 trillion. The potential here is obvious: Introduce artificial intelligence to the car and cockpit. The downside, though? Apple doesn't make cars.
So it either needs to partner with an automaker or it needs to builds its own cars. The latter is such a huge cost that it's all but ruled out. An acquisition of Tesla (TSLA) - Get Tesla Inc Report -- short of picking over the scraps should it go belly up -- is too, with its market cap of more than $50 billion.
That leaves partnering, something Apple has clearly struggled with in the past. But that's not stopping it from working.
Apple Forges Ahead in Autonomous Driving
Apple has more than 50 self-driving cars on the road and permits for even more in California, according to the state's DMV. While Apple has kept a pretty tight lid on its project, a recent criminal complaint against one of its former employees revealed that 5,000 employees are either working on or have knowledge of its project. Near 2,700 of them are "core employees" to the effort.
Whoa. That's actually a pretty big team and one that shows Apple is taking this seriously. It's not a few dozen developers in some spare workspace.
This was all disclosed after legal issues arose between Apple and Xiaolang Zhang, who worked on Apple's self-driving car project and allegedly downloaded files onto a personal computer during paternity leave. Zhang then left the company for X-Motors, a China-based auto company.
In any regard, it revealed just how much of an emphasis Apple is putting on the segment. Recent patent filings show Apple may be working on a way for an autonomous driving system to read its passengers' emotions to improve the driving experience.
This "comfort profile" could potentially alter the way the car is driving based on passenger reactions. We've seen what Nvidia can help power inside the car and, given Apple's various products, apps and services, it too could do well in car, too.
At least we know now that Apple's doing its due diligence and putting some resources behind the technology. As it has in the past, perhaps Apple is waiting for other companies to develop their products and then simply do it better. Just like the iPod wasn't the first MP3 player or the Apple Watch wasn't the first wearable. Only in the autonomous driving race, being late to the game may be akin to playing a game of chicken. 
This article is commentary by an independent contributor. At the time of publication, the author had no positions in the stocks mentioned.