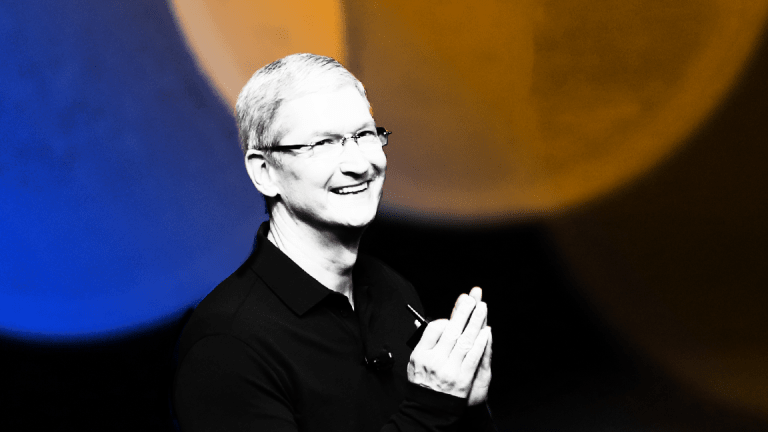 Apple Analysts Are Sweet on Stock as It Pushes Past $1 Trillion Valuation
The iPhone maker reported stronger-than-expected second quarter results after the close on Tuesday.
Apple (AAPL)  shares are having a strong day on Wednesday, rising 5.75% to $212.20 in early trading following the company's robust March quarter performance and June quarter guidance.
The stock price pushed Apple's market capitalization back past $1 trillion after it first did so in August last year. 
Wall Street analysts were showering the iPhone maker with praise following its earnings release. 
The Cupertino, CA-based company reported fiscal second quarter revenue of $58 billion yielding earnings of $2.46 per share. Analysts were expecting the company to report revenue of $57.5 billion on earnings of $2.36 per share.
While the company's quarterly revenue and earnings were down 5% and 10% year-over-year, respectively, the results were still able to top estimates as the company reported healthy growth in its Services business. 
Canaccord Genuity analyst T. Michael Walkley maintained his firm's buy rating but raised its price target to $245 from $230. The firm believes that the company's ecosystem is strong for increased services opportunities. 
"We believe Apple's ecosystem approach including an install base which now exceeds 1.4B devices globally is leading to record services revenue, and we expect the higher-margin services revenue growth to continue outpacing total company growth," Walkley wrote. 
This is important because Apple is expected to see continued softening in its iPhone deliveries. 
"Given the continued near-term soft sales trends for the latest lineup of iPhones, we forecast a 12% year-over-year unit decline in C'19 iPhone sales and anticipate 6% unit growth in C'20 based on an increasing installed base driving higher iPhone sales including those from the anticipated introduction of the 5G iPhone next fall," Walkley wrote. 
Meanwhile, Jefferies maintained its hold rating, but upped its price target to $210 from $160. The firm is also bullish on the company's services segment. 
"We were particularly encouraged by the Services number considering the lack of mobile game approval in China drove App Store weakness. Assuming a reacceleration in the App Store in 2H19, we believe over $46B in Services revenue is very achievable for FY19. The question that remains to be answered is how large and how soon the impact will be from the newly announced services in March," analyst Timothy O'Shea wrote. 
Samik Chatterjee of JPMorgan raised his price target slightly to $235 from $230 on the belief that investor sentiment is improving due to Apple's upside revenue guidance. 
For the current quarter, the company expects to generate revenue between $52.5 billion and $54.5 billion, ahead of Wall Street's consensus $52.1 billion estimate. The company also said it expects gross margin between 37% and 38% vs. consensus 38% estimates.
Meanwhile, analysts at Morgan Stanley believe that catalysts from the still nascent roll-out of 5G is something Apple can look forward to. The firm reiterated its overweight rating on Apple and raised its price target to $240 from $234. 
"Apple reported a clean March quarter and bullish June quarter outlook which against a backdrop of negative investor sentiment sets up for shares to move higher," analyst Katy L. Huberty wrote. 
Apple is a key holding in Jim Cramer's Action Alerts PLUS charitable trust.