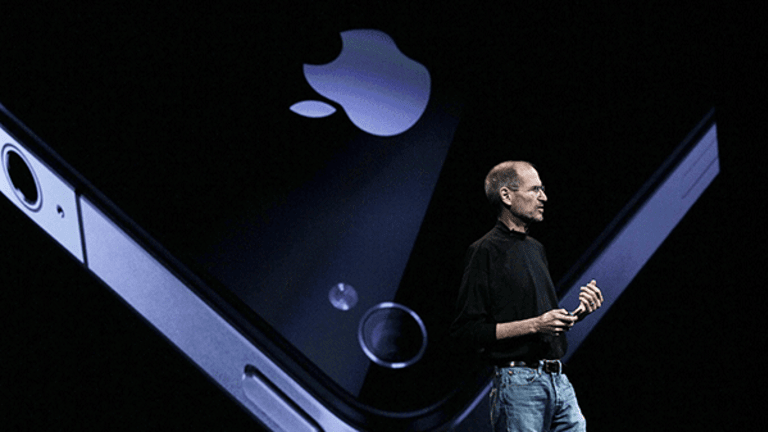 App Stores Are a Booming Business, and Apple Dominates the Market
A new report suggests revenue from mobile app stores grew faster in 2016 than in 2015. Apple, aided by soaring Chinese sales, drove a large chunk of it.
This article originally appeared on Real Money on Jan. 17, 2017.
Though the smartphone market's growth has slowed to a crawl, the same certainly can't be said for the app stores running on top of them. The industry they've spawned continues to swell in size, as consumers keep increasing their app usage and become more comfortable paying for downloads, in-app purchases and subscriptions.
And for a few different reasons, Apple (AAPL) is benefiting much more from this trend than Alphabet/Google (GOOGL) .
In its 2016 Retrospective report, App Annie, a top provider of app download and usage data, estimated that total revenue from the iOS App Store and Google Play rose 40% in 2016, a faster clip than was seen in 2015. Publisher payouts topped $35 billion; with Apple and Google typically getting a 30% cut on paid downloads and in-app purchases, this implies total revenue of about $50 billion. The fact Apple and Google now often get a 15% cut on in-app subscriptions makes it tough to come up with a precise number.
Though far more Android phones were sold last year than iPhones -- in November, research firm IDC estimated the ratio would be close to 6-to-1 -- App Annie believes the App Store produced about twice as much revenue as Google Play, and managed to grow its revenue lead in the process. This fits with a recent announcement from Apple stating its App Store developer payouts rose over 40% in 2016 to more than $20 billion.
Superior demographics are partly responsible for the App Store's monetization edge: On average, iPhone and iPad owners are wealthier than Android device owners in a given market. The fact that daily app usage is somewhat higher on iOS than Android also doesn't hurt, nor does the fact Apple (unlike Google) requires users to supply a credit card number to gain access to its app store.
There's also the fact the App Store is present in China, where app-related spending skyrocketed last year, and Google Play (like most other Google services) isn't. App Annie believes Chinese App Store publisher revenue more than doubled annually in the fourth quarter to over $2 billion, leading China to leapfrog the U.S. and Japan as the world's most lucrative iOS app market. If Android app revenue is growing at a similar pace in China, that's a positive for local app store owners such as Baidu (BIDU) and Qihoo 360.
Apple and Alphabet are holdings in Jim Cramer'sAction Alerts PLUS Charitable Trust Portfolio. Want to be alerted before Cramer buys or sells AAPL or GOOGL? Learn more now.
Separately, though the average smartphone owner already spent a massive amount of time on his or her device going into 2016, app usage is still growing at a brisk pace. App Store and Google Play downloads rose an estimated 15% last year to over 90 billion -- Google Play accounted for over two-thirds of them -- and global time spent on Android apps (China excluded) rose 25%, with the average user now spending about two hours per day.
Facebook (FB) and Google's apps still account for a giant chunk of that usage. Facebook, Messenger, Instagram and WhatsApp were among the 10 most popular iPhone apps (China excluded) in terms of monthly active users (MAUs), as were YouTube, Google Maps, Gmail and the core Google search app. And with the caveat that App Annie doesn't track MAUs for Google apps pre-installed on Android phones, the aforementioned Facebook apps topped App Annie's Android MAU chart. Twitter (TWTR) is respectively No. 8 and No. 5 on the iPhone and Android charts.
Some other notable takeaways:
Games respectively accounted for 75% and 90% of App Store and Google Play revenue. That's music to the ears of publishers such as Electronic Arts (EA) , Activision (ATVI) and Glu Mobile (GLUU) .
Though U.S. Google Play downloads rose just slightly last year, the country's time spent on Android apps rose 25% and its Google Play revenue rose nearly 50%. Encouraging numbers, given how established the U.S. smartphone market already was, and (for the likes of Google and Facebook) the market's outsized importance to the mobile ad industry.
Time spent on shopping apps installed on U.S. Android phones rose 30% annually in November 2016. This trend is a headwind for Google, since shoppers directly loading the apps of online retailers such as Amazon (AMZN) are bypassing Google Search.
India is now the largest Android market in terms of downloads and app time spent. It has also passed the U.S. to be the second-largest smartphone market (behind China) in terms of unit sales.
Overall, the report shines a light on how mobile apps continue ingraining themselves further into the lives of consumers, even ones who have been smartphone users for years. And how this has turned the App Store into the crown jewel of an Apple's Services reporting segment that's fast on its way to reaching a $30 billion revenue run rate.