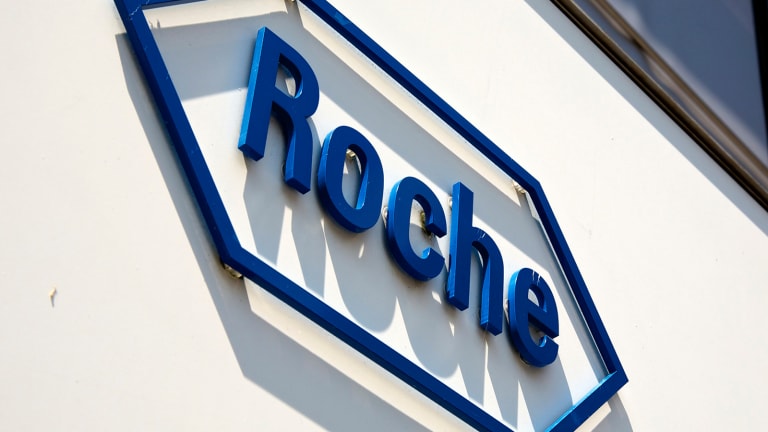 'APHINITY' Study Spells Major Trouble for Roche, Another Win for Puma Bio
This will be the investors' verdict on the results of Roche's APHINITY study of Perjeta in adjuvant breast cancer treatment that were released Monday morning.
CHICAGO -- Roche (RHHBY) down. Puma Biotechnology (PBYI) - Get Puma Biotechnology, Inc. Report up.
This will be the investors' verdict on the results of Roche's APHINITY study of Perjeta in adjuvant breast cancer treatment that were released Monday morning.
The new Perjeta data are lackluster, and that means Puma's case to market its competing breast cancer drug neratinib just got stronger.
The number investors are focused on: One percentage point. To be more accurate, 0.9 percentage point. That's the absolute difference after three years of follow up in disease-free survival (DFS) between the Perjeta and control arms in the APHINITY study.
Investors had been tempering their APHINITY expectations over the past week to 10 days, but still, this result will be viewed as a negative surprise.
But the overall hazard ratio of the APHINITY study is more important: Okay, but even that is lackluster. After three years, Perjeta reduced the risk of breast cancer recurrence or death by 19%. (That's a hazard ratio of 0.81.) The "p value" was 0.045, meaning Roche came within a hair on its Swiss chin of seeing the study fail statistical significance.
The APHINITY data were announced this morning at the American Society of Clinical Oncology (ASCO) annual meeting.
The comparison between Roche and Puma that investors are making this morning: In Puma's EXTENET study, neratinib showed a 2.3 percentage point absolute difference in DFS compared to placebo after two years. That equated to a 34% reduction in the risk of breast cancer recurrence or death compared to placebo.
The Roche and Puma studies are not the same, and from a breast cancer patient perspective not directly comparable, but in Wall Street's calculus, Perjeta's inability to match neratinib's result is a win for Puma. And a win for Puma means a higher stock price.
What is Roche saying about APHINITY? "It's a positive trial." Roche intends to file the data with regulatory authorities, seeking approval for Perjeta as a new treatment for adjuvant breast cancer, when combined with Herceptin and chemotherapy.
What are independent experts saying about APHINITY? "To be clear, APHINITY is a positive trial. To be equally clear, as compared to results of studies of [Perjeta] in the context of metastatic disease and neoadjuvant therapy, APHINITY is a disappointment," concludes a critical editorial in the New England Journal of Medicine, published Monday, written by Dr. Kathy Miller of Indiana University.
Perjeta appears to work better in women with a higher risk of breast cancer recurrence -- those with lymph node-positive and hormone receptor-negative disease. It is these women who will likely be candidates for Perjeta adjuvant therapy, if approved, but the benefit is marginal and the incremental cost may be unacceptable, Miller adds.
How much would Perjeta cost? For one year of adjuvant therapy, the Perjeta-Herceptin-chemo regimen would cost $158,000 compared to $74,500 for Herceptin-chemo, Roche says.
Read More Trending Articles:
Adam Feuerstein writes regularly for TheStreet. In keeping with company editorial policy, he doesn't own or short individual stocks, although he owns stock in TheStreet. He also doesn't invest in hedge funds or other private investment partnerships. Feuerstein appreciates your feedback; click here to send him an email.