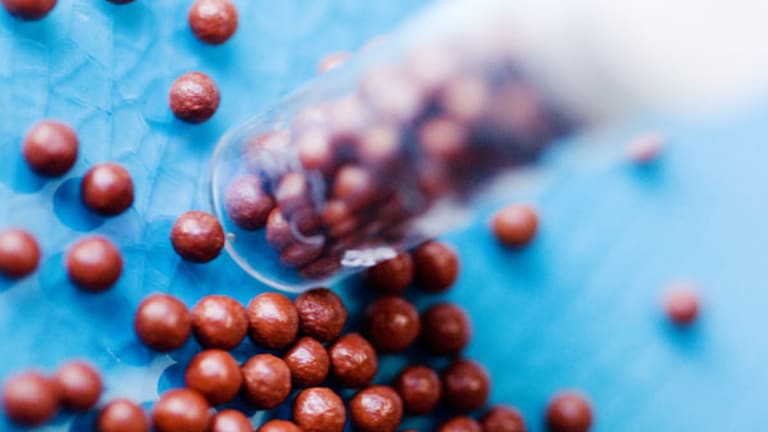 AP Pharma, Delcath Systems: FDA 'Acceptance' Run-Up Trades
The biotech bull market has created a new category of swing trade catalysts.
NEW YORK (
) -- The frothy biotech market has traders looking for new and earlier reasons to run stocks higher. For
AP Pharma
(APPA)
and
Delcath Systems
(DCTH)
, that means traders zeroing in on whether or not FDA will
accept
their respective drug review applications.
AP Pharma is developing APF530 to treat nausea and vomiting resulting from cancer chemotherapy. FDA rejected APF530 in March 2010, asking for among other things, a new study to assess the cardiac safety of the drug. With the clinical work finally completed, AP Pharma filed a new FDA approval application for APF530 on Sept. 28.
Under new rules established by recently passed federal legislation, FDA has 14 days to accept or reject a New Drug Application (NDA) after a previous Complete Response Letter (FDA jargon for a rejection.) That means AP Pharma should hear back from FDA regarding acceptance of the APF530 application by Friday, Oct. 12.
In a biotech bull market, this passes for a tradable catalyst. AP Pharma is a penny stock (shares closed Monday at 61 cents) making the trade even more irresistible.
Traders tend to ignore AP Pharma's sickly balance sheet: 300 million-plus outstanding shares and a large cadre of stockholders who own shares at 13 cents from a June 2011 financing and are likely selling as fast as they can.
Next up is Delcath Systems and its ChemoSat liver-tumor treatment system. In early 2011, FDA issued a rare "refuse to file" letter to Delcath, meaning the agency refused to accept the company's new drug application for ChemoSat. It took a long time, but Delcath finally filed a second approval application for ChemoSat on Aug. 15. Delcath requested priority, or six-month, review.
Under FDA rules, the agency has 60 days to notify a company about the acceptance of a new drug application seeking priority review. For Delcath, that means FDA's "acceptance" decision could be announced by Oct. 14.
Since that's a Sunday, the company may hear on Friday, Oct. 12 or wait to make an announcement until Monday, Oct. 15.
FDA could decide that the re-filed ChemoSat application is acceptable but not for priority review. Under this scenario, FDA has extra time -- 74 days or until Oct. 28 -- to notify the company. If Oct. 15 (Oct. 16 at the latest) passes by without news from Delcath, it's safe to assume that FDA decided on a standard review timeline for ChemoSat.
It's unlikely but Delcath could get a second refuse-to-file letter from FDA. If that happens, FDA would notify the company by Oct. 14.
If the biotech market was flat or down, traders wouldn't likely be hyping relatively insignificant catalysts like FDA drug review acceptance letters. But biotech stocks are soaring so paying attention to these new trading opportunities is important if you want to stay ahead of the bull market.
It is worth noting the more traditional FDA trading catalysts for both companies. The FDA drug approval decision for AP Pharma's APF530 will be March 28, 2013, assuming the filing is accepted for a six-month review. For Delcath's ChemoSat, the FDA drug approval decision will be either Feb. 15, 2013 (assuming priority, six-month review) or June 15, 2013 (assuming a standard review.)
Messier has no position in AP Pharma or Delcath.
Subscribe to Messier's biotech stock-trading service BioRunUp.com