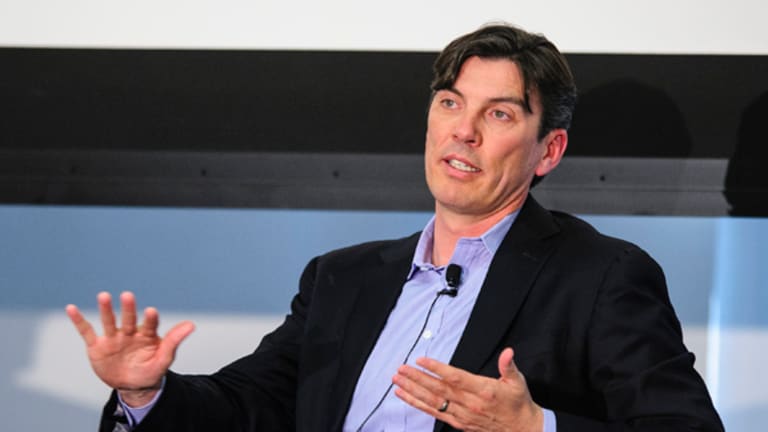 AOL Jumps on Patch Pullback, Gannet Falls, Pogue Says Goodbye: Media Roundup
AOL shares were gaining Monday as the publisher of the Huffington Post and Engadget said it would further cull its many Patch.com Web sites.
NEW YORK (TheStreet) -- AOL was jumping Monday as investors embraced the media company's decision to pare down its money-losing, much maligned locally-focused news operation, Patch.com.
AOL was gaining 3% to $34.97 in mid-day trading after a company-wide memo announced that Patch would only retain staff covering the "very best towns with the highest traffic and revenue" in its top 14 markets, regions that include New York City, Los Angeles, San Francisco and Boston. 
"They've made this pledge and have had it high on their priority list to at least make Patch neutral, break even," said Robert Peck, Sun Trust Robinson managing director and Internet analyst in a phone interview. "Patch will ultimately be a smaller platform than it was originally intended to be. I like that their scaling it back but it raises the bigger question whether ultimately is it worth keeping alive at all even on a neutral basis."
Peck rates AOL shares as "neutral," explaining that the company's efforts to expand into video in hopes of boosting advertising revenue has yet to play.
Patch employs reporters to cover local news events such as school-board meetings, town governments and community happenings as a means to sell advertising space to businesses that historically have shied away from the Internet. AOL has thrown more than $300 million into developing Web sites for small towns and neighborhoods that may be under-covered. Though the AOL division that includes Patch more than doubled its revenue in the third quarter, Patch's costs have weighed on profits.
AOL Chief Executive Tim Armstrong, who helped found Patch, had pledged to make the news operation profitable in the fourth quarter. In August, during a phone call with Patch's roughly 1,000 employees in which he fired the company's creative director, Armstrong announced that 400 Patch sites out of total of about 900 would be closed.
The AOL memo came from AOL executive Bud Rosenthal who took over as Patch's director in August, replacing former editor-in-chief Steven Kalin.
"Thee is the issue of founder-conflict with Patch and Tim, but I think he's been pretty upfront for a while now that he knows that he has to run the company for the AOL shareholders. i don't think that will sway his opinion here, which is why he has already agreed to make it smaller so that it's not bleeding cash for the company."
Rosenthal said AOL continues to negotiate with potential partners to keep some Patch offices open, even those not in a major media market. Armstrong in August first mentioned that AOL was in talks with other media groups to share or takeover certain Patch Web sites.
TheStreet's Jim Cramer also recently championed AOL saying on CNBC on Oct. 18 saying that the company "has come a long way from being a mere dial-up Internet provider."
Gannett (GCI)  is eagerly transitioning into a television broadcaster but in the meantime, the McLean, Virginia-based company's earnings will be weighed down by the realities of the newspaper business. 
Shares of Gannet were losing 4.4% to $26.28 after the publisher of USA Today said advertising at its newspaper fell 5.9% in the three months ended Sept. 30 to $520.2 million. Overall revenue in publishing dropped 3.6% to $858 million. Excluding major events in 2012 led by the Olympics, broadcast revenue for the quarter rose 14% over the year-ago quarter to $203 million.
Future earnings will include the television stations acquired during the quarter when Gannett purchased Belo, the Dallas-based media company for $2.215 billion including debt. 
New York Times (NYT) , owner of the newspaper by the same name, was slipping 0.4% to $13.44 as Yahoo! (YHOO) announced the hiring of the newspaper's well-regarded technology columnist David Pogue. Yahoo! CEO Marissa Mayer hired Pogue to lead a "major expansion of consumer tech coverage" at the online media company. In July, Nate Silver, the statistics guru who easily outshined other more established polling operators during the 2012 presidential election, left the newspaper to join Wal Disney's ESPN, bringing his popular FiveThirtyEight blog with him.
Pogue spent 13 years at the New York Times newspaper.
--By Leon Lazaroff