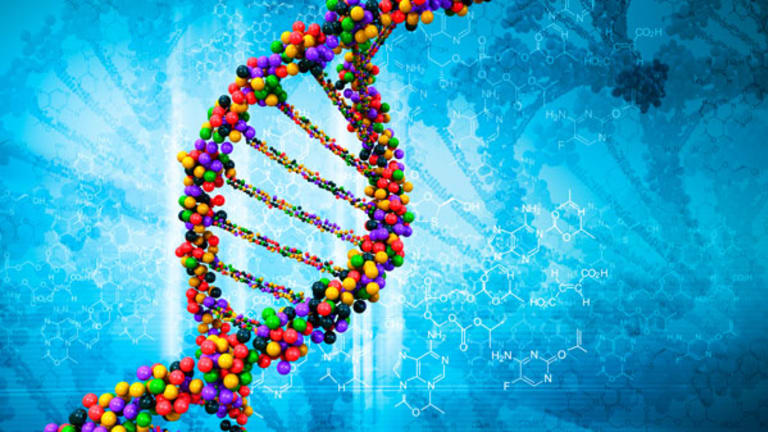 Anxious Wait for Encysive
A lot is riding on a regulatory decision that could come Monday.
Encysive
(ENCY)
fans are crossing their fingers that history won't repeat itself.
For the second time this year, the Houston-based biotech has a chance to get regulatory approval of its new treatment for pulmonary arterial hypertension. The Food and Drug Administration is set to decide on Monday whether the drug, known as Thelin, should be cleared for use by patients who suffer from the disorder.
The agency last spring withheld final approval of the drug, shocking many who had banked on a favorable ruling. The decision hammered Encysive shares and intensified the fierce competition between Encysive and Westminster, Colo.-based rival
Myogen
undefined
. Both companies have spent years developing new drugs to serve the small but potentially lucrative PAH market.
Now, assuming the company gets good news Monday, some experts still expect Encysive to win that race -- even if Myogen follows up later by introducing a better drug of its own.
"We have always been confident in Thelin's approvability based on the statistically significant benefit demonstrated by the drug in a large Phase III trial," Oppenheimer analyst Cory Kasimov wrote in a research note published earlier this week. "Moreover, our confidence is enhanced by the recent positive recommendation for approval in the European Union on June 2 and the FDA's acceptance of Encysive's response as a two-month Class 1 resubmission on June 15 -- as opposed to a six-month Class 2 or an outright non-acceptance."
That said, approval of Encysive's drug is hardly a sure thing. For starters, investors don't really know why the FDA withheld full approval of Thelin in the first place. The company offered no details about the FDA's concerns, a silence that took a huge toll on its stock. The shares lost half their value in a single day and later hit a three-year low before recovering some ground on more positive regulatory developments last month.
Showing that anxiety remains, the stock tumbled 4.4% Thursday, as investors grew increasingly nervous about the possibility of another setback. Kasimov acknowledges that a second "approvable" letter from the FDA -- reflecting conditional rather than outright approval -- could once again trigger a "precipitous drop" in the shares. But he expresses confidence in the company's chances this time around and recommends buying the shares.
Kasimov has a $9 price target on Encysive's stock, based on what he calls "conservative assumptions" for Thelin sales. His firm makes a market in the securities of both Encysive and Myogen. Encysive rose 7 cents Friday to $6.28.
Big-Ticket Drugs
Kasimov sees a $3 billion market opportunity for makers of PAH drugs.
Moreover, he sees Encysive as a company that is well prepared to rush out and grab its share of that pie. In clinical trials, he points out, the company's PAH drug worked as well as the currently favored treatment for the disease. But importantly, he adds, it proved safer than the standard treatment as well.
Thus, Kasimov suggests that Thelin could become the new treatment of choice for some PAH patients and the first treatment ever for others.
"Although the overall prevalence of PAH is debatable (most believe there are 100,000 to 200,000 people with the condition in the U.S. and E.U.), we estimate that there are only approximately 20,000 PAH patients currently diagnosed and on therapy," Kasimov writes. "As such, we believe that the disease still represents a significant untapped opportunity."
Furthermore, Kasimov believes that Encysive's small sales force -- totaling just 50 people -- can tackle its share of that market fairly easily, because it is so concentrated. Meanwhile, he says, the company has fully trained those sales people and "wisely" worked out Thelin's reimbursement strategy while waiting for the drug's big launch.
Ultimately, Kasimov expects Thelin to hit the market in the third quarter of this year -- just one quarter behind the original target. Moreover, looking ahead, he feels that the drug will succeed even if it faces tough competition from a better alternative down the road.
"Importantly, we believe Thelin only needs to be a competitive therapy -- not necessarily best-in-class -- to warrant an investment in ENCY shares," he says. And "with many skeptics remaining, we suspect an approval would trigger a substantial increase in ENCY's valuation."
Fans certainly consider the company undervalued right now. Analysts' price targets on the stock range anywhere from $6.40 to $17.
Playing Favorites
That said, most mainstream analysts clearly like Myogen better.
They have been promoting the stock as a great investment -- with price targets ranging from $44 to $54 a share -- despite a recent drop in its valuation. The stock, which peaked at $42.27 amidst their bullish calls last spring, slid 2.2% to $27.15 on Friday.
While part of a clear minority, Pacific Growth analyst Liana Moussatos views the stock as fairly valued right now. Moussatos believes that Myogen's PAH drug, Ambrisentan, could in fact emerge as a best-in-class treatment for the disease. But she worries about the company's challenges nonetheless.
"Myogen has not successfully taken a clinical candidate all the way through regulatory approval and commercialization," notes Moussatos, who has a neutral rating on the company's shares. And "we especially believe Ambrisentan sales could be negatively impacted" by competing PAH drugs.