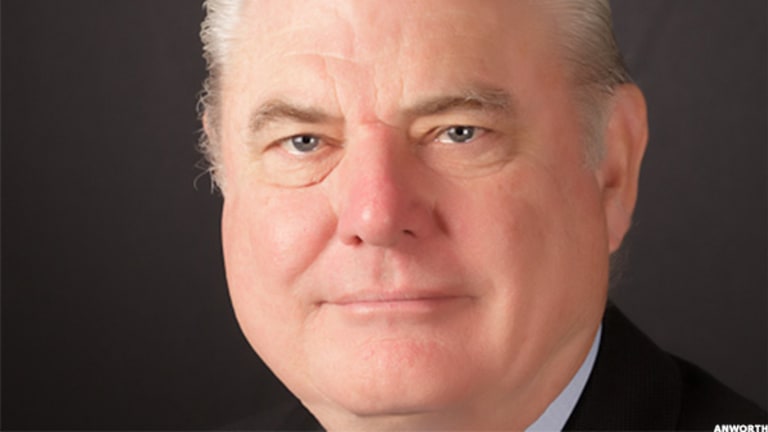 Anworth Mortgage, Your Greed Is Showing
Proxy battle at Anworth Mortgage Asset comes to a vote on Thursday, May 22. In this case, it is hard to tell who will win, but easy to see who is right.
Proxy battle at Anworth Mortgage Asset comes to a vote on Thursday, May 22. In this case, it is hard to tell who will win, but easy to see who is right.
This piece was originally posted on TheStreet Foundation Web site on May 21, 2014. 

NEW YORK (TheStreet) -- Heretical as it might sound to advocates who advise the retail investor, sometimes it's absurd to expect that average folks have the tools to make informed investment decisions. Consider a proxy battle that reaches a head at an annual meeting this week.
On Thursday, May 22, investors in the real estate investment trust Anworth Mortgage Asset Corp. (ANH) - Get Report will cast final votes to decide whether a group led by Arthur Lipson, a shareholder activist in Midvale, Utah, should take over the company's board of directors. Lipson said in a telephone interview Wednesday, May 21, that his Western Investment LLC has been involved in "close to forty" activist situations, and that his battle with Anworth has motivated the company to more than double its stock buyback program.
Anworth, with a market value of $681 million, is traded on The New York Stock Exchange and was down 3 cents to $5.30 by midday on May 21.

Data by YCharts

The battle comes with the usual pyrotechnics. Lipson says management has collected tens of millions in fees despite its "pathetic performance." Management says Lipson is engaged in "flamboyant rhetoric" that misleads Anworth investors. You've read this script before.
Corporate governance outfits, in the meantime, have sided with the company. Institutional Shareholder Services, Glass Lewis and Egan-Jones all have advised that shareholders reject Lipson's proposals and stick with the crew that's already in charge.
Whoever wins, gathering the relevant information and making sense of it will be no walk in the park for befuddled investors, watching the shots and shells whizz by them.
A thorough vetting of the company's officials would take an investor from Anworth's standard filings with the Securities & Exchange Commission to a hodge-podge of regulatory documents that occasionally outline mishandling of investor money by stock brokers who worked for a brokerage firm controlled by the CEO. Lipson said he chose not to distract from his message about Anworth's finances by delving into its officer's related companies, but says that management is "spread too thin."
Principals at Anworth have their hands in a spaghetti bowl of other businesses that in some cases are under the same roof as the company's Santa Monica headquarters -- a brokerage firm and money management firm among them. It recently entered the single-family home business, and last year launched PIA Farmland Inc., a privately held real estate investment trust that invests in U.S. farmland properties leased to independent farm operators.
Anworth rents space from money management firm Pacific Income Advisers ($12 billion assets under management) and will pay $443,669 this year for 7,300 square feet on the second floor of Pacific's headquarters, according to Anworth's most recent annual report filed with the SEC. Want to guess who runs Pacific?

Lloyd McAdams
Joseph "Lloyd" McAdams, Jr., president and chief executive officer at Anworth. He's also chairman and chief investment officer for his landlord, Pacific. He and his wife Heather Una Baines are principal owners of Pacific through two trusts, the Lloyd McAdams Family Trust and the Heather U. Baines Family Trust.
Then there is Syndicated Capital Management. McAdams can just stroll down the hall of the same floor in the same building on Ocean Avenue when it's time to wear his hat as chairman of this brokerage.
Yes, he controls Syndicated, too, through trusts in his name and in the name of Baines, who is executive vice president of Anworth and president and chief executive officer of Pacific.
As fortune would have it, the Anworth board has designated Syndicated as the go-to broker whenever there's a stock buyback -- something in which Anworth has engaged with gusto of late.
When asked about regulatory problems at Syndicated and about the relationship between Anworth and the other McAdams interests, Anworth spokesman, Jonathan T. Keehner, declined to comment.
Anworth maps out its complicated relationships in filings with the SEC and Finra, the self-regulatory agency for brokerage firms, for investors who've got the time and patience to collect the far-flung documents. But it's a fair guess that most investors have little time at the end of their day jobs to assemble the puzzle pieces. In that respect, Anworth is a lot like too many other public companies whose information is spread hither and yon.
Anworth has no employees, but has "hired" a management company whose roster includes Lloyd McAdams, his son and chief investment officer Joseph E. McAdams and chief financial officer Thad M. Brown, among others, to take care of its $8 billion in mortgage-backed securities and other fixed income assets. All three are also officers at Pacific.
In regulatory filings, the company concedes that fees and other terms of the agreement with the managers "were not negotiated on an arm's-length basis," and that the terms may not be as favorable to Anworth as they would if it had negotiated with an unaffiliated party.
Shareholders might be a tad surprised to learn that Lloyd McAdams spends only 15 hours a week during trading hours toiling as their CEO -- a fact listed under "Other Business Activities" in his public BrokerCheck records at Finra. His compensation as CEO of Anworth comes largely through a management agreement he and others have with the company. The 10-K dated Dec. 31, 2013 says he, Baines and their son own 95% of the management company, which earned $12 million last year. Lloyd McAdams and Baines own their interests through a trust.
Anworth isn't keeping the relationships secret -- it's just hard to patch it all together. It makes clear in its SEC filings that the officers and employees of its management company are the same officers and employees who make decisions at Pacific, exposing shareholders to the possibility of getting short shrift if the dual-purpose portfolio managers allocate an attractive investment opportunity to Pacific, not Anworth. 
Lloyd McAdams also could receive "personal economic benefits" on those occasions when employees of Pacific execute trades through Syndicated, according to a Pacific brochure. That's because some of Pacific's employees are also brokers at Syndicated, and thus might be motivated to forego seeking competitive trading prices "even if best execution could be achieved elsewhere."
A review of Syndicated's regulatory history suggests that the various McAdams family ventures may be straining the brokerage firm's ability to stay on the right side of regulators. Although Pacific's brochure filed with the SEC says Lloyd McAdams "does not have disciplinary information to report," in 2012, he was fined and suspended for 10 days from working as a principal at Syndicated after Finra uncovered an unconventional attempt by McAdams to sell the firm, according to his Finra records.
McAdams had entered into a stock purchase agreement with an unnamed Syndicated broker who raised funds from the public to operate his branch office and to purchase the firm, according to Finra records. Although the broker raised $980,000 selling promissory notes to six investors, the transactions were never recorded on Syndicated's books. McAdams was dinged with a $15,000 fine and reached a settlement with Finra over charges he'd failed to supervise the broker. The sale of the firm never happened, and today Syndicated is owned by trusts controlled by McAdams and Baines.
The Finra settlement document does not specify whether the investors were to be paid back and a spokeswoman said the lawyer in charge of the case was not available for comment.

Syndicated also has had relationships with two brokers who had ties to Ponzi schemes. Former stock broker Stephen B. Blankenship, who is serving 44 months in a federal prison, worked there for the first four years of a 10-year stretch when he was peddling a Ponzi scheme out of his New Fairfield, Conn. office. Over the past year, Syndicated has settled four customer complaints related to Blankenship's frauds. Investors checking the records of Syndicated would not discover the four cases, which are only noted in Blankenship's public records with Finra.
An investment adviser who's still affiliated with Syndicated, Paul Heckler, cost the firm $200,000 in 2010 after a married couple prevailed in an arbitration that accused the firm of failing to properly supervise Heckler. Heckler had sold the couple a promissory note in a company in which he was chief financial officer.
Heckler also is managing director at Yosemite Capital Management, a Tustin, Calif. investment advisory firm, some of whose employees are also brokers at Syndicated. In 2010, the SEC censured and fined Heckler $26,000 after he put four Yosemite clients into $3.25 million of private securities that turned out to be part of a Ponzi scheme run by Norman Hsu, a big Democratic fundraiser who pleaded guilty to 10 counts of mail and wire fraud in 2009.
It's not clear from regulatory records whether those clients were also customers of Syndicated, and Heckler did not respond to telephone messages seeking comments.
The SEC said that Heckler recommended the investments despite a string of red flags. He never received financials, and the operation was so schlocky that one of the people pitching the deal was a guy Heckler believed to be a UPS (UPS) - Get Report truck driver or deliveryman. The firm's promoters had business cards that misspelled their own titles as "Represenative."
Despite it all, Heckler continues to be chief compliance offer at Yosemite. And he continues to have a business relationship with Syndicated. One can only wonder who's minding the store at the far-flung operations in the portfolio of McAdams & Co.
At the time of publication, Antilla had no positions in stocks mentioned.
Susan Antilla is the Founding Fellow of TheStreet Foundation, a non-profit organization with the goal of supporting and expanding financial literacy for consumers through investigative journalism and custom research on high-impact financial topics. Susan Antilla is a freelance financial writer and contributor to
TheStreet.com
.
She is author of
Tales From the Boom-Boom Room
, the 2002 book that exposed a culture of sexual harassment at financial companies, and has written about business for 3 decades. She received the "Best in Business" award for her Bloomberg View columns from the Society of American Business Editors and Writers in 2013 and 2014. In 2013 and 2014, she also received first prize for personal opinion writing from The Connecticut Press Club. The New York State Society of CPAs gave her the Excellence in Journalism award in 2013, and the Society of the Silurians, a New York press club, gave her the Excellence in Journalism award for her columns in 2012 and 2013. She writes for The New York Times DealBook and
. Antilla is an adjunct professor teaching journalism at Fairfield University.