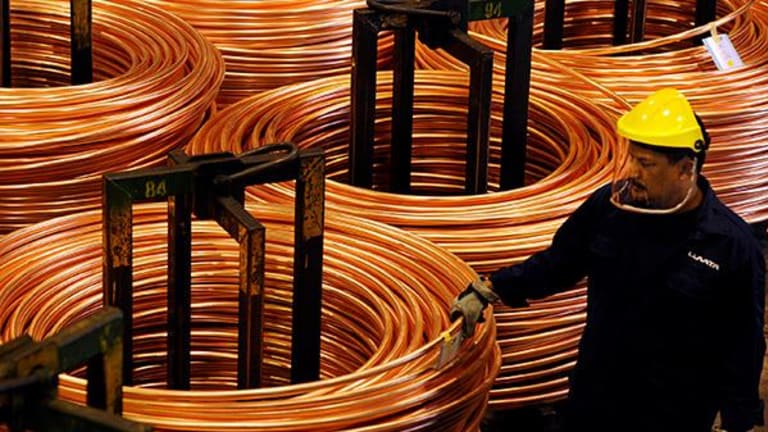 Antofagasta Surges on Higher Cooper Prices
The London-listed copper miner's earnings were up a bigger-than-expected, enabling it to triple its interim dividend.
London-listed Antofagasta plc (ANFGF) said Tuesday, Aug. 22, its first half earnings climbed 88% buoyed by a 25% increase in copper prices, increased sales volumes and continued cost cutting.
The Chile-focused copper producer posted first-half Ebitda of $1.08 billion, beating analyst expectations, on revenues of $2.05 billion, up 42% year-on-year.
Antofagasta shares climbed 5.19% to 1,004 pence in early trading on the London market, making it the FTSE 100's No.1 performing stock and taking its 12-month price increase to 82%.
"Our performance benefited from increases in the copper price, higher sales volumes and tight cost management," CEO Ivan Arriagada said in a statement. "The company is well positioned for future growth, generating strong cash flows and improving returns against a background of a recovery in copper demand."
Copper prices have climbed about 20% since the start of the year buoyed by strong demand out of China, though analysts have also warned that some of the gains may be driven by speculation. The metal traded Tuesday on the London Metals Exchange at $6,586 a ton, up 1.54% on the day and at its highest point since November 2014.
"Antafogasta reported a solid set of numbers with financial coming in significantly higher than (our estimates) on account of lower costs and lower tax rate," noted Goldman Sachs analysts including Eugene King. "The dividend was also higher...but in line with (the) payout ratio of 35%."
Operating costs fell $44 million over the first six months, equating to a saving of about $0.06 per pound of copper produced, while production increased 7.1% to 3446,300 tons. That combination boosted the group's Ebitda margin to 52.7%, up from 39.8%.
The resulting cash inflow enabled the company, which is controlled by Chile's Luksic family, to increase its interim dividend to 10.3 cents per share, up from 3.1 cents this time last year. The company also cut debt by $17.3 million to $860 million at the end of June.
Antofagasta said it expected to produce between 685,000 and 720,000 tons of copper over 2017, in line with earlier forecasts, but said that its effective tax rate was likely to come in at the lower end of its guidance of 35% to 40%.
More of What's Trending on TheStreet: