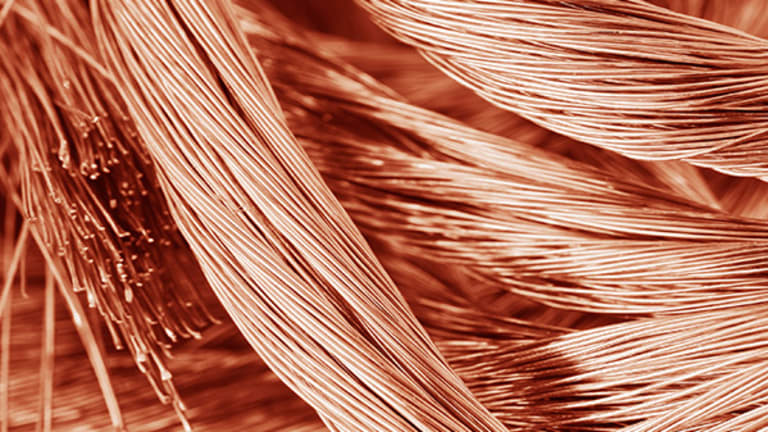 Antofagasta Generates Copper-Bottomed Result Despite Decline in Commodity Prices
The London-listed Chilean miner recorded plunging revenue, but slashed operating costs to drive up pre-tax profit.
Chilean miner Antofagasta (ANFGF) saw revenues plunge in the first six months of its financial year, on a sharp drop in the price and sales volume of its main product copper, although it also stepped up copper production.
Nevertheless, the company's share rose strongly at the open in London, where it is a constituent of the benchmark FTSE 100 index, as it announced a sharp drop in operating costs and an increase in pre-tax profit.
In morning trading, the share was up 5.84% at 544.00 pence or $7.05.
"A 24.7% reduction in operating costs offset the decline in the copper price and lower sales volumes resulting in Ebitda of $571.6 million, 2.3% higher than in the same period last year," new Antofagasta CEO Ivan Arriagada said, as he announced the first half results on Tuesday.
Arriagada succeeded Diego Hernandez as group CEO in April, having held the position of CEO at Antofagasta Minerals since February 2015. He has led the cost-reduction program, as the company focused on maintain operating cash flow despite the current low copper price.
Antofagasta announced that revenues were down 18.5% at $1.45 billion, while operating costs were down $124 million. Earnings per share fell by 3.3% to $0.089.
The company said copper sales were 272,000 metric tons, down from 290,000 metric tons in the first half, resulting in a decrease in revenue of $101 million. It also saw a fall in revenue from sales of molybdenum, gold and silver, all of which are by-products of copper production.
For the full year, Antofagasta said copper production is expected to be at the lower end of the 710,000 to 740,000 metric tons guided in January, but that unit costs would also be lower by $0.05 per lb. of copper.