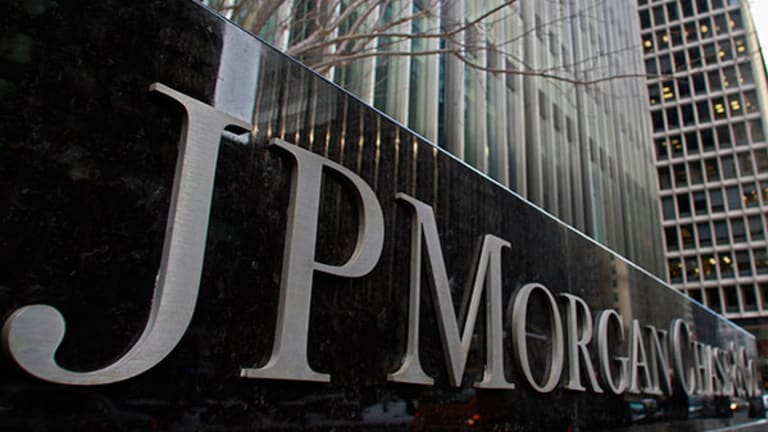 Anti-Trump Activists Find an Unlikely Weapon: Jamie Dimon's Salary
JPMorgan Chase CEO Jamie Dimon says in his yearly letter to investors that regulations since 2008 have effectively resolved the Lehman Brothers dilemma. But are they impeding growth?
In the end, nearly 93% of JPMorgan Chase (JPM) shareholders approved of boosting CEO Jamie Dimon's pay to $28 million last year, an increase of 3.7%.
Among those who demurred, a common reason cited at the Wall Street bank's annual meeting in Wilmington, Del., on Tuesday was President Donald Trump, who won the electoral college decisively but lost the popular vote and has ignited criticism with an attempted Muslim travel ban and a pledge to build a wall on the Mexican border.
Investors linked Trump's politics to JPMorgan in part to convince Dimon to leave the president's Strategic and Policy Forum, a panel of corporate leaders created to advise the president on creating jobs and fostering economic growth. They also want the largest U.S. lender to refrain from providing financing for private prison operators such as Geo Group (GEO) and Core Civic (CXW)  that stand to benefit from roundups of the illegal immigrants Trump pledged to target.
The Center for Popular Democracy's organizational development director, Hilary Klein, said during a presentation on behalf of a shareholder that more than 4,000 people have used the Backers of Hate campaign's website to send messages to Dimon urging him to distance himself from the president.
The center is one of two groups leading the campaign, which opposes Trump's immigration stance and lists companies from banks to manufacturers that could make money from the president's policies.
JPMorgan and other banks that lend to detention facilities indirectly benefit if the Trump agenda is fully implemented, Klein said in a telephone interview after the meeting. "The more people we lock up in prison, the more immigrants we detain in these detention centers, the more these companies stand to profit. So we're calling on them to do the right thing, to distance themselves from the Trump agenda."
Dimon, who said he would review the concerns Klein and others described, still declined to leave Trump's advisory panel. He agreed to serve on the committee because he's a patriot, he said, but "that doesn't mean we agree with all the policies his administration comes up with."
As president, Trump's role is akin to that of an airplane pilot, Dimon added; he sees himself and JPMorgan as passengers attempting to help.
It's an argument not dissimilar from that of Jeffrey Immelt, the General Electric (GE) CEO, when responding to questions about why he agreed to serve on former President Barack Obama's Council on Jobs and Competitiveness in 2011. "When the president asks, you don't say 'no,'" Immelt said at the time.
Dimon's statement that he doesn't always agree with Trump is backed up in his annual letter to investors, where he cited the benefits of the North American Free Trade Agreement that buoyed U.S. commerce with Mexico; the president had criticized the treaty on the campaign trail as a bad deal and promised to renegotiate it.
JPMorgan is a major bank in America's neighbor to the south, garnering $400 million of revenue a year, Dimon said in the letter. NAFTA "helps ensure that the young democracy in Mexico is not hijacked by populist and anti-American leaders," such as former Venezuelan President Hugo Chavez, he continued.
"While there are some clear, identifiable problems with NAFTA," Dimon said, "I believe they will be worked out in a way that is fair and beneficial for both sides. The logic to do so is completely compelling."
JPMorgan climbed 0.3% to $87.61 in New York trading after the meeting, pushing its gains over the past year to 42%. All 12 directors nominated by the company were elected to board seats, with none garnering less than 96% support, and a shareholder proposal to split the roles of CEO and chairman was rejected, with 66% of investors voting against it.
EXCLUSIVE LOOK INSIDE: General Electric is a holding in Jim Cramer's Action Alerts PLUS charitable trust portfolio. Want to be alerted before Cramer and the AAP team buy or sell the stock? Learn more now.
Editors' pick: Originally published May 16.