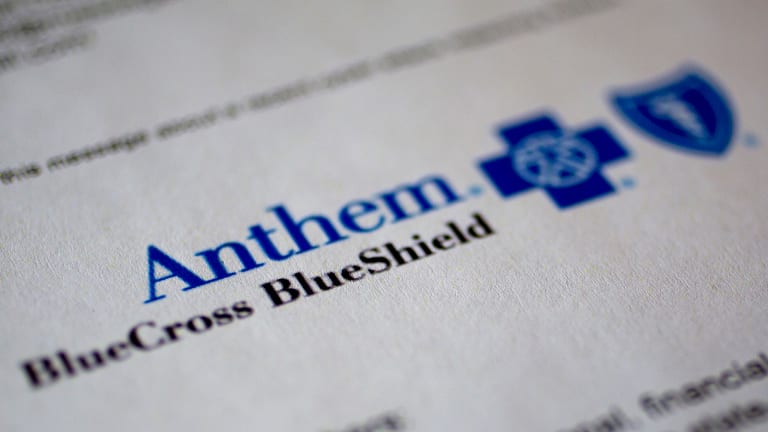 Anthem Expected to Address DOJ Lawsuit During Q2 Earnings Call
The company reports earnings at 8:30 a.m. on July 27.
Ahead of Anthem's (ANTM) - Get Report earnings, which will be reported Wednesday morning, analysts expect the Department of Justice's lawsuit against its attempted acquisition of Cigna (CI) - Get Report  to take center stage.
"The merger is going to be top of mind," analyst Vishnu Lekraj of Morningstar Inc. said in an interview.
And while Anthem's peer, Centene (CNC) - Get Report saw shares slide nearly 8% after reporting earnings Tuesday, analysts say its failure, which was attributed to the company's acquisition of Health Net, was internal and wouldn't span the sector.
Anthem's takeover of Cigna has been over a year in the making, and is now expected to flop thanks to the Department of Justice's lawsuit against the deal. Anthem agreed on June 20, 2015 to acquire the health insurance giant for $54.2 billion.
Since then, the deal, along with Aetna's (AET) acquisition of Humana (HUM) - Get Report , have been the target of antitrust law scrutiny. Just last week, on July 22, the Department of Justice announced that it would file a suit against both mergers.
Lekraj said he believes there's a 25% chance that the Anthem-Cigna deal closes.
Though the deal is likely going to be front and center, analyst Frank Morgan of RBC Capital said the problems Anthem is facing are likely already priced into where its shares are trading, and the news of the Department of Justice's involvement likely won't move the needle much on earnings.
Also moving to the forefront will be Anthem's relationship with Express Scripts (ESRX) , which reported earnings Tuesday.
"The Express Scripts contract is probably going to come up, especially in light of them facing pushback for the merger," Lekraj said, referencing the company's dispute with its pharmacy benefit manager.
One can take cues from Express Scripts' earnings call to predict what Anthem will say.
"They didn't say a lot about Anthem which is good," analyst Steven Halper of FBR Capital said of Express Scripts. "It's best for everybody not to negotiate in public.
The company will likely also highlight key areas of growth.
"The fact that the enrollment growth got off to such a good start, that's a big trend that plays over the course of the year," Morgan said in an interview.
Halper added that individual exchanges will likely be a hot topic. Anthem made some aggressive investments in that space before pulling back suddenly, and Halper expects these investments to be acknowledged at the very least.
Anthem is expected to bring in $3.24 per share, according to consensus estimates. Last quarter, Anthem beat the forecasted EPS, which was $3.34 per share, by 12 cents, bringing in $3.46 per share.
Anthem, which has a market cap of $36.22 billion, closed Tuesday at $137.59 per share, down 1.7%