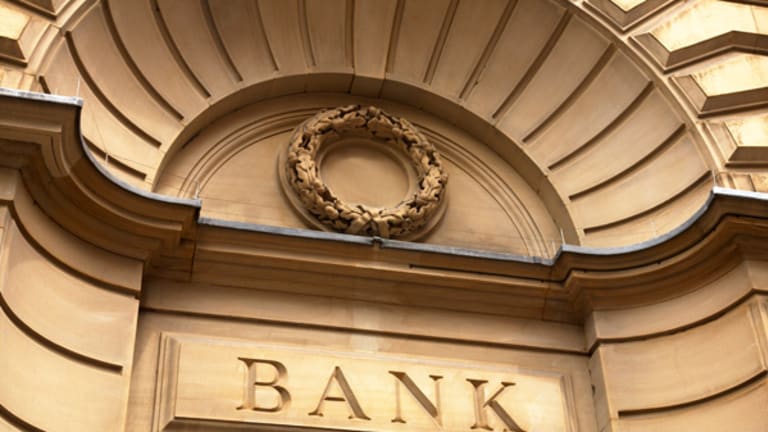 Another Benefit of TARP: Uncovering Bank Fraud
The TARP Inspector General's quarterly report details particularly egregious fraud activity by bank officers, leading to stiff prison terms.
The TARP Inspector General's quarterly report details particularly egregious fraud activity by bank officers, leading to stiff prison terms.
NEW YORK (
) -- The bailout of the largest U.S. banks, along with hundreds of smaller ones, has caused plenty of controversy, but one major benefit to a society based on law has been the uncovering of a boatload of outrageous fraud activity by bankers.
Whether or not you supported the bank bailout that began in October 2008, a quick review of the by the
Office of the Inspector General for the Troubled Assets Relief Program
(SIGTARP), should really get your blood boiling.
The Troubled Assets Relief Program, or TARP, began on Oct. 28, 2008 when eight of the nation's largest banks, including
Bank of America
(BAC) - Get Report
,
Bank of New York Mellon
(BK) - Get Report
,
Citigroup
(C) - Get Report
,
Goldman Sachs
(GS) - Get Report
,
JPMorgan Chase
(JPM) - Get Report
,
Morgan Stanley
(MS) - Get Report
,
State Street
(STT) - Get Report
and
Wells Fargo
(WFC) - Get Report
, received large capital infusions form the
U.S. Treasury
, with the government being issued preferred shares in return, with an initial coupon of 5%.
The big banks took the money in October 2008 whether or not they wanted it, after being told by then-Treasury Secretary Henry Paulson that they had better agree, in the best interests of the nation. TARP came on the heels of the largest bank failure in U.S. history, Washington Mutual, and the bankruptcy of Lehman Brothers, in September 2008.
Banks continued to receive government investments through TARP's Capital Purchase Program (CPP) until December 2009. The Treasury has said "taxpayers have already recovered more than the amount invested in banks through the CPP." Meanwhile, the debate over the "moral hazard" created by TARP, and how to mitigate the risk the economy from the perception that the nation's largest banks are "too big to fail," continues.
With up to $700 billion for use by TARP, Congress also created SIGTARP, as a watchdog to detect the fraud that was bound to take place as so many troubled institutions prepared to apply for government investments.
SIGTARP files quarterly reports to Congress, and during the most recent fiscal quarter ended June 30, the agency hit a milestone, with 51 defendants having been sent to prison. TARP Special Inspector General Christy Romero said in a statement Wednesday that "47 additional convicted defendants await sentencing." Romero added that "The average prison sentence for TARP-related crime investigated by SIGTARP is 68 months, nearly double the national average length of prison sentences involving white collar crime. Ten defendants investigated by SIGTARP were sentenced to 10 years or more in Federal prison."
SIGTARP investigations have already led to $4.3 billion in assets being returned to fraud victims or the government.
The agency also has investigated
fraud activity tied to the Home Affordable Modification Program, or HAMP
, since "Homeowners with HAMP modifications from2009 are redefaulting at an alarming rate of 46%, 38% for 2010 modifications." SIGTARP made several recommendations to clean up HAMP.
The TARP fraud that probably received the most coverage was that of former
Taylor, Bean and Whitaker
chairman Lee Farkas, who is cooling off for 30 years after being convicted in 2011 of a 10-year $2.9 billion fraud that also involved employees of
Colonial Bank
of Montgomery, Ala., which had roughly $25 billion in total assets and failed in August 2009.
The troubled Colonial Bank had applied for $570 million in TARP money, and announced government approval to receive the funds on Dec. 2, 2008,
, until Jan. 27, 2009, that the Treasury was requiring the bank to raise $300 million on its own, before getting any TARP money.
Colonial Bank then announced on March 31, 2009 that it had made a deal for a preferred investment of $300 million by Taylor, Bean and Whitaker. There were some breathless headlines saying Colonial Bank had beaten its regulatory deadline to raise the capital, but the money was never received. This illustrates why investors need to dig a bit further when news headlines describe business agreements as done deals.
SIGTARP said in its report that "Beginning in 2002, Farkas and his co-conspirators at TBW and Colonial Bank -- one of the 25 largest banks in the U.S. at the time -- started a scheme to steal billions of dollars from the bank to hide TBW's steep operating losses. The scheme soon escalated to selling and pledging billions in fake mortgage assets to plug holes in the company's balance sheets, and to cover their tracks."
Farkas's scheme had nothing to do with TARP, but according to the Inspector General, the "scam began to collapse when SIGTARP investigators initially identified suspicious activity in connection with Colonial BancGroup's (Colonial Bank's parent) $570 million TARP application, which contained false and misleading information provided by Farkas and his co-conspirators to deceive the Government."
A Particularly Egregious Community Bank Fraud
An application to receive TARP money uncovered a "massive fraud scheme" at
Bank of the Commonwealth
of Norfolk, Va., which had roughly $902 million in total assets and 21 branches.
Former Bank of the Commonwealth CEO Edward J. Woodard, his son Troy Brandon Woodard, the former VP and "mortgage specialist" of a bank subsidiary, and Stephen G. Fields, the banks former EVP and commercial loan officer, were convicted in May of conspiracy to commit bank fraud, along with other charges, in a scheme to hide the bank's assets. One of the bank's borrowers, Dwight A. Etheridge, was also convicted of conspiracy to commit bank fraud, along with several other charges.
"To fraudulently hide BOC's troubled assets, the bank insiders overdrew demand deposit accounts to make loan payments, extended new loans or additional principal on existing loans to cover payment shortfalls, changed the terms of loan agreements to make loans appear current, and used funds from related entities (sometimes without authorization from the borrower) to make loan payments. In addition, the BOC executives hid millions of dollars of non-performing loans from the bank's board of directors," according to the SIGTARP report.
The former executives of Bank of the Commonwealth went so far as to cause the bank "to fund loans to troubled borrowers to purchase or attempt to purchase properties owned by Edward Woodard and Troy Brandon Woodard. BOC subsequently charged off $9 million of these loans as a loss," according to the report.
Just to add a heartwarming personal touch to the fraud activity, "Edward Woodard and Troy Brandon Woodard caused BOC to pay fraudulent invoices for construction costs for a bank branch when the true costs were incurred for renovations to Troy Brandon Woodard's personal residence."
Bank of the Commonwealth applied for $28 million in TARP money in November 2008, but was subsequently forced by its primary regulator to withdraw the application. The bank's failure in September 2011 cost Federal Deposit Insurance Corp.'s deposit insurance fund an estimated $268 million.
Seven other people were charged as a result of investigations of Bank of the Commonwealth by SIGTARP, the Federal Bureau of Investigation, the Internal Revenue Service, the Securities and Exchange Commission, and the inspector general offices of the FDIC and the Federal Reserve. The three bank officer names above, along with Etheridge, will be sentenced in September.
SIGTARP expects its investigation activity to continue for many more years. We can only hope that similar fraud activity, which can continue for very long periods at otherwise "healthy" banks, will be detected by bank examiners, irrespective of TARP, with very stiff prison terms acting as a deterrent.
-- Written by Philip van Doorn in Jupiter, Fla.
>Contact by
.
Philip W. van Doorn is a member of TheStreet's banking and finance team, commenting on industry and regulatory trends. He previously served as the senior analyst for TheStreet.com Ratings, responsible for assigning financial strength ratings to banks and savings and loan institutions. Mr. van Doorn previously served as a loan operations officer at Riverside National Bank in Fort Pierce, Fla., and as a credit analyst at the Federal Home Loan Bank of New York, where he monitored banks in New York, New Jersey and Puerto Rico. Mr. van Doorn has additional experience in the mutual fund and computer software industries. He holds a bachelor of science in business administration from Long Island University.