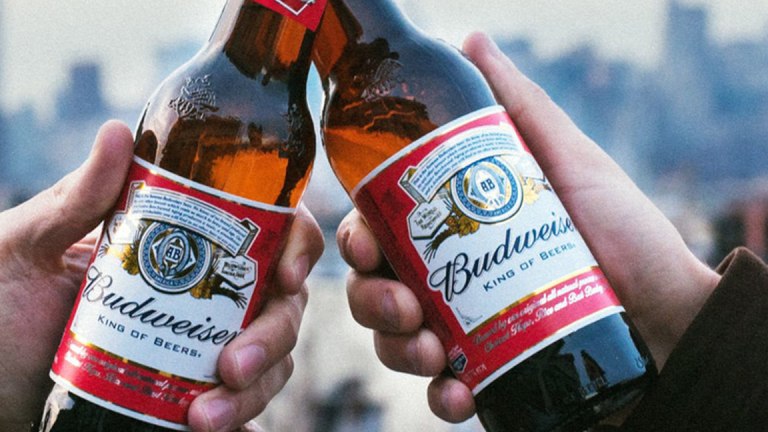 Anheuser-Busch InBev Slides Amid Cancellation of Its $9.8 Billion Asia IPO
Anheuser-Busch InBev shares lost 3% Friday after it canceled a planned $10 billion listing of its Asia business amid reports of muted investor demand.
Anheuser-Busch InBev (BUD) shares fell 3% Friday after the beer giant canceled its planned $10 billion listing of its Asia business following reports of muted investor demand at price levels offered by the world's biggest brewing company.
Anheuser-Busch had planned to sell around 1.6 million shares of Budweiser Brewing APAC at between HK$40 and HK$47 each, a level that would value its Asia region business at as much as $64 billion. The sale itself would have raised between $8.3 billion and $9.8 billion and outpaced the $8.1 billion raised by Uber Technologies (UBER) earlier this year as the world's biggest IPO of 2019.
However, BUD said in a statement Friday that it "has decided that, at this time, it is not proceeding with the announced public offering ... due to several factors, including the prevailing market
conditions. The company will closely monitor market conditions, as it continuously evaluates its options to enhance shareholder value, optimize the business and drive long-term growth, subject to strict financial discipline."
Multiple media reports suggested that investors balked at the IPO price, even as bookrunners JPMorgan and Morgan Stanley guided potential buyers towards the lower end of the range.
Anheuser-Busch's U.S.-listed shares fell 3% Friday to close at $86.94, a move that trimmed the stock's year-to-date gain to around 32%.
Anheuser-Busch raised the idea of listing its minority stake in Budweiser Brewing APAC earlier this year, telling investors on a conference call following its first quarter earnings that the move would help lower the group's debt load.
"Proceeding with the listing will depend on a number of factors, including but not limited to valuation and prevailing market conditions," CEO Carlos Brito said on February 28. "The merits of these initiatives are based upon the creation of an APAC champion in the consumer goods space. Furthermore, our superior portfolio brands and leadership position in the beer industry provide them attractive platform for potential M&A in the region."
Anheuser-Busch InBev said earlier this year that it sees revenue growth ahead of inflation in 2019 as it attempts to drive customers to higher-priced, premium beers while at the same time cutting costs and reducing its $102.5 billion debt load. Ab InBev said it wants to see the ratio of net debt to operating earnings fall below 4 by next year. It was pegged at 4.6 at the end of 2018.
(This article has been updated.)