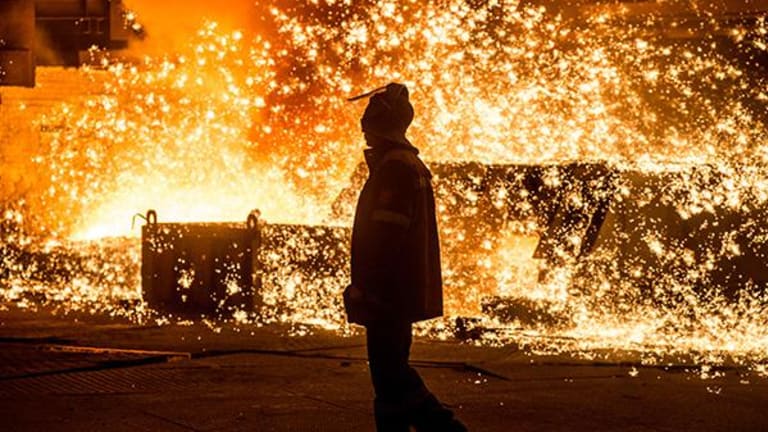 Anglo American and Kumba Spark Mining Gains As Dividends Return
Kumba stunned with a dividend three-times larger than expected
The world's No. 4 iron ore producer Kumba Iron Ore Ltd. (KIROY) handed mining stocks the perfect start to their second quarter reporting season on Tuesday, July 25, surprising the market with a bumper dividend that augurs well for yield hunters at Anglo American plc (AAUKF) , Rio Tinto Group (RIO) - Get Rio Tinto Plc Report and BHP Billiton Ltd (BHP) - Get BHP Group Ltd. Report .
Kumba shares leaped just over 8.5% to trade at 18,777 South African rand ($1,446) after it said that strong iron ore prices and a burgeoning cash position enabled it to reinstate its dividend at R15.97 per share, well ahead of expectations of about R5 per share.
Anglo American, which owns 63.4% of Kumba, was the most notable beneficiary of the generous dividend. Shares in the London-listed group gained 4.75% to trade at 1,157 pence after it said it would receive $210 million from its subsidiary, raising expectations that it will also reinstate its dividend when it reports on July 27.
Kumba posted R4.6 billion in first-half headline earnings, a measure that strips out one-off items. The result was up 53% on the same period last year. Free cash flow increased 48% over the same period to R8.3 billion, boosting the company's net cash position to R13.5 billion.
"The most important thing today is (Kumba's) dividend which came in much ahead of our estimates," Goldman Sachs analyst noted. "We are now fairly confident that Anglo can declare a dividend day after tomorrow."
Anglo American had been expected to wait until the second half of the year to restart distributions to shareholders as it continues to recover from a brush with catastrophe that, last year, had analysts speculating that the company could be broken up and sold off.
Kumba's results also provided a boost to other iron ore producers. Rio Tinto shares were up 2% in morning trading in London at 3,395 pence. BHP climbed 2.9% to 1,324 pence.
Rio Tinto is expected to announce a dividend of about $0.90 when it announces its first half results on July 27. That would be twice as much as the same period last year, while the stock could receive a further boost if the company also extends a share buyback scheme.
BHP shareholders will be hoping for a dividend somewhere north of analyst average expectations of about $0.86 cents per share.
More of What's Trending on TheStreet:
Trump Just Resurrected the Ugly Practice Known as Civil Forfeiture for No Reason
60 Second Tips: Best Return on Your College Investment