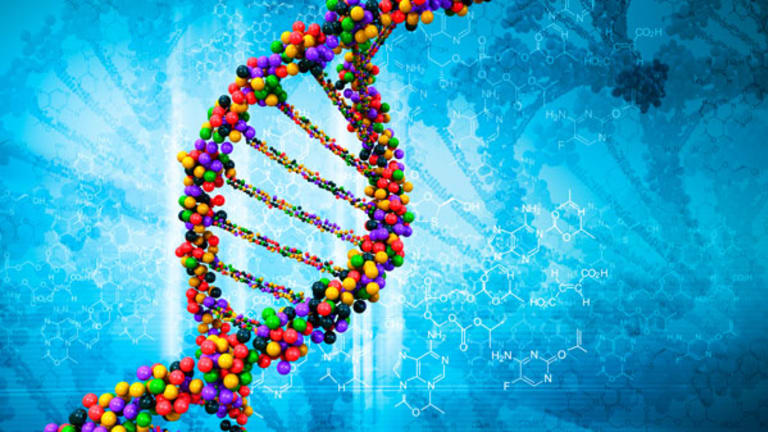 Anavex Presents Meaningless Results in Alzheimer's Drug Study
'The chance you would have gotten similar data giving the patients 10 cups of coffee a day instead? Almost 100%,' said Dr. Adam Kline, a researcher who reviewed the data.
The effort to promote Anavex Life Sciences (AVXL) - Get Anavex Life Sciences Corp. Report with claims of a cure for Alzheimer's disease began this summer and intensified more recently as the company underwent a reverse stock split and moved from trading on the bulletin boards to the Nasdaq.
On Saturday, Anavex presented interim results from a small clinical trial of its drug Anavex 2-73 at an Alzheimer's research meeting in Barcelona. The Anavex data presentation didn't even come close to proving Anavex 2-73 cures Alzheimer's, as some outside stock promoters had been claiming.
Nor is the drug even a breakthrough treatment for Alzheimer's, as Anavex claims. On Monday, the company issued a press release announcing the Anavex 2-73 data show encouraging efficacy -- a signal the drug could be attenuating the destructive course of Alzheimer's.
No, the data do not show that at all. Here's why:
In the clinical trial, Anavex took a handful of Alzheimer's patients and treated all of them with a drug they were told might help improve their memory and cognition. After taking Anavex 2-73 for just five weeks, the patients were given a battery of tests to measure memory and cognition. Not surprisingly, the memory and cognition of the patients improved just a little bit.
To Anavex and its stock promoters, this was success. To everyone else, it's just another classic example of a placebo effect. The handful of Alzheimer's patients in the Anavex study improved over a short period of time because they were easily convinced the drug they were taking would help them.
"The chance you would have gotten similar data giving the patients 10 cups of coffee a day instead? Almost 100%," said Dr. Adam Kline, an Alzheimer's disease researcher who reviewed the Anavex 2-73 data presented Saturday.
The only way to produce credible data in Alzheimer's is to conduct randomized, double-blind, placebo-controlled studies. One group of patients is randomized to receive a drug, the other group of patients received a placebo.
Neither the patients nor their doctors know which arm of the study they're in. These studies need to run 52 weeks, not five weeks, because it takes that long to detect meaningful changes in memory, cognition and functions of daily living of patients.
The small, short, single-arm, open-label study run by Anavex met none of these scientific criteria, making the results presented Saturday clinically meaningless.

Anavex says Anavex 2-73 increased MMSE scores by an average of 1.5 points in five weeks. MMSE is a standard test of cognition with higher numbers representing improvement. Without placebo patients for comparison, the MMSE "improvement" is just noise, especially when tested after only five weeks.
Additional efficacy analyses were also presented Saturday comparing Anavex 2-73 with previously conducted (cherry-picked) studies of the approved Alzheimer's drug Aricept. Anavex says these analyses also demonstrate encouraging signs that Anavex 2-73 is having a neuroprotective effect.
Again, that's not the way quality science experiments in Alzheimer's are conducted. Anavex's findings lack a true comparator arm.
Almost three-quarters of the Alzheimer's patients enrolled in the Anavex study reported dizziness and headaches -- potentially troublesome side effects for elderly, vulnerable patients.
Even when a company runs the appropriate clinical trial and produces credible, positive results -- like Biogen (BIIB) - Get Biogen Inc. Reportdid this year with aducanumab -- there's still tons of skepticism. Anavex doesn't even belong in the same conversation.
Some people will defend Anavex's methods by claiming the company is small, short-staffed and lacking the money to run a real clinical trial. But Prana Biotechnology (PRAN) was equally small and resource-constrained, yet still managed to conduct randomized, placebo-controlled phase II studies of its Alzheimer's drug PBT2.
Like Anavex, Prana claimed to see a signal of efficacy for PBT2 in these studies. Across several measures of cognition, PBT2 patients showed improvement compared to the placebo patients. But when larger, more definitive studies were conducted, PBT2 failed badly.
Anavex says Anavex 2-73 targets sigma-1 and muscarinic receptors, which in turn prevent proteins like beta amyloid and tau from misfolding and clumping together to form nerve-killing plaques in the brain. The company operates with a veneer of scientific plausibility because research on this mechanism of action in Alzheimer's has been published in medical journals.
A Japanese drug company, Toyama Chemical, is developing an Alzheimer's drug with the same sigma-1 receptor mechanism of action as Anavex's Anavex 2-73. Two years ago, Toyama reported results from a randomized, placebo-controlled phase IIa study enrolling 370 Alzheimer's patients.
The results were disappointing: Toyama's drug, T-817MA, failed to demonstrate a statistically significant improvement in memory, cognition or activities of daily living compared to placebo during the 52 weeks of the study.
Despite the failure, Toyama saw what it believes were some encouraging signals of efficacy in the T-817MA data. Another Alzheimer's study involving the drug is underway.
Alzheimer's disease is a devastating illness lacking good treatments. For this reason, companies developing Alzheimer's drugs tend to ignore negative clinical data and press on with new studies in the desperate hope next time will deliver something better.
Anavex is waving hands in front of Anavex 2-73 data presented Saturday to justify further clinical trials. But this promotion has nothing to do with science.
Adam Feuerstein writes regularly for TheStreet. In keeping with company editorial policy, he doesn't own or short individual stocks, although he owns stock in TheStreet. He also doesn't invest in hedge funds or other private investment partnerships. Feuerstein appreciates your feedback; click here to send him an email.