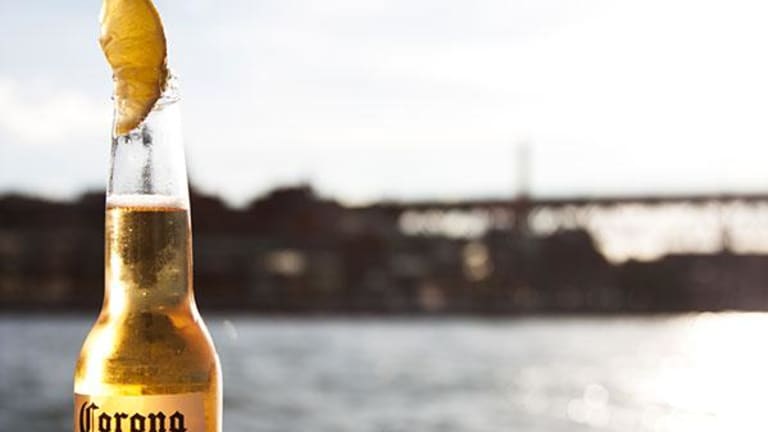 Analysts Urge Caution as Constellation Falls Despite Earnings Beat
Slowing beer sales and fear of tariffs on Mexican imports sent Constellation shares down 7% despite earnings in line with or exceeding expectations.
Shares of Constellation Brands (STZ) - Get Constellation Brands, Inc. Class A Report   fell $11.24, or about 7%, to $146.75 as investor concern at slowing beer sales and potential tariffs outweighed third quarter results that beat expectations.
The Victor, N.Y.-based spirits company posted net sales of $1.8 billion for its third quarter 2017, up 10% year-over-year and about in line with analysts' expectations. Profits of $406 million, or $1.98 a share, exceeded expectations of $1.96 per share. 
Not counting the Ballast Point craft beer business Constellation acquired for about $1 billion in late 2015, net beer sales rose 12% for the quarter, down from a gain of 15% in both the first and second quarters. Constellation benefited from tax benefits that resulted in a tax rate of 16.2%, compared to consensus estimates of 26.6%, and down from 32% last year. The lower tax rate added 16 cents to Constellation's earnings per share, Susquehanna analyst Pablo Zuanic said.
Best known for its Mexican beer imports, Constellation has made significant acquisitions in faster-growing wine and spirits categories. But the fear of tariffs on Modelo and Corona beers imported from Mexico has weighed on the stock, which tumbled the day after Donald Trump's surprise presidential win. Corona is the best-selling imported beer in the U.S. 
That day, Bank of America Merrill Lynch analyst Bryan Spillane downgraded the stock to Underperform from Buy and lowered his price target to $150 from $195, highlighting "President-elect Trump's stance on trade and immigration (build a physical wall on the southern border with Mexico, renegotiate trade agreements, add tariffs/taxes, etc.)." In Constellation's most recent full fiscal year, which ended February, Mexican beer accounted for 52.6% of Constellation's net sales and 63.5% of profits.
But many analysts believe these fears are overblown. RBC Capital Markets' Nik Modi, for example, pointed out the difficulty that President-elect Trump will have in passing large tariffs or deportation orders. 
"While we are by no means doubting President-elect Trump, it is important to recognize that these two initiatives will likely be very expensive and will likely need to be approved by the Senate, which in and of itself could take some time," he wrote, adding that even if the initiatives were passed, implementation would be logistically nightmarish.
Modi compared Constellation's stock to those of tobacco companies during a period of class action lawsuits in the early 2000s.
"Recall, that the tobacco industry was facing several lawsuits that were in excess of $100 billion (more than the overall tobacco industry revenue base)," he wrote. "If these lawsuits fully went through, it would completely bankrupt the entire industry (a situation much more dire than what STZ is facing today). It took 10 years for these lawsuits to get fully dismissed. One would think this would have created a terrible backdrop for tobacco stocks. However, tobacco stocks experienced significant gains and outperformance during this time period, mainly because fundamentals were coming in ahead of expectations."
Modi holds an Outperform rating and $183 price target on the stock.