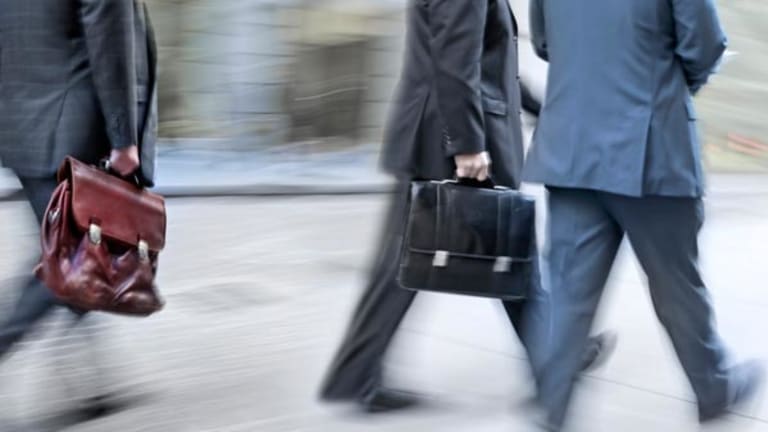 Analysts' Upgrades, Downgrades: Expedia
See who made what calls.
CHANGE IN RATINGS
Bed, Bath & Beyond
(BBBY)
numbers raised at Barclays to $25. Estimates also increased, to reflect higher gross margins. Further market share gains will likely be limited. Equal-weight rating.
Bed Bath & Beyond
(BBBY)
upgraded at JPMorgan to neutral from underweight and price target increased to $28 from $20. JPM doesn't believe the stock will move materially higher than $28-$29 in the near term, the valuation at this price is similar to other best in segment/cyclical retailers. No near term catalyst for a pullback. Raising estimates to $1.65 from $1.45 in 2009 and to $1.95 from $1.85 in 2010 mainly on better gross margin.
ConocoPhillips
(COP)
downgraded at UBS from Buy to Neutral. $42 price target. Estimates also cut, to reflect lower commodity prices.
Emulex
(ELX)
downgraded at JPMorgan to Underweight from Overweight. Price target lowered to $6 from $8. 2009 EPS estimates lowered to $0.22 from $0.23.
Expedia
(EXPE)
downgraded at Merrill Lynch/Bank of America from Buy to Neutral. $10.10 price target. Travel environment has not shown any meaningful signs of improvement.
Newmont Mining
(NEM)
rated new Hold at Citigroup. Company is less hedged and has performed better of late than others in the space, like ABX.
Spectra Energy
(SE)
downgraded at Wachovia to Market Perform. Valuation call, especially as the company will need 100% of its earnings to cover the dividend this year.
State Street
(STT)
downgraded at Merrill/BofA to Neutral. Stock has had a health run, and the company faces multiple revenue pressures. $35 price target.
Seagate Technology
(STX)
downgraded at JP Morgan to Neutral from Overweight. Price target cut to $8.50 from $9.00. 2009 EPS estimates raised to -$0.62 from -$0.69.
Western Digital
(WDC)
upgraded at JP Morgan to neutral from underweight and price target increased to $19 from $12. JPM believes the worst-case scenario has been averted for now. Part of rating change is built on belief that HDDs have become more suitable trading vehicles going forward, versus HBA peers having less certain runways to long-term growth. More immediate, inputs from primary research contacts indicate upside potential to WD's unit trends.
Waddell & Reed Financial
(WDR)
downgraded at Credit Suisse to Neutral from Outperform based on valuation. Raised target price to $17 from $14.
STOCK COMMENTS / EPS CHANGES
Alcoa
(AA)
target raised to $8.25 a share at UBS. On the other hand, estimates were cut through 2010, to reflect lower realized prices. Neutral rating.
Emerson
(EMR)
numbers lowered at Morgan Stanley through 2010. Company has low visibility, negative operating leverage and likely won't meet targets. Equal-weight rating and new $33 price target.
Emerson
(EMR)
2009 estimates, target raised at Barclays. Estimate increased to reflect a near-term recovery in orders, Barclays Capital said. Company also cutting more costs. Overweight rating and new $31 price target.
F5 Networks
(FFIV)
estimates, target upped at Barclays. 2009 estimates increased because of cost-cutting. Sales have slowed down across all categories. Overweight rating and new $28 price target.
Goldman
(GS)
estimates raised at Oppenheimer because of a more robust trading environment. Outperform rating.
Juniper Networks
(JNPR)
estimates cut at UBS through 2010. Management can't cut costs fast enough to offset lower sales. Buy rating and $21 price target.
King Pharma.
(KG)
added to Conviction Buy list at Goldman Sachs. Stock is replacing CYH, with 3 products pending FDA approval. $10 price target.
Micron
(MU)
estimates increased at UBS through 2010. New capital could be put to use to offset dilution. Buy rating and $5 price target.
MetroPCS
(PCS)
numbers raised at Goldman. Shares now seen reaching $21. Estimates also increased, to reflect a higher subscriber count and ARPU improvement. Buy rating.
Sprint Nextel
(S)
target raised at Merrill/BofA to $4.75. Management is upbeat about the Pre launch and Boost Mobile. Neutral rating.
This article was written by a staff member of TheStreet.com.