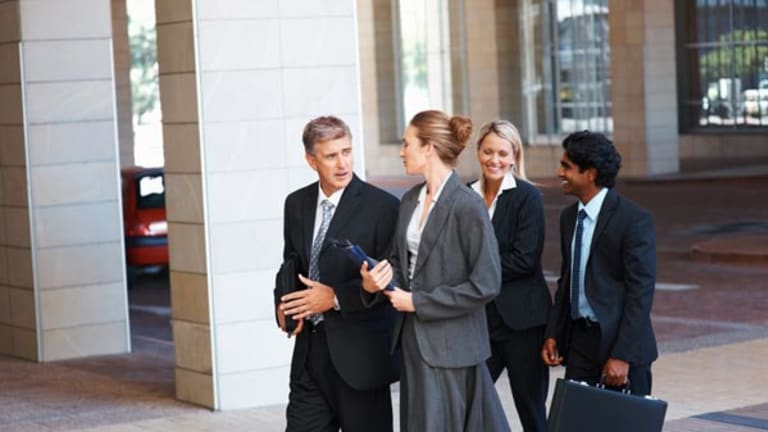 Analysts' Upgrades, Downgrades: Boeing
See who made what calls.
CHANGE IN RATINGS
Ashland
(ASH)
upgraded at JP Morgan to Overweight from Neutral based on higher margin assumptions. Despite recent gain in the stock, firm sees ample room for superior capital appreciation potential longer-term. Raised target price to $17 from $8.
Boeing
(BA)
downgraded at Wachovia to Market Perform. New analyst sees production rate cuts coming. Estimates also lowered.
BB&T
(BBT)
downgraded at Goldman Sachs to Sell from Neutral based on high exposure to residential construction and further weakness in housing prices. Note additional problems in Southeastern U.S. economics. Price target lowered to $14 from $17.
CME Group
(CME)
downgraded at Wachovia from Outperform to Market Perform. Valuation call, as the stock is up 55% from its January lows. New uptick rule could also hurt equity volatility.
Danaher
(DHR)
downgraded at JPMorgan to Neutral from Overweight based on recent outperformance and optimistic consensus estimates. Note earnings cut at Agilent last week, showing negative structural demand shift. Price target lowered to $43 from $46.
Goodrich
(GR)
downgraded at Wachovia from Outperform to Market Perform. New analyst believes that after-market weakness will pressure earnings.
ON Semiconductor
(ONNN)
upgraded at UBS from Neutral to Buy. $5 price target. Estimates also raised, as checks in Asia show improving demand. Pricing not a concern either.
Precision Castparts
(PCP)
downgraded at Wachovia from Outperform to Market Perform. Company will outperform other suppliers, but is not immune to the aerospace cycle. New analyst also cut estimates through 2011.
Reynolds
(RAI)
upgraded at Davenport to Buy. Stock is already pricing in lower cigarette volumes and Conwood margins. $48 price target.
Raytheon
(RTN)
rated new Outperform at Morgan Keegan. Company is highly diversified and the turnaround story is largely complete.
Seagate Technology
(STX)
downgraded at Deutsche Bank from Hold to Sell. Stock is up 90% from its March lows, and investors should not chase the sector. Pricing and inventory outlook is improving.
VMWare
(VMW)
upgraded at Goldman Sachs to Buy based on positive channel checks, increased confidence in earnings outlook and upcoming vSphere product cycle. Price target raised to $29 from $27.
STOCK COMMENTS / EPS CHANGES
Akamai
(AKAM)
target raised at Jefferies to $25. Company is seeing solid bookings in most areas, and cost-cutting should help keep margins afloat. Buy rating.
Amazon.com
(AMZN)
target raised at Collins Stewart to $85. Core business continues to grow very fast. Buy rating.
Apollo
(APOL)
estimates, target raised at Barclays to $100. Estimates also increased, to reflect strong enrollments and margins. Overweight rating.
Celgene
(CELG)
target slashed at Credit Suisse to $47 from $63 after company pre-announced Q1 sales to $600 million -- lower than the $647 million consensus estimates. Maintained Outperform rating.
Celgene
(CELG)
numbers reduced at Barclays Capital to $72. Estimates also cut, to reflect the company's new guidance. Overweight rating.
DuPont
(DD)
estimates lowered through 2010, target cut at Jefferies. Company continues to operate in a sluggish environment. Buy rating and new $29 price target.
EMC
(EMC)
estimates lowered at Barclays through 2010. Company is seeing increased pricing pressure and slower storage demand. Equal-weight rating and $11 price target.
IntercontinentalExchange
(ICE)
numbers raised at Barclays. 2009 estimate increased because of the improvement in OTC commissions. Equal-weight rating and new $73 price target.
Micron
(MU)
2009 estimates cut at UBS to a loss of $2.01 a share. Checks show that DRAM inventory could be high. Buy rating and $5 price target.
New York Times
(NYT)
estimates cut at Barclays throughout 2010. Company likely to see lower advertising revenue. Underweight rating and new $2 price target.
This article was written by a staff member of TheStreet.com.