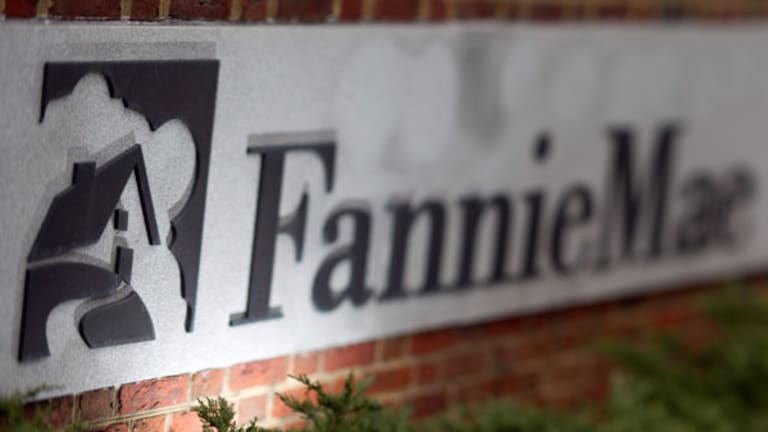 Analysts Stumped as Fannie, Freddie Selloff Ramps Up on Heavy Volume
Shares of Government-Sponsored Enterprises (GSEs) Fannie Mae and Freddie Mac were down sharply on Tuesday in heavily volumes as observers debated the significance of new legal developments.
Updated from 4:15 p.m. with additional details from CRT report.
NEW YORK (TheStreet) -- Fannie Mae (FNMA) and Freddie Mac (FMCC)  shares fell to the lowest levels in several months Tuesday as observers debated the significance of new legal developments that may affect investors in the government sponsored enterprises (GSEs). 
Fannie Mae shares were down more than 10% to $2.58 in the final minutes of trading, having hit a low of $2.54 on the day, the lowest level since mid-January. Volume of 28 million shares compared to a daily average of just over 6 million shares during the past three months. Freddie Mac shares, meanwhile, hit their lowest levels since December, falling 9.82% to $2.57 in late trades. Volume of 11.3 million compared to the daily average of 2.8 million.
In a report published Tuesday, CRT Capital analyst Michael Kim attributed the selloff to two recent legal developments, even while he discounted both of them. Instead, he saw a positive signal in still other legal developments.
Some 20 lawsuits have been filed against the Treasury and other U.S. government entities on behalf of Fannie and Freddie shareholders, and many are proceeding in different courts. Plaintiffs include big-name investors like Perry Capital, Bruce Berkowitz's Fairholme Funds, and Bill Ackman's Pershing Square Capital Management.
Many of them focus on a controversial 2012 amendment to the Federal Housing Finance Authority's 2008 conservatorship of Fannie and Freddie. The amendment changed the terms of the Treasury's $189.4 billion preferred stake in the GSEs so that instead of owing a 10% annual dividend to the U.S. Treasury, the GSEs owed all of their profits, minus capital cushions of $3 billion for each GSE. That left nothing for private shareholders, many of whom claim the so-called "sweep" was a violation of their fifth amendment rights against the seizure of private property for public use without just compensation.
At the same time, there are other cases involving Fannie and Freddie and their regulator, the Federal Housing Finance Authority, that may have a bearing on whether shareholders are able to recover any claim to the GSEs' profits.
In a suit brought against the government by Continental Western Insurance Company in a U.S. court in the Southern District of Iowa Central Division, claims put forward by the defendants were "one of the more well-written responses by the government thus far," Kim wrote in Tuesday's note.
Still, according to Kim, "the contents of their response was fairly predictable [and] not very different from prior responses."
A separate case in Florida involves several "extremely low-income tenants without any permanent housing," according to a recent court order filed by the judge in the case, Marcia Cooke of the U.S. Southern District of Florida. One of the plaintiffs suing the FHFA is a woman named Angela Samuels.
"The case was dismissed in its entirety in favor of FHFA but we believe that this case does not have any relevance to the ongoing cases at hand," Kim wrote.
Instead, Kim found it "noteworthy" that a status conference was not held this week in Fairholme's lawsuit before Judge Margaret Sweeney of the U.S. Court of Federal Claims.
Among possible positive signs for Fairholme, Kim believes the government may be "resuming document production in a more satisfactory manner."
Prior to Tuesday's selloff, Fannie and Freddie shares lost ground throughout much of the summer, prompting a couple of reports in September from Compass Point analyst Isaac Boltansky.
"We have received a torrent of inbound calls regarding the recent selloff in the shares of Fannie Mae and Freddie Mac," Boltansky wrote in a Sept. 11 note. He conceded that "the reason for the move in the common and preferred shares is unknown to us," but offered up several explanations he had heard from investors. 
Among these were a ruling in favor of the government in Gail C. Sweeney Estate Marital Trust v. U.S. Treasury and progress on legislation to end Fannie and Freddie. Boltansky added that neither of these developments were likely to impact the outcome for shareholders as the Sweeney case is "peripheral at best," and "there is no path to passage" for the legislation known variously as Johnson Crapo, the Housing Finance Reform and Taxpayer Protection Act of 2013, and S.1217.
Disclosure: TheStreet's editorial policy prohibits staff editors, reporters and analysts from holding positions in any individual stocks.