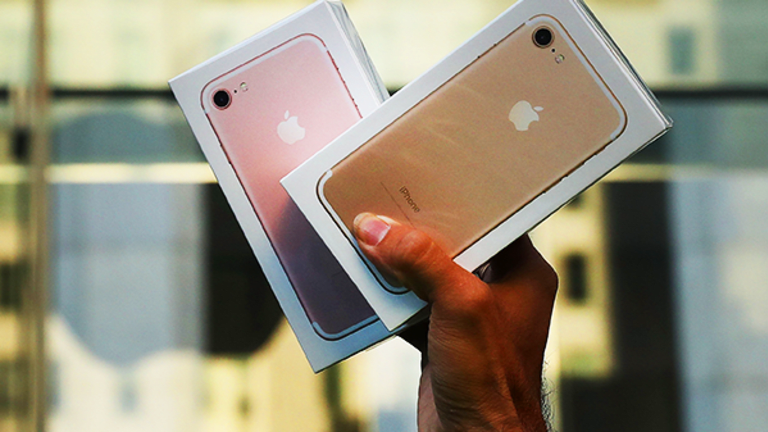 Analysts Spar Over Likelihood of Apple Having an iPhone 8 'Supercycle'
Apple's next iPhone model is expected to include a slew of fancy features, but analysts are unsure if that will lead to outsized sales among consumers.
Wall Street continues to be at odds over whether or not  Apple (AAPL) - Get Apple Inc. Reportwill see a greater-than-expected jump in sales of its 10th anniversary iPhone 8. 
The iPhone 8 (also referred to as the iPhone X) has been  rumored to include an organic LED screen, wireless charging and augmented reality technology, among other features. Analysts have said these features could persuade existing iPhone users to upgrade to the newest model, driving a sales "super cycle," while others argue that such sophisticated technology has the potential to drive the iPhone's average selling price out of range of the average buyer's budget. 
J.P. Morgan analyst Rod Hall contends that Apple won't have any issues convincing consumers to buy the iPhone 8, but will actually need to limit demand due to OLED supply constraints. Hall on Monday added Apple to the firm's U.S. Focus List, while maintaining an Overweight rating and raising his stock price target to $165 from $142. 
Shares of Apple closed slightly higher by 0.1% to $140.88 on Monday.
Apple is a holding in Jim Cramer's Action Alerts PLUS Charitable Trust Portfolio. Want to be alerted before Cramer buys or sells AAPL? Learn more now.

"We are...materially raising out forecasts due to what we believe is high pent-up replacement demand heading into the 10th anniversary iPhone cycle this year," Hall wrote in a note to clients. "Multiple iPhone 'Pro' features including 3D facial scanning, a glass heavy design, and a structured-light-enabled camera look likely to us and should drive users to upgrade phones that are older, on average, than they have been for four years." 
Hall now expects Apple to sell 260 million iPhones in 2018, up from his prior estimate of 245 million units, which now seems "overly cautious," he added. If Apple sells 260 million units in 2018, that would represent a year-over-year increase of 17%, Hall noted. By comparison, Wall Street is looking for Apple to sell 239 million iPhones next year. 
Meanwhile, FBN Securities analyst Shebly Seyrafi illustrated the bear case for why the iPhone 8 "isn't guaranteed" to generate a super cycle for Apple. 
"Although OLED, wireless charging, 3D sensing, etc. can be good differentiators, these capabilities are expected to increase the iPhone's costs so that price points on the high-end iPhone 8 may exceed $1,000," Seyrafi said, reiterating an Outperform rating and $155 price target on shares of Apple. "If so, then we expect even more challenges in selling this product to emerging markets where incomes are much lower and competition is fiercer." 
As a result, Apple will probably have a "good cycle" but not a super cycle, Seyrafi noted. 
He also laid out a number of challenges that could impact Apple's stock in the near term, including the company's increasingly weak performance in China, significant share loss to Chinese smartphone makers Huawei, Oppo and Vivo, as well as challenges in penetrating India. 
Apple's revenue in Greater China jumped 84% year-over-year in 2015, but has since fallen 17% year-over-year in 2016. And Apple's traction in Greater China continues to slow, as the company saw revenue in the region slump 12% year-over-year in the fiscal first quarter. 
Huawei, Oppo and Vivo, meanwhile, saw combined growth of 63% year-over-year in the fourth quarter of 2016, Seyrafi said. 
"We conclude from the above that since China accounts for roughly 31% of the worldwide smartphone market that the significant share losses that Apple is experiencing due to Oppo, Huawei and Vivo is taking away a key area of growth for the company -- and this is before any possible retaliation by the Chinese government to any moves that President Trump might take," Seyrafi explained. 
China could prove to be a "lost cause" for Apple due to strong competition, Seyrafi added. 
Seyrafi's argument differs from analysts at Morgan Stanley who contend that Apple's high-end, expensive features could actually  lead to supersized demand from Chinese consumers. 
"The market concern around rising shipments from Chinese-branded smartphone vendors is not just overblown but actually a meaningful opportunity for Apple as it provides a base of potential switchers in the future," the firm wrote in a recent note. 
Additionally, Morgan Stanley said Apple has the highest rate of brand loyalty among all smartphone vendors in China at 74%, compared to Oppo and Vivo's rates of 24% and 19%, respectively.