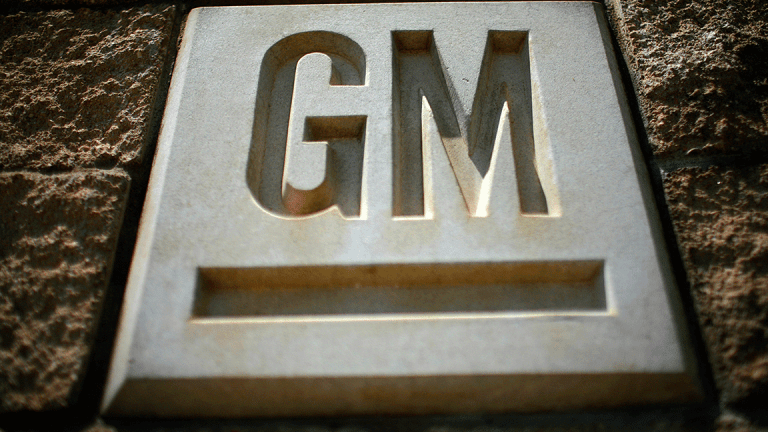 GM Slides as Trump Threatens to Cut Subsidies in Wake of Plant Closings
Analysts at J.P. Morgan and UBS raised their price targets to $53.
General Motors (GM) - Get Report stock fell after President Donald Trump said he would seek to cut subsidies for the automaker, whose restructuring plan has prompted Wall Street analysts to raise their price targets on the stock, while cautioning that headwinds remain.
Analysts at J.P. Morgan and UBS raised their price targets to $53 from $48 and $52, respectively. Both firms have the equivalent of a Buy rating on the stock.
The Detroit-based automaker announced on Monday that it would shutter five plants in North America and two additional plants outside of North America, and cut 15% of the salaried workforce, including 25% fewer executives, as part of an effort to streamline decision making.
Trump expressed his displeasure with the decision on Twitter, saying "we are now looking at cutting all GM subsidies, including for electric cars." 
GM did not immediately respond to a request for comment. Shares of GM closed 2.6% lower at $36.69 following trading on the New York Stock Exchange. 
GM receives about $943 million a year in federal subsidies, according to Good Jobs First, a national policy resource center that tracks subsidies.
While Trump, Canadian Prime Minister Justin Trudeau, the United Automobile Workers union, and Canada's Unifor, which represents 315,000 unionized workers, all expressed their disappointment with the restructuring plan, shares surged on Monday as investors applauded the cost-costing initiatives the company plans to do in response to a slowing auto market.
"For a company supposedly operating at peak [earnings per share] power (as GM stock implies), [Monday's] announcement shows that GM possesses unique turnaround levers that can drive meaningful savings over a relatively short period of time," Citi Research analyst Itay Michaeli wrote in a research note. "Today's actions are actually more aggressive than what we would've expected, demonstrating a sense of urgency."
Citi rates GM at Buy with a $60 price target.
GM expects its restructuring plan to contribute to cash savings of about $6 billion by year-end 2020. UBS analyst Colin Langan noted that the company's previous cost savings plan targeted $6.5 billion gross savings from 2014 to 2018, which resulted in about $3 billion in net savings. The new plan, Langan said, "implies $1.5 billion more in net cost savings in half the time."
"That said, there are macro offsets outside of these costs savings," said UBS analyst Colin Langan. "In 2019 these include approximately $1 billion in commodity headwinds, about $500 million from the non-recurrence of [mark to market] gains in 2018, SUV downtime, and higher [depreciation and amortization] on new pickups."
Still, Citi raised its 2019 earnings per share estimates by 30 cents to $6.90 and lifted its 2020 EPS estimates to $7.40, from $6.85.
Meanwhile, J.P. Morgan analyst Ryan Brinkman said the savings are "exciting" but warned that they are "highly unlikely to prove entirely additive to consensus estimates."
"Our sense is [the savings] are likely to be partly offset by industry headwinds (such as China) and incremental investments in autonomous and electrification efforts that the company may call out at a capital markets day newly scheduled for Jan. 11 in New York when it is expected to guide to 2019," Brinkman wrote in a research note.
"For now, ahead of the revealing of additional information on January 11, the impression we are left with is that of a company which is proactively reducing costs ahead of any potential downturn including in order to maintain the type of flexibility it had achieved coming out of the last downturn (seemingly and then some) prior to the layering on of additional costs relative to autonomous and electrification efforts and the emergence of a softer industry environment in China," Brinkman said.
Brinkman raised his 2019 EPS estimates to $6.70, compared to the previous expectation of $6.35. The J.P. Morgan analyst increased his 2020 EPS estimate by 90 cents to $6.90 a share.