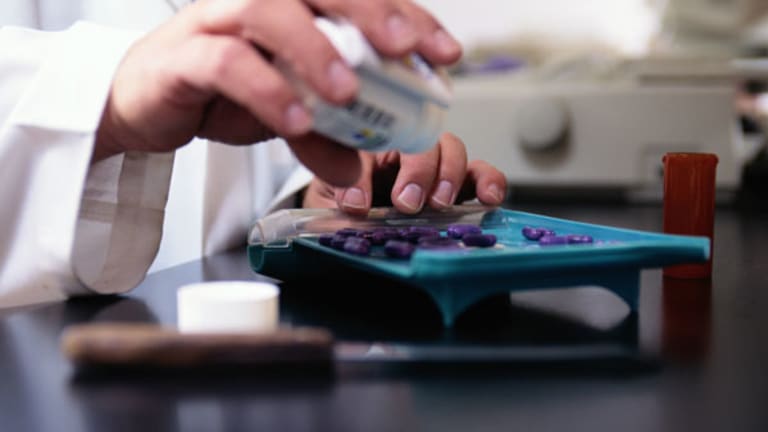 Analysts Get Hooked On Watson After Actavis Drugs Deal
After making the largest drugs deal of 2012, analysts are hooked on Watson Pharmaceuticals.
NEW YORK (
) -- Although
Watson Pharmaceuticals'
(WPI)
acquisition of Swiss generic drug maker
Actavis
was expected for over a month, a strong reaction to
shows that analysts are hooked on the drugs maker.
In a push to become a top generics manufacturer with a bolstered presence in fast-growing international markets, Watson Pharmaceuticals is buying Actavis for $5.6 billion. While the price is roughly $1 billion below initial reports of a tie-up -- even when including incentives could push the deal roughly $300 million higher -- analysts are upping their outlook on Watson Pharmaceuticals as a result of higher earnings growth expectations.
Even after shares surged in reaction to Wednesday's merger, many expect bigger gains to come as Watson Pharmaceuticals grows into the third leading generic drug manufacturer, while boosting its profit margins and growth profile.
"In our view, the deal is extremely compelling strategically and financially. It transforms WPI into a global generics leader with new strength in attractive markets, bolsters long-term growth, and creates substantial value for WPI shareholders," wrote Credit Suisse analyst Mike Faerm in a note to clients analyzing the merger.
Faerm boosted his price target for Watson Pharmaceuticals from $73 to $98, a 34% increase, on expectations that the tie-up will add $3.49 to the company's earnings per share by 2015, after benefits are realized. Those expectations reflect far higher EPS growth that Faerm initially forecast when deal rumors were first reported by
Reuters
in late March, reflecting bullish management projections in yesterday's announcement.
"Several financial aspects of the deal exceeded our (and we think the market's) expectations," added Faerm, noting Watson's forecasts of $300 million in synergies, a 28% tax rate and an interest expense of 4.5%, as a result of the merger.
The deal is structured so that the company will an make initial cash payment of 4.25 billion euros
$5.6 billion and will deliver a bonus of up to roughly $300 million in 2013 if all M&A targets are met. That would push the deal to roughly $5.9 billion, below initial reports as high as $7.3 billion and expectations by Faerm of a $6.9 billion merger.
Watson is buying a generics manufacturer with a stronger international presence, potentially overcoming one of its biggest expected growth challenges. Actavis operates in 40 countries and in 2011, the company had roughly $2.5 billion in revenue. The company makes generic versions of Ritalin, a drug to treat attention deficit disorder and Ambien, a sleeping pill. Watson Pharmaceuticals produces generic versions of
Pfizer's
(PFE) - Get Pfizer Inc. Report
Lipitor.
"Actavis dramatically enhances our commercial position on a global basis and brings complementary products and capabilities in the United States," said Watson Pharmaceuticals CEO Paul M. Bisaro, in a statement. "
We more than double Watson's international access and strengthen our commercial position in key established European markets as well as exciting emerging growth markets, including Central and Eastern Europe and Russia."
After the deal is completed, Actavis is expected to tilt 40% of Watson Pharmaceuticals generic drugs revenue outside of the U.S. Overall, those benefits and synergies are expected to add 30% to Watson's non-GAAP 2013 earnings per share, the company said in a statement.
The tie-up is also expected to ratchet up Watson Pharmaceuticals competition against larger generic drugs makers like
Mylan
(MYP)
,
Sandoz
and
Teva Pharmaceuticals
(TEVA) - Get Teva Pharmaceutical Industries Ltd. Report
.
"In one fell swoop, WPI is now much more competitive with Teva and Sandoz for a global presence, and in our opinion, leapfrogs Mylan," wrote Jefferies analyst Corey Davis in a note to clients reacting to the deal. "It would have taken WPI years to accumulate the infrastructure in each of the regions that it gets with Actavis. Most importantly, it gets into the fastest growing areas of Eastern Europe and Russia that
Valeant
(VRX)
has been so focused on."
Already bolstered by speculation of a merger, Watson Pharmaceuticals shares rose over 6% to just under $74 in early Thursday trading. That puts the Parsippany, NJ-based company's year-to-date gains at nearly 25%. Still, after analysts bumped up their price targets by over 10% in the last week, Watson Pharmaceuticals average analyst price target is $78, according to data compiled by
Bloomberg
.
Calling the deal, "strategically compelling and highly accretive," David Risinger of Morgan Stanley boosted the company's EPS expectations by 30% in 2013 and 60% in 2015 - leading to a 30% price target hike to $84.
With those earnings expectations, other analysts argue that Watson Pharmaceuticals will be a compelling stock in the next year based on a low expected price-to-earnings multiple. "We think there should be little push back using a price-to-earnings of 10x at least into the middle of the strong 3-4 year EPS gr, so we would expect the stock to move much higher over the next 18 months," wrote David Goodman of UBS in a note. Goodman raised his price target from $71 to $80 on Wednesday.
Davis of Jefferies says that though the deal may be a game-changer for Watson Pharmaceuticals growth prospects, there's reason ample reason to be cautious. "The only major risk we see is that of management distraction for what will undoubtedly be a complex, lengthy, and arduous integration," notes Davis."
Almost all deals are accretive with non-GAAP accounting, so one needs to consider the debt for evaluating the merits of the transaction. And the main reason we remain at Hold is that WPI is now trading at a premium to both Teva and Mylan."
Watson will pay the cash part of the merger through loan commitments with Bank of Ameria Merrill Lynch and Wells Fargo, and it will also issue new unsecured notes, the company said in a statement. However, as a result of the cash generated by the merger, Watson expects to pay down those debts quickly, pushing its debt to earnings before interest, taxes, depreciation and amortization to 3X in 2013 and 2X by 2014.
While the deal may eventually be seen as a game changer for Watson Pharmaceuticals, it also speaks to a wider trend of mergers in the pharmaceuticals and healthcare sector in 2012, as overall deal activity generally stalls. The merger is the largest pharmaceuticals deal of 2012 according to
ThomsonReuters
data, bringing pharmaceuticals M&A to$14 billion so far this year, up 44% from the same period in 2011.
A recent flurry of drugs deals is now turning into a trend:
Amgen's
(AMGN) - Get Amgen Inc. Report
acquisition of Turkish generic drugs maker
Mustafa Nevzat Pharmaceuticals
, in a deal that may dilute its
;
SXC Health Solutions
( SXCI) acquisition of
Catalyst Health Solutions
( CHSI) for $4.4 billion; and
Human Genome Sciences
( HGSI) rejection of a $2.6 billion unsolicited offer from
GlaxoSmithKline
(GSK) - Get GlaxoSmithKline Plc Report
.
For more on healthcare sector M&A see how a Covidien split
continues the breakup of the Tyco empire
. Also see
how Pfizer may trim down in 2012
and
the Express Scripts and Medco Health Solutions merger.
-- Written by Antoine Gara in New York