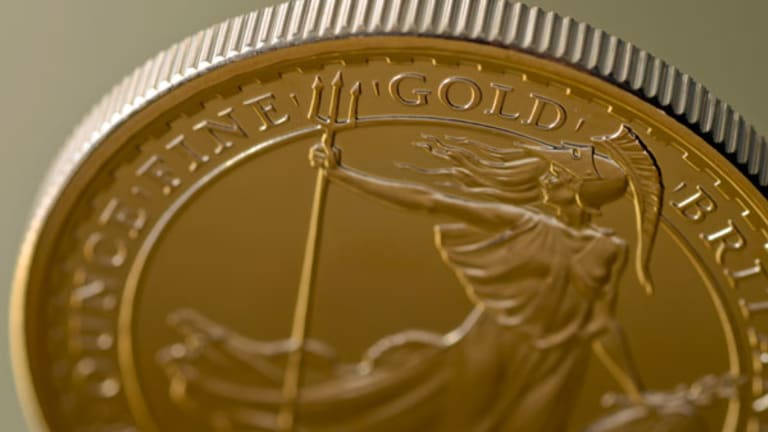 Analyst: Top 2 Stocks for High Gold Prices
Adam Graf, director of emerging miners for Dahlman Rose & Co. discusses how to find undervalued gold stocks and reveals his two favorites.
NEW YORK (
) -- With
up 20% for the year, finding the next big gold stock ripe for a breakout is tough.
Mining stocks can have as much as a 3-to-1 leverage to gold's spot price to the upside and downside. Gold miners are risky because they trade with the broader equity market.
Some tips to consider when picking gold stocks are to find companies with strong production and reserve growth. Make sure they have good management and inventory supported by either buying smaller companies or by maintaining consistent production.
Global gold production has been declining since 2001 and big miners are keeping their gold reserves flush by buying or partnering with small-cap companies, which are in the exploration or development stage.
As gold prices rise, gold companies can make more for every ounce of gold they produce, but their net profits depend on their cash costs, i.e. how much it costs them to produce an ounce of gold. Those factors vary from company to company and are subject to currency issues, energy costs and geopolitical factors.
You also have to take into consideration how the company grows. There is a finite supply of gold in the ground. According to reports, gold discoveries have been falling by 4 million ounces each year for the past 30 years. Companies, in order to meet growing demand, either have to invest in an active exploration unit in hopes of striking gold, or have enough cash to buy a smaller company.
In the World Gold Council's recent Gold Demand Trend report, gold mine supply rose 3% to 702 tons in the third quarter from a year ago as producers hustled to ramp up supply. Global identifiable gold demand rose 12% to 921.8 tons.
This trend makes junior miners a risky but potentially explosive investment. They are doing the actual exploring and digging for gold but often have no cash flow and must wait 5-10 years before a mine goes into production. Juniors are oftentimes forced to hedge, lock in gold sales at a low price, which limits profits, in order to secure project financing.
Juniors are oftentimes takeout targets by the big mining companies. The more gold you produce the faster you have to be at replenishing your reserves, a problem that has plagued the majors as gold prices have skyrocketed.
Kinross Gold
(KGC)
and
Goldcorp
(GG)
both recently paid hefty premiums to acquire smaller gold producers which has led many analysts to try to find the next big takeout target.
Adam Graf, director of emerging miners for
Dahlman Rose & Co.
says that juniors fall into a couple of categories.
"There are juniors that have fairly large projects, mid-sized projects which they maybe can do themselves or maybe they prefer to get taken out. Then there are the juniors that have very large projects, sometimes large low-grade projects, that, at current gold prices, are very attractive or should be very attractive to the majors and I think those guys are pretty clearly looking to get taken out."
Although Adam wouldn't speculate on the best takeover target, he did say that the two most undervalued gold stocks that he sees are
Seabridge Gold
(SA)
and
Vista Gold
(VGZ)
.
"These are names that have anywhere from very large- to mid-sized projects and
are frequently fairly advanced and they're trading with explorers. I think those are companies that are significantly undervalued by the market and with a possible single catalyst could have significant moves to the upside. They're not waiting for a gold price. They're just underexposed or undervalued by the market."
Graf believes the catalysts could be anything from moving projects forward to pre-feasibility or full feasibility studies, just something to get the companies noticed by investors.
Before you invest, check out the financial fundamentals, Wall Street's opinion and how the stocks have performed of late.
Company Profile
Seabridge owns nine North American gold mining projects with a three pronged business strategy. It acquires mines, explores and develops projects, and sells or partners them when they reach a production phase.
Seabridge's largest current project is Kerr-Sulphurets-Mitchell (KSM), which has proven and probable reserves of 30.2 million ounces of gold and 7 billion pounds of copper. Seabridge is contemplating a redesign of the project to boost output. One of its smaller projects, Grassy Mountain, has the potential to produce 90,000 ounces of gold annually at cash costs of $175 per ounce.
Seabridge reported a net loss in the third quarter of 1 cent a share which was three cents lower from a year earlier.
As of the third quarter, Seabridge had $27.3 million in net working capital. The company also invested $11 million in a two-year Canadian bank and locked interest rates higher than its short-term investments. Seabridge spent $19.8 million on KSM and its other big project, Courageous Lake. Their expenditures were up 48% from the same period a year earlier. An updated preliminary assessment for Courageous Lake is on track to be finished in March of 2011.
Seabridge currently has 2 buy ratings and an average price target of $109.27. No price-to-earnings multiple is available for the stock. Shares are up 13.2% year-to-date.
Company Profile
In 2007, Vista Gold spun out
Allied Nevada Gold
, which is now a profitable gold and silver producer with a market cap of $2.1 billion. Vista is now trying to transition into a viable mid-sized gold producer by developing its Concordia gold project in Mexico and its Mt. Todd gold project in Australia, which have proven and probable reserves of 1.3 million and 2 million ounces of gold, respectively.
Once the projects come on stream, Concordia should produce an average of 142,900 ounces of gold over the first five years and 127,400 ounces annually for the remaining 5 years. Mt. Todd has the capacity to produce 187,500 ounces of gold annually over the mine's 9-year life.
Income Statement
In the third quarter, Vista Gold lost 3 cents a share compared to consolidated net earnings of 5 cents a share for the same period a year ago.
Balance Sheet
As of the second quarter, the company's total assets were $89 million with negative working capital of $8.6 million. Total liabilities for Vista Gold amount to $24 million. According to the company's website, in the first quarter of 201, Vista must pay out $23,000 in principal balance of their senior secured convertible notes and currently doesn't have enough capital to do that.
The company recently raised $33.7 million by closing a private placement of warrants, which is in escrow waiting for the green light from shareholders. Part of the proceeds will be used on its Mt. Todd project.
Analyst Ratings
Only Dahlman & Rose covers this stock and currently Graf has a buy rating on shares and a price target of $23.29. No price to earnings multiple is available for the stock. Shares are up 20% year-to-date.
Vista Gold and Seabridge Gold are risky junior minors that are waiting for a catalyst to really move their stocks. Graf believes both names are undervalued at current prices.
Dahlman Rose has not provided investment banking services to VGZ in the past 12 months. It may seek to be a financial advisor or engage in investment banking services with SA and VGZ, and as such, may receive compensation for such services over the next three to twelve months.
As a result, investors should be aware that the firm might have a conflict of interest in the future that could affect the objectivity. During the past 12 months Dahlman Rose acted as joint lead manager for SA, Inc.'s secondary public offering of common stock.
Graf has never personally received any compensation from these companies and does not own their securities. Dahlman & Rose does not make a market with these issuers.
Written by Alix Steel in New York.
Readers Also Like:
>>5 Reasons to Explain Gold's Gains
Disclosure: TheStreet's editorial policy prohibits staff editors and reporters from holding positions in any individual stocks.