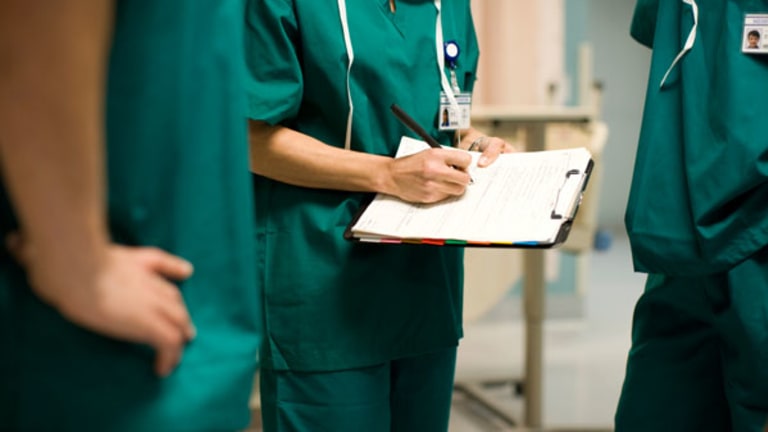 Analyst Claps for Caremark
JPMorgan's Lisa Gill has been bullish through thick and thin.
When it comes to promoting battered drug suppliers, JP Morgan analyst Lisa Gill stands out among the loudest cheerleaders of all.
Just take a look at Gill's loyal support of
Caremark
( CMX). For years, Gill has trumpeted the virtues of the pharmacy benefit manager. But shares have been in sharp decline lately, a selling spell that wasn't helped by last week's unpopular deal with
CVS
(CVS) - Get CVS Health Corporation Report
.
Gill's response? She offered Caremark's chief a big slap on the back.
"We have always viewed Caremark CEO Mac Crawford as a thought leader within the healthcare sector in general," Gill gushed in a research note on Wednesday, a compliment she would repeat to the executive himself during a conference call later on that day. "We believe that the discussion around the potential combination of a PBM and a retail chain represents the next evolution of the PBM industry, and is positioning CMX to benefit from a first-mover advantage. ... We reiterate our overweight rating on shares of CMX."
Other Caremark fans sensed desperation, however.
After all, the company adopted its new strategy in the face of multiple threats. Its business practices have attracted scrutiny from government investigators. Its CEO has collected stock options that look backdated to some. Its generic drugs -- including those peddled by its lucrative mail-order pharmacy -- could seem like less of a bargain to shoppers who can now pick up $4 prescriptions at
Wal-Mart
(WMT) - Get Walmart Inc. Report
.
And its branded drugs face pricing pressures as well, due to proposed changes to the average wholesale pricing, or AWP, system.
Moreover, Caremark ended up selling out for around $48 a share in stock -- almost $9 below Caremark's per-share cost in a $100 million third-quarter buyback.
Yet Gill shrugged off criticism of the merger as a Hail Mary play.
"Importantly, we do not believe this move represents a response by Caremark to a perceived competitive threat, and that the timing is in no way a result of the recent Wal-Mart or AWP issues that have surfaced in the past six weeks," she wrote. "We think the combination makes strategic sense."
For Gill's firm, the transaction makes great business sense as well. JP Morgan has been tapped as Caremark's financial adviser in the deal. The firm has provided non-investment banking services to the company in the past.
To be fair, Gill's followers have made plenty of money over time. She started recommending Caremark shares at $34 nearly three years ago. Even after a recent slide, the stock remains comfortably above that level.
On the other hand, Gill still considered Caremark's stock a good buyback in September, when it was approaching $60. She never changed her mind even as Wal-Mart's $4 generics, the looming pricing changes and CVS's cheap offer took their toll.
Gill doesn't speak with reporters, one of her assistants told
TheStreet.com
.
Questionable Call
Investors might wish to review Gill's positive stand on another drug middleman, beleaguered
Omnicare
(OCR)
, before making their next move.
The giant institutional pharmacy, which supplies prescription drugs to nursing homes, has posted terrible results throughout 2006. But Gill -- perhaps influenced by the stock's double before then -- continued to recommend Omnicare ahead of the company's latest quarterly report nonetheless.
Her call proved disastrous. Shares of Omnicare plunged 11% in a day after the company fell well short of Wall Street expectations and slashed its targets for the current quarter as well.
Gill first announced her overweight recommendation in late April, with Omnicare sitting at $54.26 a share. The stock has lost nearly 30% of its value since that time.
Gill continues to show faith in the company, however.
"OCR's 3Q06 results were clearly disappointing, as we cite deterioration in several key operating metrics," Gill admitted in a research note following the company's update. "However, we believe our downwardly revised 2007 estimates are appropriately conservative and note several opportunities for upside. Based on the dramatic sell-off, we believe there is limited downside risk from current levels -- assuming no new unforeseen issues surface -- and maintain our overweight rating on the shares."
Gill's firm helped manage a recent offering of Omnicare securities and hopes to secure additional investment banking business from the company going forward.
'Buying Opportunities'
Indeed, it seems, Gill rarely feels as rattled by bad news as does the stock market. She usually sees "buying opportunities" instead.
Take a look at her response to the latest quarterly report from
Cardinal Health
(CAH) - Get Cardinal Health, Inc. Report
, a drug supplier whose shares have failed to move appreciably for years.
"Overall, we view the results as lackluster," wrote Gill, whose firm has an investment banking relationship with the company. But "we continue to believe in the long-term fundamentals of the company and would be buyers on any weakness."
To be fair, Cardinal's stock -- while still near the low end of its 52-week range -- has at least held steady since that time.
Still, Gill often reserves her loudest praise for PBMs in general and Caremark in particular. She consistently downplays setbacks in the process.
During a single week this spring, in fact, Gill rushed to Caremark's defense more than once. At the time, Caremark had just disclosed that the company faced a government probe of its past stock option grants. Gill, in turn, declared that the investigation focused on "old issues" and urged investors to buy the company's stock as it fell.
Her note came on top of another published days earlier dismissing Caremark's shift in auditors. She has repeatedly downplayed other bad news -- including a possible FBI probe -- when promoting the company as well.
Recently, just a week before Caremark announced its merger plans, Gill threw her support behind the industry as a whole. She felt that a cautious discussion about pricing changes from
Express Scripts
(ESRX)
-- which she viewed as poorly handled by company management -- had triggered an unfair sell-off in the sector's shares.
"As we have stated in the past, the fundamentals in the group remain the strongest we have seen in recent years," Gill declared. "As we believe the concern over the AWP issue is overblown -- and that industry fundamentals remain strong -- we would be buyers of Caremark and
Medco
(MHS)
on weakness."
Of the three PBMs, Express Scripts alone has sparked some caution on Gill's part. She has a neutral rating on the company, which is a non-investment banking client of her firm.
Meanwhile, Medco -- like Caremark now -- has tapped her firm for lucrative investment banking business. And its shares, like Caremark's, have lost some ground since her bullish industry call.
Peter Cohan, a Massachusetts investment strategist with no position in PBM stocks, has offered a blunt call of his own: "She's a paid mouthpiece."