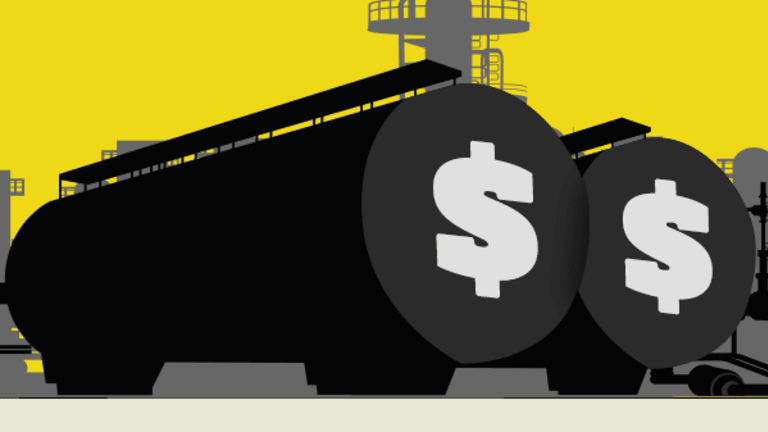 Anadarko Petroleum's Relative Strength Is Signaling Black Gold Ahead
Relative strength bodes well for Anadarko Petroleum, which could produce black gold for investors.
Relative strength, relative strength, relative strength!
When the overall stock market is dropping large like it was on Thursday, then that's what you want to be looking for--relative strength.
Relative strength loosely defined in terms of the stock market is simply scanning through every sector to see which stocks did not go down. These are the names and sectors that sellers were absent from, or were already exhausted from a technical perspective. One sector that stuck out like a sore thumb on Thursday was the oil complex.
Oil futures finished Thursday's trading session slightly higher, to around $45 a barrel, extending a sixth straight session rally. Oil players like EOG Resources Inc. (EOG) , Devon Energy Corporation (DVN) and National Oilwell Varco Inc. (NOV) , all finished slightly higher on the session. This is a clear demonstration of relative strength in the face of an overall market bloodbath.
Sometimes relative strength is just a one-day wonder, and the sellers quickly regain control, taking the sector lower again. However, many times it's a solid tell that the sellers are done and that new buyers are stepping in. This can potentially start new trends higher, which is why I always scan for relative strength on big market down days.
One oil player that's starting to shape up quickly here for the bulls is Anadarko Petroleum Corp. (APC) . This stock managed to finish Thursday's session 3.84% higher to $45.47 a share on heavy volume. Volume for the session finished at 8.35 million shares, which is well above its three-month average of 5.31 million shares. This high-volume spike higher in the midst of a market smack-down is exactly the type of relative strength I scan for.
If you take a look at the chart for Anadarko Petroleum, you'll notice that the stock has been downtrending badly since last December, with shares falling sharply from its high of $73.20 to its recent and new 52-week low of $43.45 a share. During that downtrend, this stock has been consistently making lower highs and lower lows, which is bearish technical price action.
That being said, this stock has started to rebound right around some previous support from April 2016 at $43.33 to that 52-week low of $43.45 a share. This rebound could be signaling a tradable double bottom is in place for shares of Anadarko Petroleum. I especially like the chances for this double bottom to hold here, since we saw a strong spike in volume on Thursday during a very weak tape.
What's key now is to watch for shares of Anadarko Petroleum to break out above an important near-term downtrend line that dates back to around late May.
Traders should look for a breakout to trigger if this stock manages to clear and close above that key downtrend line that will trigger over $46 to its 20-day simple moving average at $46.80 a share with strong upside volume flows. Look for a volume on that move that hits near or above its three-month average action of 5.31 million shares.
If that breakout hits soon, then look for this stock to retest or possibly take out its next key overhead resistance levels at its 50-day simple moving average of $51.03 to $54, or even $58 to $61 a share. Traders can manage their risk from here by simply stopping out if this stock closes back below those potential double bottom support levels at $43.45 to $43.33 a share.
This article is commentary by an independent contributor. At the time of publication, the author held no positions in the stocks mentioned.