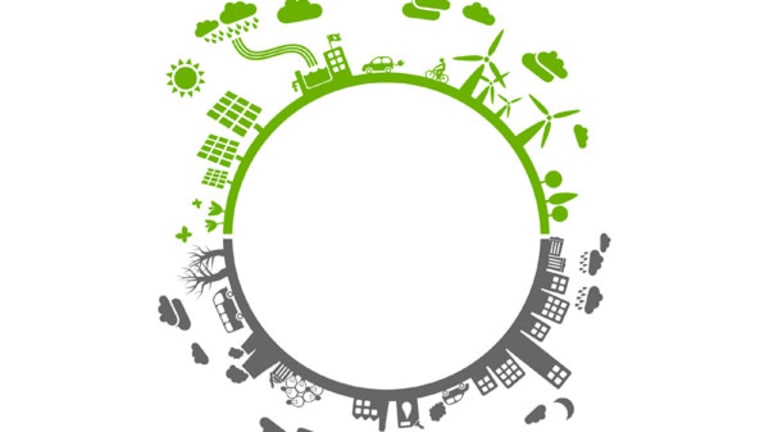 Anadarko Eyes Big Gains in Shale Play
Anadarko anticipates big gains from the Niobrara Shale.
The following commentary comes from an independent investor or market observer as part of TheStreet's guest contributor program, which is separate from the company's news coverage.
NEW YORK (
) --Last week
Anadarko
(APC) - Get Report
announced that results of initial drilling activity in the Niobrara indicate significant potential resources and high expected returns from the liquid-rich shale play.
Management is planning increased upstream and mid-stream activity in the area, positioning the company for what it believes will be big gains in this onshore growth play. Natural gas production and natural gas liquids production represent 29% and 9% of the Trefis price estimate for Anadarko, respectively.
See Full Analysis for Anadarko
here.
Anadarko is one of the largest independent oil and gas exploration and production companies in the world, with 2.4 billion barrels of oil equivalent (BOE) of proved reserves as of Dec. 31, 2010.
While its operations span the globe, Anadarko has not fallen behind in the recent U.S. onshore shale boom. The company has a leading position in the Niobrara Shale -- a shale formation that is in the early stages of development, but is believed to hold such great natural gas and particularly natural gas liquids potential that some commentators are touting it as the next Bakken. Anadarko holds over 1.3 million net acres in the promising Niobrara.
Other leading operators within this shale play include
Noble Energy
(NBL) - Get Report
and
Chesapeake
(CHK) - Get Report
.
Big Expectations for Niobrara
The Niobrara Shale, a shale rock formation located in Northeast Colorado, Northwest Kansas, Southwest Nebraska and Southeast Wyoming, is an exciting new find for the booming US shale gas and oil industry.
While exploration and development of this shale play is still in the early stages, it is already being compared to the Bakken Shale, the birthplace of the recent U.S. shale revolution. With such high expectations, oil and gas companies have been rapidly buying up land leases and acquiring acreage in the region over recent years. Other companies currently operating in the Niobrara include
SM Energy
(SM) - Get Report
and
ConocoPhillips
(COP) - Get Report
.
Anadarko is currently operating 11 horizontal wells in the Wattenberg field, which produce natural gas and liquids from the Niobrara Shale. Last week the company announced that each of these wells is achieving strong production rates and high liquids yields. Average initial production rates have been about 800 BOE per day, with a liquids ratio of approximately 70%. With natural gas liquids commanding a significantly higher price than dry natural gas, it is the high liquids ratio that makes the Niobrara Shale such an attractive prospect.
The Wattenberg Field activity was the main driver behind the company's 13% year-on-year increase in natural gas liquids production for the nine months ended September 2011. Chuck Meloy, Anadarko's senior vice president of worldwide operations, said, "The company expects robust margins' and strong cash flow from its Niobrara drilling. The results to date demonstrate the Wattenberg HZ program is among the most cost-efficient development projects in our U.S. onshore portfolio, and with initial wells averaging payouts of 10 months, we expect it to quickly become a self-funding, significant cash-flow generator."
With between 1,200 and 2,700 potential future drilling sites in the area, the company believes that the Wattenberg Field will provide net resources of between 500 million and 1.5 billion BOE.
Anadarko plans to rapidly expand its drilling program within the high-margin Wattenberg Field, increasing the number of horizontal wells drilled from approximately 40 in 2011 to 160 by the end of 2012. Outside of the Wattenberg Field, the company is also actively exploring its further 910,000 net acreage of Niobrara holdings across the greater Denver-Julesberg Basin and the Powder River Basin.
To further benefit from the expected rapid growth of Niobrara production, Anadarko has made strategic acquisitions of midstream assets in the region, including infrastructure, takeaway capacity, NGL processing and the White Cliffs Oil Pipeline.Forecast Increase in Natural Gas Liquids Volumes
The
Trefis price estimate of $88 assumes that Anadarko's natural gas liquids production increases to 24.8 million barrels for the full year to December 2011, and then increases at an annual average of 8% until 2018.
With its leading position and huge acreage in the liquid-rich Niobrara, there is potential for even higher growth rates in this sector. You can drag the trend lines in the modifiable charts above to see the impact of increasing liquids production on the price estimate.
Click
to find out how a company's products impact its stock price at Trefis
Like our charts? Embed them in your own posts using the
.
This commentary comes from an independent investor or market observer as part of TheStreet guest contributor program. The views expressed are those of the author and do not necessarily represent the views of TheStreet or its management.