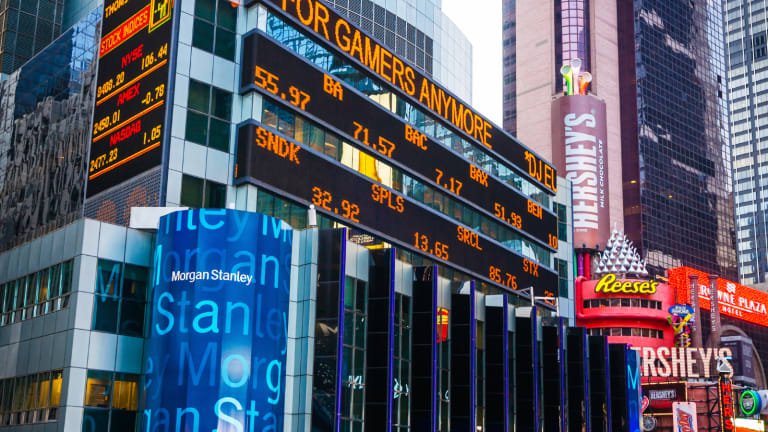 An Overdue Tech Stock Correction Doesn't Change the Big Picture
The Nasdaq is still up big in 2017 and the catalysts that have fueled these gains are still generally in place.
The Nasdaq is still up big in 2017 and the catalysts that have fueled these gains are still generally in place.
As the airwaves and newswires are flooded with stories about a "rotation" out of tech stocks, it helps to keep a sense of perspective.
The Nasdaq is still up over 26% on the year, easily topping the S&P 500's 18% gain. The proverbial FAANG stocks -- Facebook Inc. (FB) - Get Report , Apple Inc. (AAPL) - Get Report , Amazon.com Inc. (AMZN) - Get Report , Netflix Inc.  (NFLX) - Get Report and Alphabet Inc./Google (GOOGL) - Get Report , maintain gains ranging from 29% (Alphabet) to 53% (Amazon).
China's two largest tech firms, Alibaba Group Holding Ltd. (BABA) - Get Report  and Tencent Holdings Ltd. (TCEHY) , both remain up over 90% in spite of seeing especially sharp selloffs (as noted earlier, their run-ups felt particularly extended). Nvidia Corp.  (NVDA) - Get Report remains up 77%, and even Tesla Inc. (TSLA) - Get Report , which is down 22% from its mid-September peak amid worries about the production ramp for its Model 3 sedan, is still up 43% on the year.
Moreover, we're less than two months removed from an earnings season that by any definition was a stellar one for tech giants. The FAANG stocks, Microsoft and Intel all beat third-quarter revenue and (with the exception of Netflix) EPS estimates, with those issuing guidance also delivering upbeat outlooks. And in many cases, revenue growth rates accelerated from the second quarter. Other than online travel firms Priceline Group Inc. (PCLN)  and Expedia Inc. (EXPE) - Get Report , it's tough to think of a tech giant whose third-quarter figures disappointed in any serious way.
Jim Cramer and the AAP team hold positions in Apple, Alphabet, Facebook and Nvidia for their Action Alerts PLUS Charitable Trust Portfolio. Want to be alerted before Cramer buys or sells AAPL, GOOGL, FB or NVDA? Learn more now.
In addition, we're less than two weeks removed from what was a pretty strong Thanksgiving weekend for online retail sales. And with the exception of Hewlett-Packard Enterprise Co. (HPE) - Get Report , those large-cap tech names reporting over the last three weeks have also delivered solid numbers.
It's also worth noting that the most commonly-cited storyline for the rotation out of tech -- potential approval of a tax bill that includes a cut in the U.S. corporate tax rate to 20% from 35% -- is hardly bad news for tech giants. Rather, it's perhaps just relatively less positive for tech firms that have been reporting fairly low effective tax rates thanks to financial engineering (for example, IBM (IBM) - Get Report  and Facebook).
And even that claim is debatable, since the Senate-approved version of the bill also calls for offshore cash, which the likes of Apple and Microsoft have mountains of, to be repatriated at a one-time rate of 10% Another provision calls for the U.S. to shift to a territorial tax system that on paper at least would exempt a large portion of offshore profits from U.S. taxation. The House still has to approve the bill, and could make some changes to the corporate tax portions.
By and large, the recent selloff in tech feels like a healthy and inevitable bout of profit-taking for a sector that has delivered huge paper profits for long-term investors this year. And which continues to benefit on a massive scale from long-term trends such as high-end smartphone, e-commerce and public cloud adoption, digital media consumption, the shift in ad dollars towards online channels and the creation of more intelligent, connected and electrified cars.
If there's anything that should worry tech investors right now, it's that the third-quarter earnings strength may have been a little too broad -- lifting the fortunes not only of tech giants who have been executing well and benefiting from big long-term trends, but also those that have been facing major secular challenges and/or losing share in key businesses.
It's one thing for Amazon, Facebook and Nvidia to once more turn in strong quarters. It's another for big-cap tech names that had posted disappointing numbers earlier this year, such as IBM, Cisco (CSCO) - Get Report and Seagate (STX) - Get Report , to simultaneously turn a corner. This kind of activity, driven in part by a pickup in enterprise tech spending, is the kind of thing one sometimes sees towards the end of a boom cycle, when businesses scared of "missing out" on big tech trends start spending lavishly.
But for now, this is simply something to keep an eye on, rather than anything to panic over. At least when most of the trends that have propelled tech stocks higher this year remain firmly in place, and macro conditions continue to be pretty healthy. And valuations, though in some cases a little stretched, are still generally a ways off from hitting bubble-like levels.
More of What's Trending on TheStreet: