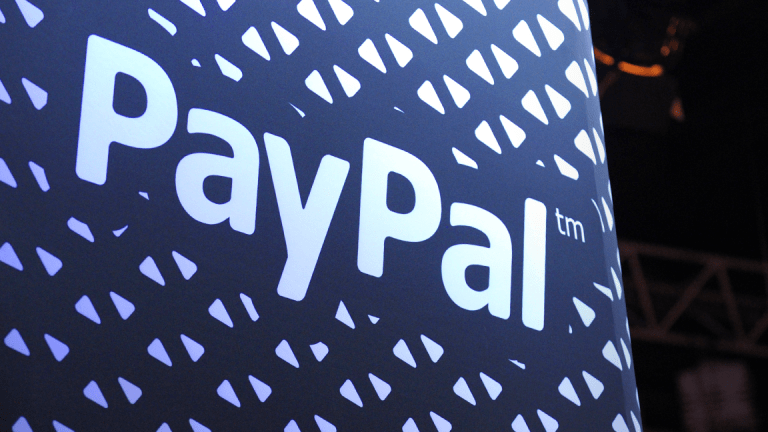 PayPal's Stock Is Poised for an Explosive Move
How to play volatility rather than direction going into earnings on this perplexing name.
How interesting is PayPal (PYPL) - Get PayPal Holdings Inc. Report ?
The company reports its first-quarter numbers Wednesday tonight. The industry is looking for earnings of $0.54 per share. Whispers are for roughly $0.02 more than that. Revenue projections, which are far more important these days than earnings per share, are for a consensus $3.58 billion. Is this an opportunity to score a name that gave up 3.8% just yesterday?
There certainly are positives, like a three-year average EPS growth rate of 20%, and a three-year average sales growth rate of 17%. Is most of that behind them though? Gross profit margins for fourth-quarter 2017 ran at 56%, which was slightly lower year over year. The company sports a current ratio of 1.4. Again healthy, but again lower than the previous year.
Keep in mind these guys pay you exactly zero dollars and zero cents to take on the risk of equity ownership.
Action Alerts PLUS holding PayPal is a bit expensive at 27 times forward looking earnings. The share price has seen a series of declining highs and rising lows since last December, while literally trading sideways the whole time. You market veterans know what that means. You new kids might want to know that behavior such as that often precedes extreme violence, but as an indicator is directionless.
More Information
1) I have already told you that margins could be a problem here. Investors should be aware that the payments business could be in the cross-hairs of the Death Star known as Action Alerts PLUS holding Amazon (AMZN) - Get Amazon.com Inc. Report . That behemoth is working on a way to have its "Alexa" device take care of payments in direct response to voice commands. Yikes.
2) In late March, Bernstein analysts initiated coverage of both Visa V, and Mastercard MA as "Out-performs" and referred to both of those as the "crown jewels" of the payments business. Bernstein at the same time warned on "under appreciated business pressure" facing PayPal, as well as the firm's reliance on eBay EBAY. That eBay deal has since been extended through 2023, but the spoken reliance has not been eased.
3) In early April, The Wall Street Journal ran a story stating that PayPal was reaching out to their clientele to gauge interest in traditional banking services. TheStreet talked with a PayPal executive, which refuted the claim. The company, without a banking license, would have to make deals with smaller banks in order to offer such services, and to me, smacks a little of desperation. I mean, why not just use a bank?
Trade Ideas
My thoughts on this perplexing name are to play volatility rather than direction going into earnings. Over the past three months, the shares have traded both above $86, and below $72. I also believe that at a last sale $75.28, that an explosive move is coming for the name. How to play single stock volatility?
-- The simple, but expensive way is to simply buy an options strategy known as a Straddle. That means buying both a call option, and a put option with the same strike price and same expiration date in the hopes that the share price moves more than the combined premiums paid. At Tuesday's night's close, a $75 straddle expiring this week would cost you $4.81. That means that you would have to see prices above $80, or below $70 by week's end to make this trade worthwhile. That's up to you.
-- Another route, and maybe more economical would be the purchase of a long dated Strangle. In other words, buy an out-of-the money call, and an out-of-the money put, and push out expiration. One example I like for this name would be the purchase of a $77.50 July call and a $72.50 July put. Last night these trades would have cost you $7.40. That means that by July 20 (a week ahead of the next PayPal quarterly earnings release), you would need to see prices above $85 or below $65. In my honest opinion, this is a more likely outcome, and more time to either become right, or salvage some time premium if you change your mind.
At the time of publication, Guilfoyle was long AMZN equity.
Action Alerts PLUS, which Cramer manages as a charitable trust, is long PYPL and AMZN.