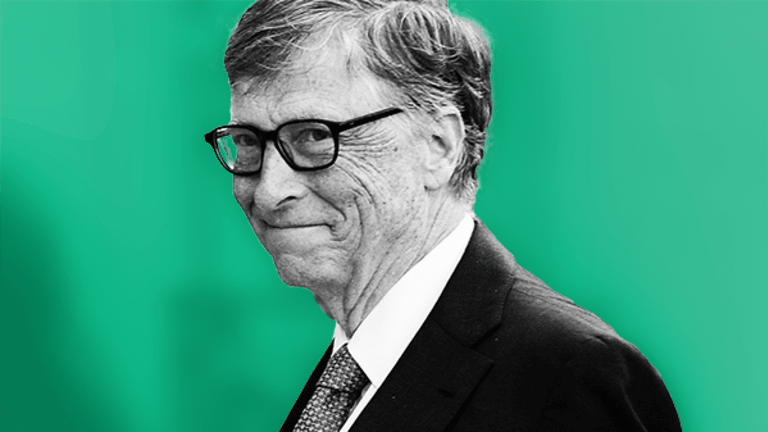 Microsoft's Stellar Year Could Only Be Stopped by Two Unforeseen Forces
The trend is your friend.
Shares of software giant Microsoft Corporation (MSFT) have been on a tear so far in 2017, with the stock printing a new 52-week high following its recent earnings report.
On July 20th, the company announced its fourth-quarter earnings for the fiscal year ending in June. Microsoft beat on both revenue and net profits, after they reported revenue of $24.7 billion versus Wall Street estimates of $24.3 billion, and earnings per share of 98 cents versus estimates of 71 cents per share. After such strong results, it's no wonder Microsoft isn't afraid to use GAAP metrics when it reports earnings. 
The juicy part of the report that raised excitement among investors was Microsoft's cloud computing revenue, which came in at $7.43 billion, or an 11% increase over the same period in 2016. Cloud computing makes up 30% of Microsoft's total revenues, and CEO Satya Nadella said the company remains on track to hit its target of $20 billion in cloud computing revenue by 2018. Nadella has done a great job accelerating the company since he's taken over as the head of Microsoft. Here are his biggest accomplishments so far. 
Clearly the market was pricing in those great results heading into that quarter, since shares of Microsoft were up around 18% on the year prior to the report. There's no denying that shares of Microsoft are in a strong uptrend, and when you combine that with a bright fundamental picture you can see why large fund managers can't afford to not have this stock on their books. This type of situation can create a self-fulfilling prophecy as large investors trip over each other to buy the stock on every notable dip.
This will likely mean Microsoft's stock will continue to be marked up for the rest of the year, barring some unforeseeable bad news, or a large correction in the overall stock market. In other words, the trend is your friend with Microsoft, and the prevailing trend is up.
With that being said, let's turn to the chart and try to identify the next ideal buy point for shares of Microsoft.
If you take a look at the chart for Microsoft, you'll notice that this stock has been in a strong uptrend since the start of 2017, with shares moving higher from its low of $61.23 to its recent high of $74.42. During that uptrend, MSFT stock has been consistently making higher lows and higher highs, which is bullish technical price action.
A closer examination of the chart shows that this stock has been a strong buy candidate each time it has pulled back right into its uptrend line support since last December. You can see that back in late April it hit that trend-line at around $64 a share, and then bounced back to $73 a share. Then in early July it hit the trend-line again at around $68 a share and bounced to its recent high of $74.42 a share.
An attractive buy point is now quickly approaching once again and that should trigger right around $70 a share. That $70 level will represent another dip to that uptrend line, and I expect to see buyers rush in once again and support the stock.
If that scenario plays out, then I expect shares of Microsoft to go on another run higher and likely take out that recent high of $74.42 a share. Some upside targets if that trendline gets hit and holds are a run towards $80 to $90 a share before the end of the year. Keep in mind that even a close or two below that trendline isn't the end of the world, as long as it isn't accompanied by heavy selling volume and the stock quickly recaptures the trend on a weekly closing basis.
Here's the bottom line: the trend is your friend with Microsoft, so get your dry powder ready to buy the next test of this strong trend. If it holds, investors will once again be rewarded with fat profits.
More of What's Trending on TheStreet:
This article is commentary by an independent contributor. At the time of publication, the author held no positions in the stocks mentioned.