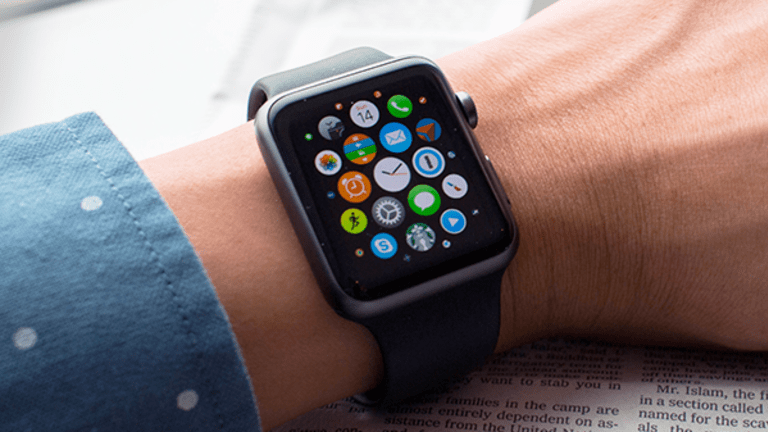 A 4G-Connected Apple Watch Makes Perfect Sense and Could Be Great for Intel
Apple appears to be bending over backwards to rely more on Intel and less on Qualcomm.
For Apple Inc. (AAPL) - Get Report , launching a 4G-capable Apple Watch is a no-brainer, although there are still some important technical questions that need answering. For reported 4G modem supplier Intel Corp. (INTC) - Get Report , a 4G Watch won't be much of a revenue-generator in and of itself, but does signal that Apple is intent on using Intel modems whenever it can as its ugly legal spat with Qualcomm Inc.  (QCOM) - Get Report drags on.
On August 4th, Bloomberg reported that Apple plans to launch a 4G Watch relying on an Intel modem by year's end. It added that Apple is talking with U.S. and European carriers about offering the device, and that AT&T Inc. (T) - Get Report , Verizon Communications Inc. (VZ) - Get Report , Sprint Corp.  (S) - Get Report and T-Mobile US Inc. (TMUS) - Get Report plan to sell it. With watchOS 4 -- the new OS adds personalized Siri content, improves third-party app performance and brings a revamped Music app -- due next month, it would make sense for Apple to unveil a 4G Watch at its expected September iPhone event if it can.
The main benefit to putting a 4G modem inside an Apple Watch is that it lets the Watch, which typically relies on Bluetooth and Wi-Fi-based iPhone pairing to download content, access mobile data services in situations where carrying an iPhone can be impractical or uncomfortable. This includes a number of the outdoor and fitness activities (jogging, swimming, surfing, etc.) that Apple has long been arguing the Watch is a good companion device for.
Ultimately, adding 4G should expand the addressable market for the Watch, whose sales have been on an upswing in recent quarters after declining during much of 2016. Watch sales helped Apple's total "Other Products" revenue, which also includes Apple TV set-tops, headphones, iPods and accessories, grow 23% annually in the June quarter to $2.7 billion. Although he didn't give a precise number nor specify whether he was talking about units or revenue, Tim Cook said on Apple's August 1st earnings call that Watch sales were up over 50% last quarter.
One challenge with giving the Watch 4G support: With the second-gen Watch sporting a tiny 273 mAh or 334 mAh battery (depending on the model), a 4G Watch modem needs to be much more power-efficient than the ones going into iPhones. On the flip side, the Watch's tiny display and lack of web browsing and video support means that its modem can sacrifice download speeds for better power consumption to a much greater degree than smartphone modems.
One possibility is for the Watch to feature a modem supporting the relatively new LTE-M (also known as LTE Cat-M1) standard. LTE-M, which AT&T and Verizon have already upgraded their networks to support, only has 1Mbps max download and upload speeds, but sips a fraction of the power consumed by 4G smartphone modems delivering peak download speeds of several hundred megabits per second or more -- as a result, years of battery life is promised for some LTE-M devices, though this is unrealistic for the Watch. LTE-M can also be embedded into smaller modules than standard LTE modems.
Jim Cramer and the AAP team hold a position in Apple for their Action Alerts PLUS Charitable Trust Portfolio. Want to be alerted before Cramer buys or sells AAPL? Learn more now.
More of What's Trending on TheStreet:
If Apple thinks the Watch needs faster download speeds, it could opt for a modem based on the LTE Category 1 (Cat-1) standard. Cat-1 modems top out at 10Mbps and are fairly power-efficient, but do use more power than LTE-M modems. In the long run, 5G modems are a natural fit for the Watch, since 5G was built from the ground up to support billions of low-power IoT devices. But don't expect a 5G Watch before 2019 at the earliest because of the time needed to build out the networks.
For Intel, which has guided for 2017 revenue of $60.8 billion to $61.8 billion, Watch modem sales won't move the needle much by themselves. Research firm IDC estimates 10.7 million Watches were shipped in total last year, and even if one assumes 15 million 4G Watches were to be shipped in the 12 months following their launch, that would likely spell less than $200 million in revenue for the company (about 0.3% of Intel's annual sales), given current 4G modem prices. The revenue opportunity would be lower still if LTE-M is used: When launching its LTE-M network in May, AT&T said modules would be available from its supplier for as little as $7.50.
But opting for an Intel modem does signal that Intel is Apple's preferred modem partner as it battles Qualcomm over royalty rates on 3G and 4G-capable Apple hardware. Among other things, this battle has led Apple (via its contract manufacturers) to withhold all royalty payments owed to Qualcomm under existing licensing deals, and for Qualcomm to seek a U.S. ITC import ban on iPhones containing non-Qualcomm modems (in practice, Intel modems).
Whole Foods Is Going to Amazon, This Analyst Says
By using Intel modems in new Apple Watch models, Apple would be declaring that it's not bothered by the risk that Qualcomm could expand its ITC suit -- a ruling on its iPhone ban request is expected in early 2018 -- to cover 4G Watches. It might also be a sign that Apple is ready to stop using Qualcomm modems within iPhones and iPads as soon as the abilities of Intel modems allow it to.
Last year, Apple opted to use Intel's XMM 7360 4G modem in many iPhone 7 units, but relied on long-time supplier Qualcomm's Snapdragon X12 modem for those units that needed to support the 3G EV-DO networks used by Sprint, Verizon and some Asian carriers. In June, Bloomberg reported Apple plans to do something similar for this year's iPhones -- from the looks of things, Apple will rely on Intel's XMM 7480 modems for some models and Qualcomm's Snapdragon X16 for others.
Watch: Just How 'Unlimited' Is Your Unlimited Data Plan?
Moreover, just as it did for the iPhone 7, Apple will reportedly throttle the performance of the Qualcomm modems going into this year's iPhones to keep them from topping the performance of Intel modems -- the Snapdragon X16 has a 1Gbps peak download speed, while the XMM 7480 tops out at 600 Mbps. Given how intent Apple seems to rely on Intel as much as it can, it's likely that next year's iPhones will solely rely on Intel's XMM 7560 modem, which supports 3G EV-DO networks along with gigabit peak 4G speeds.
And unlike Watch modem sales, supplying the modems going into every iPhone shipped (or close to it) would be a needle-mover for Intel. With 215.4 million iPhones sold last year and analysts estimating 246 million will be sold next year, Intel could eventually see over $2.5 billion in annual iPhone-related modem revenue. And perhaps over $3 billion in total iPhone revenue after factoring sales of complementary chips such as RF transceivers and power management chips.
Even for a company of Intel's size, that counts for something. In the meantime, the company has strong incentives to bend over backwards to keep both Apple's bookkeepers and engineering teams happy.
Watch More with TheStreet:
Scared to Buy Bitcoin? Try Nvidia Instead
Tim Cook Hints at Apple's Secret Project