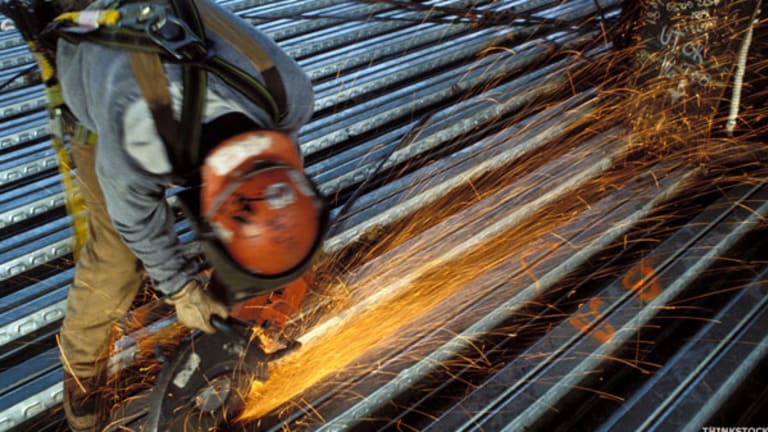 AMR/US Airways Deal Faces Pilot Seniority Hassles
Pilots from AMR, US Airways, TWA and America West all will be heard from in the effort to combine seniority lists.
CHARLOTTE, N.C. (
) -- The odds may appear to favor a merger between
AMR
(AAMRQ.PK)
and
US Airways
(LCC)
, but that isn't to say that a merger would provide an easy solution to the accompanying pilot seniority integration problems.
In fact, it is difficult to imagine more complexities than those involved in integrating two pilot groups from two different unions, each of which includes angry minorities of pilots who have filed lawsuits contesting the seniority practices pursued in two previous mergers.
In 2001,
American
merged with
TWA
. The TWA pilots, who felt they were badly treated in the subsequent seniority integration, have continued to object in various forums. In 2005, US Airways merged with
America West
. An arbitrator issued a controversial seniority ruling so troubling to the majority of the pilots that rather than implement it, they left one union and formed another. That resulted in a series of suits.
If American and US Airways do merge, it is likely that the Allied Pilots Association, which represents about 8,000 American pilots, would survive. The U.S. Airline Pilots Association represents about 4,300 US Airways pilots. So far, the two unions have worked closely to encourage a merger and to mitigate potential problems.
APA President Dave Bates told reporters in Charlotte last month that seniority integration in a merger between American/US Airways would include temporary "fences" to protect pilots who fly desirable routes from losing them to other, more senior pilots as a result of the merger. In general, he said, seniority integration would be governed by the 2007 McCaskill-Bond statute, which stipulates that seniority integration issues be resolved through negotiations and, if that fails, through binding arbitration.
"We will try to negotiate," Bates said.
Eric Ferguson, a leader of the America West pilots, said it is fine to refer to McCaskill-Bond as a solution, but almost the exact same process was already followed after the 2005 merger. The two pilot groups, generally referred to as coming from "the East" and "the West," failed to negotiate a seniority deal and so referred the issue to an arbitrator they jointly selected.
"No matter how you look at it, we arbitrated this already," Ferguson said. "The problem of seniority integration between East and West pilots has already been resolved under the process specified in McCaskill-Bond." He said he would not accept fences that would protect East pilots from the impact of the arbitrator's ruling.
The most controversial section of the seniority ruling places about 1,000 East pilots, with around 15 years on the property and never laid off, behind West pilots with a few years on the property.
Unfortunately, during the arbitration process, a majority of East union leaders took the position that "date of hire" seniority should apply to all pilots, even pilots who were laid off at the time, which would have been unprecedented, and declined to negotiate.
Subsequently, the pilot group, about two thirds from the East, voted to leave ALPA, which had represented US Airways pilots for 57 years, to create USAPA. Now, some West pilots say the best thing about a potential merger is that USAPA would most likely go away.
As for TWA pilots, they wished for date-of-hire integration when they joined American. But when the seniority lists were merged, the top 2,500 spots went to American pilots. About half of the TWA pilots were integrated into the list at the rate of one TWA pilot for approximately eight American pilots. The lower half of the TWA seniority list was then "stapled" to the bottom of the American list.
In March, the bankruptcy court judge in the AMR case denied a request by the TWA pilots to be included on the creditors committee. The TWA pilots argued that APA did not represent their interests. Of 2,200 TWA pilots at the time of the merger, about 700 remain on active duty with American and 700 remain on furlough.
Meanwhile, a New Jersey federal court jury in 2011 decided that ALPA did not properly represent TWA pilots during the 2001 merger. The impact remains unclear. Bud Bensel, a retired TWA captain involved in filing the suit, said TWA pilots "want some seniority back," but noted it is hard to see how they would benefit in a merger deal negotiated by APA and USAPA.
Additionally, about 1,200 former TWA flight attendants are among the 16,000 American flight attendants. All were placed at the bottom of the seniority list.
Roger Graham, a spokesman for TWA flight attendants, said it remains to be seen whether a merger would benefit the group. "We have a chance for a fresh start here," he said.
-- Written by Ted Reed in Charlotte, N.C.
>To contact the writer of this article, click here:
Ted Reed
>To follow the writer on Twitter, go to
.