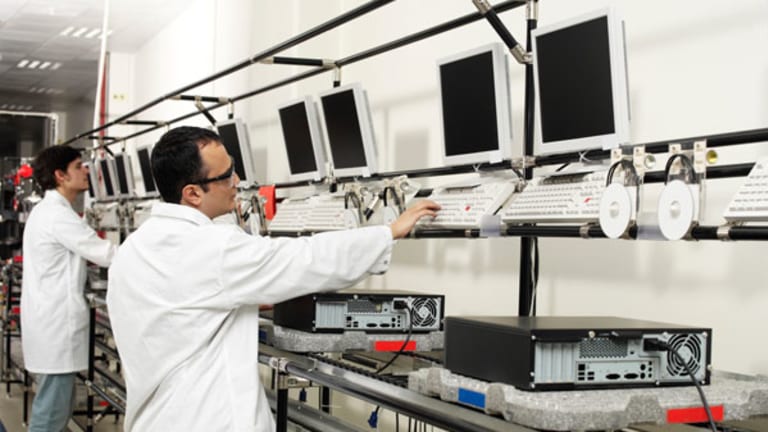 AMR Holds an Ace: Most Aircraft Orders of Any U.S. Airline
AMR has 543 aircraft on order, most in the industry. The first Boeing 777s arrive in December, the first A321s in 2013.
DALLAS (
) -- As it battles to control its destiny in bankruptcy court,
American
undefined
is starting to play a critical card: the arrival of 543 new aircraft over the next 10 years.
American has ordered more aircraft than any other U.S. airline. Deliveries will begin in December, when the first of 10
Boeing
widebody
(BA) - Get Free Report
777-300ERs arrive. It will fly Dallas-Sao Paulo. In 2013, the first of 130 Airbus A319 and A321 narrowbodies will arrive: These will be the first aircraft delivered from American's historic
, the largest commercial aircraft order ever. Also, deliveries of 125 B737-800s have begun
; some were ordered before 2011.
The future will also bring deliveries of 130 Airbus A320 neos, starting in 2017; six 777-200ERs, starting in 2014; and 42 Boeing 787s starting in 2015.
New aircraft provide a big advantage for airlines. They please passengers. They use less fuel than old aircraft. And they require less maintenance, saving millions of dollars, in what is referred to in the airline industry as a "maintenance holiday." The rapid low-cost growth of
Spirit
(SAVE) - Get Free Report
, like the growth of
JetBlue
(JBLU) - Get Free Report
a decade earlier, is being fueled by new Airbus jets.
Not to say that American is ever going to be a low-cost carrier like Spirit and JetBlue, but obviously it is reducing costs in bankruptcy and it will further reduce costs by replacing the country's oldest fleet with the newest. Of course, it will have to pay billions of dollars to buy the new aircraft, making commitments even as it walks away from leases for older aircraft in bankruptcy court. But generally, new aircraft are easy to finance because they are considered to be strong collateral.
In the battle with
US Airways
(LCC)
, which wants to complete a merger with American before the bankruptcy ends, American moved in May to promote the
, including lie-flat seats, planned for its widebody fleet. Last week, it announced the amenities for its A321, particularly the 15 aircraft it will use for trans-continental flights.
"Taking over 500 new aircraft presents a tremendous opportunity to modernize our brand," said Rob Friedman, American's vice president of marketing. "Our customers understand that we are moving forward to having the youngest fleet in the industry in five years, and the feedback has been tremendous."
Friedman said the carrier plans to modernize its colors as well. "Airbus aircraft are made from composites, which can't be polished," he said. "So we're evaluating the look and feel of the exterior, evaluating a lot of different options. American is an iconic American brand, but we feel that with the level of investment we have a terrific opportunity to modernize our brand."
Among American competitors,
Southwest
(LUV) - Get Free Report
has orders for 350 Boeing 737s, of various types.
United
(UAL) - Get Free Report
has about 270 aircraft on order.
Delta
(DAL) - Get Free Report
has 100 new 737-900ERs on order as well as 88 used Boeing 717s. JetBlue has orders for 80 aircraft. US Airways has 66 Airbus aircraft on order, including 58 narrowbodies and eight A-330s.
Regarding the narrowbodies, American said its transcontinental A321 flights will all provide three-class service, lie-flat seats and screens at every seat, with varying levels of free entertainment. Various carriers including US Airways and Spirit fly the A321 on transcontinental flights, but none offer three-class service.
Currently, American offers transcontinental service with about 15 older 767-200s with three class service and 169 seats, including 10 in first and 30 in business. The new A321s will have just 102 seats, including 10 in first, 20 in business and 72 in coach including 36 with extra legroom. That is not a lot of seats. US Airways flies the A321 with 183 seats, including 167 in coach. Spirit operates the aircraft with 218 seats. It appears American will continue to bet, as it has with a "cornerstone strategy" that involves operating hubs in highly contested business markets, that it can attract more premium passengers than its peers.
"American won't be able to charge more (than others)," said aviation consultant Robert Mann. "However, if its revenue management works properly, 44% fewer coach seats should reduce the need to sell junk fares and thus improve the onboard fare mix and the (revenue per available seat mile.)
Meanwhile, on the cost side "A321 hourly and trip costs are less than half those of an aging 767-200, so on 40% fewer seats, you have a lower (cost per available seat mile.)," Mann said.
The A321s will fly from New York Kennedy to Los Angeles and San Francisco. "We are deploying these aircraft on routes where significant first class demand exists," said Friedman, adding that American's top corporate accounts include entertainment and financial industry clients who frequently fly those routes. American has not yet selected the aircraft for its transcontinental routes from Boston, Miami and New York. In general, new A321s, A319s and 737-800s will replace aging Boeing 757-200s and MD80s.
Mann said it's good for American to upgrade its fleet, but it's a little early to actively promote the upgrades. "The claim is that somehow they will have a new fleet overnight," he said. "This is creating expectations that may not be met. "
Realistically, promotion should occur when passengers have some likelihood of seeing new aircraft. "When it becomes a coin flip whether passengers will see new planes, you can talk about them," Mann said. "When it's a dice roll, you can't."
-- Written by Ted Reed in Charlotte, N.C.
>To contact the writer of this article, click here:
Ted Reed
>To follow the writer on Twitter, go to
.