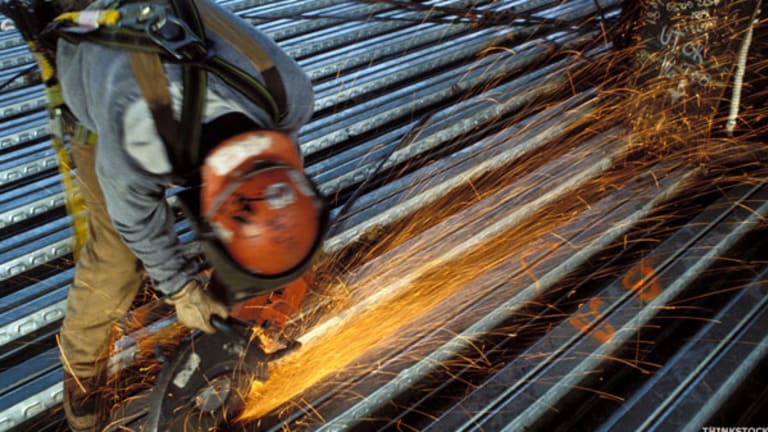 AMR Exec: 'We Add Flights, We Add Revenue'
AMR says it can generate $1 billion in new revenue with a better fleet mix and partnerships with other carriers.
DALLAS (
) -- Confronting widespread doubt about whether bankrupt
AMR
(AAMRQ.PK)
can generate $1 billion in new revenue, Chief Commercial Officer Virasb Vahidi says it's easy: Fly more flights, get more revenue.
Two initiatives would generate flights, Vahidi says. One is American's aircraft order, announced in July, which could bring up to 925 new airplanes into the fleet. The other, which is being pursued as part of the bankruptcy process, is to change sections of the pilot contract that limit the abilities to operate regional jets and to code share with domestic partners. Code shares enable carriers to sell tickets on one another's flights.
Earning $1 billion more a year is easy -- fly more flights, get more revenue, AMR Chief Commercial Officer Virasb Vahidi says.
Airline bankruptcies have been common in the past decade, but most have focused primarily on labor cost reductions. An exception is the 2005
Delta
(DAL) - Get Delta Air Lines, Inc. Report
bankruptcy, which included route changes that
from 86% of the industry average to above industry average. American's bankruptcy restructuring plan is also exceptional, in that it would bring new revenue in addition to $2 billion in cost cuts.
"Our employees have been asking about that quite a bit," Vahidi said Wednesday. "That is how bankruptcies are normally viewed -- the perception is about cost -- but in our situation, we can't compare ourselves to what others have done. A critical part of our business plan is the generation of $1 billion of new revenue over the course of the plan."
Vahidi cited two examples of fleet improvements, which combined would generate about two-thirds of the $1 billion in new annual revenue.
One is to add more aircraft types. In 2006, American eliminated a flight from its Dallas hub to Lima because it did not have appropriate aircraft. It had been flying the route with a Boeing 757 seating 182 passengers, but "there wasn't enough demand for 180-plus seats," Vahidi says. "For flying from Dallas to Central American or northern South America, the 757 is way too large."
The pending aircraft order would include the Airbus A319, which seats about 120 passengers. The restructuring plan foresees a 20% increase in departures by 2017, mostly in international departures. While the order is separate from the bankruptcy reorganization, "without completing the restructuring successfully, we would not be able to take advantage of the fleet deal to grow," Vahidi says, because restructuring would reduce costs.
Secondly, pilot contract changes would enable American to offer more flights on regional jets. At Chicago O'Hare, among a handful of airports where two carriers operate hubs, American has a disadvantage in battling
United
(UAL) - Get United Airlines Holdings, Inc. Report
"It's no secret that our competitor got contractual flexibility" during a three-year bankruptcy, Vahidi says. "They have built a large base of regional jets that they have used to match supply and demand."
Vahidi would not specify routes where American would add regional jet service. But he noted that on the key Chicago-Dallas route, American operates 16 flights a day, all with MD-80s seating about 140 passengers. Passengers want the frequencies, but the plane is so big it often flies with empty seats. United offers about a dozen daily flights, about half of them operated by partner airlines flying regional jets.
The point is that if American could offer regional jet service, "we could serve markets we can't serve today and we could create a better schedule," Vahidi says. "That way you get more revenue." Currently, the pilot contract enables American to fly only 47 jets with 51 to 70 seats.
While American dominates its hubs in Dallas and Miami, it is weaker in Chicago, New York and Los Angeles. In the latter two, it relies heavily on carriers providing trans-Atlantic and trans-Pacific flights in joint ventures, immunized against antitrust prosecution, and would like to boost its domestic code sharing. It envisions that a third of its $1 billion in new revenue would come from such partnerships.
Vahidi acknowledged that the new revenue from the joint ventures, approved in 2010, has been slow to materialize. "A large component of the synergies is derived from being able to sell jointly to corporate customers," he says, and the carrier had to await renewal dates on corporate travel contracts. "What we have seen, especially in New York, is that we now have ability to earn incremental biz we did not have before."
In New York, the top three business destinations are London, Los Angeles and San Francisco, all strong American markets. Fourth is Hong Kong, which is flown by American partner
Cathay Pacific
. New York-Tokyo Narita is another top corporate market American serves. Contract changes, if approved, would enable American to code share with
JetBlue
(JBLU) - Get JetBlue Airways Corporation Report
at Kennedy.
In Los Angeles, American is No. 2 in departures after United, which has a significant presence in north-south West Coast markets. "The way we win in Los Angeles is similar to
the way in New York," Vahidi says. "In the top 10 corporate markets we are in eight, and we have the largest alliance presence
to international markets." Additionally, the carrier could code share with
Alaska
(ALK) - Get Alaska Air Group, Inc. Report
on north-south routes.
-- Written by Ted Reed in Charlotte, N.C.
>To contact the writer of this article, click here:
Ted Reed
>To follow the writer on Twitter, go to
.