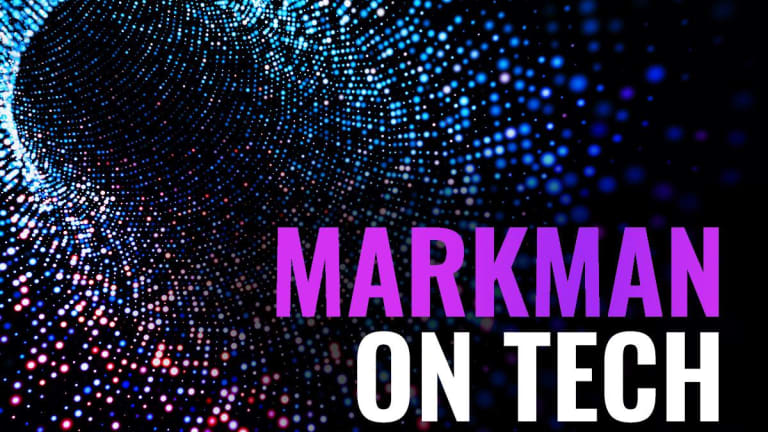 Amphenol Shaping Up as Surprise Winner of the Electric Vehicle Revolution
Automakers are quietly and carefully laying the groundwork for the mass production of electric vehicles. An unsung hero of the switch could be Amphenol, which makes electric wiring interconnect systems, sensors and antennas for EVS of the present and future.
It may seem unlikely now, but cars and trucks are about to get electrified in a big way.
That's the takeaway from a research note from Morgan Stanley published this week. The venerable investment research firm notes three recent actions by auto industry executives that clearly lay out the transition.
It's an opportunity for investors to get ahead of the curve.
The move to electric has been in the works for a long time. Automakers were forced back to their drawing boards when Elon Musk showed with Tesla (TSLA) - Get Tesla Inc Report that electric vehicles could fun to drive, while ticking all of the boxes among upscale, environmentally-friendly buyers.
The Model S, and then the more affordable Model 3, were a kick in the pants for the auto business. Now, shot callers in Germany, Japan and Detroit are responding. They're carefully laying the groundwork for the mass production of EVs. They're teasing their customers with what comes next.
Adam Jonas, an analyst at Morgan Stanley, points out that in July, executives from Volkswagen (VLKAF) , BMW, Honda and Ford (F) - Get Ford Motor Company Report supported California regulators' efforts to set far more stringent tailpipe emission standards than those proposed by President Trump. The message is clear: The carmakers are looking for a single national emission standard. The greener, the better.
Earlier in the month, Herbert Diess, the chief executive officer for VW, openly admitted that the German automaker was responsible for 1% of global CO2 emissions. Jonas' back-of-the-envelope math put that figure at 12 metric tons of CO2 spewing into the atmosphere every second. For the record, Diess claims VW, the world's largest automaker, is intent on reducing future emissions to zero.
And more recently, Ford began touting the towing capacity of an all-electric prototype F-150 pickup truck. Tinkering with the F-150 is rare. The Super Duty truck lineup is the best-selling brand in America and buyers are fiercely loyal.
In 2018, the trucks were responsible for 90% of Ford's global profits, according to a May 2018 story at Fox Business.
The electric F-150 is the star of a new promotional video from Ford. The company invited five F-150 owners to a railyard. Product managers then hitched the EV to 10 double decker railcars weighing 1 million pounds, and began pulling. Then they loaded 42 F-150s into the railcars and did it again.
Road and Track, a motoring enthusiast magazine, was quick to point out the stunt was a lot easier than it looked. R&T explained the steel wheels of the train, coupled with the steel rails made it a rolling resistance coefficients math exercise. But that misses the point.
Ford's willingness to tamper with its prized jewel shows managers understand they need a new product cycle. Electrification is it.
VW announced in Nov. 2018, that it would spend $12.5 billion getting its plants ready to produce 15 million electric cars by 2023. BMW shelved its golf cart-like i3 in favor of an all-electric performance sedan. The new i4 will blast from 0-60 mph in a heart-stopping four seconds, according to Car and Driver. And the pipeline is full of EV competitors from Audi, Mercedes, Porsche, Aston Martin and this beauty from Ferrari.
Electrification is coming and it means a sea change of opportunity for investors. It means new systems and processes. It means a new category of component winners with built-in competitive advantages and plenty of runway.
Amphenol Corp. (APH) - Get Amphenol Corporation Class A Report makes electric wiring interconnect systems, sensors, antennas, infotainment, light assemblies, switches and power management products for the automotive sector.
The Connecticut company completed the acquisition of SSI last year to broaden its portfolio to high tech sensor systems, including ultrasonic level systems used widely across the automotive and industrial sectors.
Admittedly, it's a dull business. But it's also surprisingly lucrative, and destined to improve as more as electric cars go mainstream.
In the interim, Amphenol has also become a leading player in the military, commercial aerospace, mobile, broadband and data communications markets, too. And those businesses are booming.
The company reported in April that first quarter sales reached $1.96 billion, rising 5%. Operating margins were 20.1% during the quarter, and free cash flow was $344 million.
Shares trade at 24x forward earnings, and 3.3x sales. The market capitalization is $28.2 billion, following a 15% rally so far in 2019. Given the bright prospects for new markets such as EVs, growth investors can consider buying Amphenol shares into market weakness over the summer.
To learn more about Jon Markman's recommendations at the crossroads of culture and technology, check out his daily investment newsletter Strategic Advantage. To learn about Markman's practical research in the short-term timing of market indexes and commodities, check out his daily newsletter Invariant Futures.
The author of this column commutes on an electric motorcycle, the
Zero SR, after years of riding conventionally powered Ducatis -- and will never go back. He does not own any stocks mentioned.