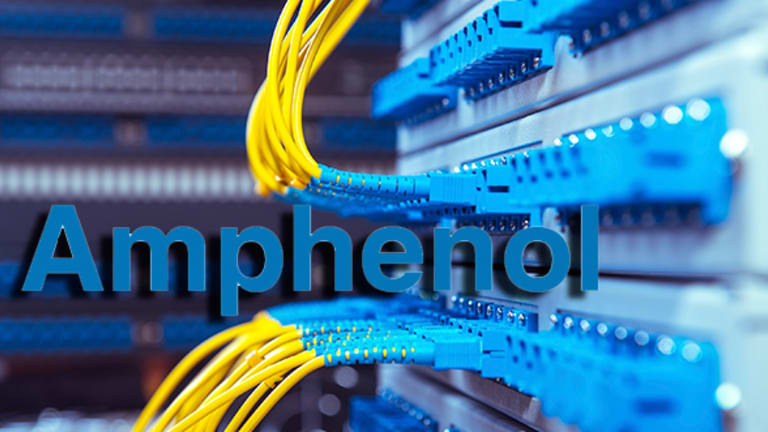 Publish date:
Amphenol Is a Great Tech Stock to Buy Now
The electronic cable component maker is delivering impressive growth.
The electronic cable component maker is delivering impressive growth.
A challenging global market hasn't been a major stumbling block for Amphenol (APH) - Get Report .
Fourth quarter earnings solidified the company's strong track record. The $21.7-billion enterprise beat sales and earnings per share (EPS) estimates for the fourth straight quarter.
Amphenol's strategy of broad diversification, an expanded product portfolio and a widening global presence, as well as smart cost control and strategic investments have allowed the company to drive 10% annual earnings growth over the last six years.
We believe the stock, which has gained 24% over the last 12 months, still has plenty of upside remaining.
The company's interconnect products and assemblies segment accounts for 94% sales, with the cable products and solutions arm comprising the remaining 6%. The company sells its hi-tech product products to Original Equipment Manufacturers (OEMs) in about 70 countries, and is part of Apple's (AAPL) - Get Report supply-chain.
Amphenol has managed to generate millions in free cash flow annually for the past 10 years, finishing 2016 with over $700 million. Gross margins have consistently stayed over 30% for more than two decades and operating margins have been above 13% since 2010.
The prevalence of fiber optic connectivity has increased the demand for Amphenol's products. This demand is expected to continue despite a cautious note from the company's management during the fourth quarter earnings call.
Amphenol has consciously tried to increase its diversity of markets, customers, applications and products, establishing a manufacturing presence in around 30 countries, which has enabled global coverage while lowering production costs.
Over the years the company has attempted to expand the scope and number of its preferred supplier relationships. By delivering higher value-added content beyond old interconnect products, Amphenol has withstood competition from TE Connectivity (TEL) - Get Report , Molex (owned by Koch Industries), Yazaki, Foxconn, Sensata (ST) - Get Report , and Delphi.
Though the Cable Products and Solutions' segment is small, we expect the company to follow the same strategy to manage rivals like Commscope (COMM) - Get Report and Belden (BDC) - Get Report .
For full year 2017, Amphenol expects to achieve sales in the range of $6.34 billion to $6.50 billion, a growth over 2016 of 1% to 3%. It projects a diluted EPS of $2.84 to $2.92, a rise of 9% to 12% over 2016 GAAP Diluted EPS.
Also, the company has authorized a new two-year open market stock repurchase plan for the purchase of up to $1 billion in common stock.
With a manageable $3 billion in debt, $1.17 billion in cash and a backlog of orders of $1.31 billion, Amphenol has a stable financial profile.
Investors should consider buying Amphenol shares at this time. Its current price-to-earnings ratio (P/E) of 26.5 times shows that investors are ready to pay a premium compared to its historical 5-year average P/E of 22.6 times.
As Amphenol's execution over the next 12 months starts to come to fruition, valuations could be re-rated and analysts' price targets may well be upgraded.
---
As we've just explained, Amphenol is an excellent growth opportunity. If you're looking for other growth opportunities, we've found a genius trader who turned $50,000 into $5 million by using his proprietary trading method. For a limited time, he's guaranteeing you $67,548 per year in profitable trades if you follow his simple step-by-step process.Click here now for details.
The author is an independent contributor who at the time of publication owned none of the stocks mentioned.