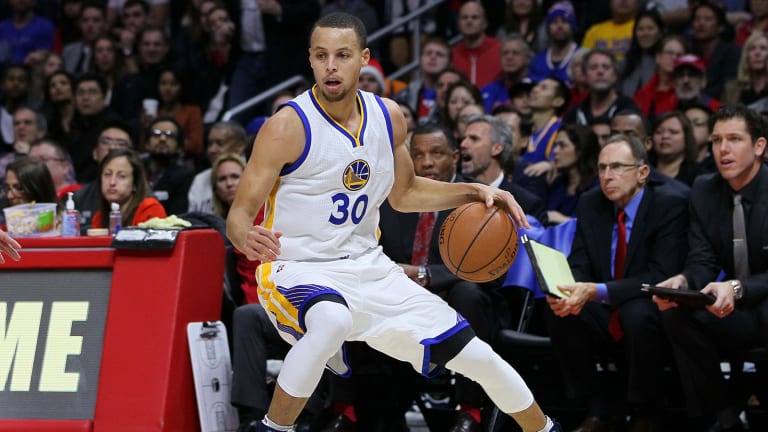 Among March Madness Sponsors, There's One That Still Dominates
A few sportswear companies have managed to grab the most coveted space during March Madness: player's jerseys and shoes.
NEW YORK (TheStreet) -- When it comes to March Madness, product placement is just as important as television advertising. And there are billions of dollars at stake.
Time Warner (TWX) and CBS (CBS) - Get CBS Corporation Class B Report paid almost $11 billion to broadcast the games, which began Thursday and will be watched by tens of millions of people around the world. Advertisers, meanwhile, are spending millions -- actually $1.3 billion in 2014, according to Kantar Media -- to air TV commercials during games, ads that also play on mobile devices.
Can you beat TheStreet ... at basketball? Jim Cramer and our Wall Street pros are posting their brackets on ESPN. Take them on at www.thestreet.com/espn, password: Thestreet2015
At the same time, AT&T (T) - Get AT&T Inc. Report, Capital One (COF) - Get Capital One Financial Corporation Report and Coca-Cola (KO) - Get Coca-Cola Company Report, among others, have paid the NCAA handsomely to have their products and logos prominently displayed inside stadiums and on official programs and other event literature. 
But when it comes to product placement, only a few companies have managed to stake out the most coveted space in the building: right on the sneakers and jerseys of the players running around on the basketball floor. And there's no company that has locked-up this coveted space quite like  Nike (NKE) - Get NIKE, Inc. Class B Report.
"Basketball is still 97% Nike," a sneaker buyer turned equity analyst said.
Between the Air Jordan and Nike brands, Nike is releasing 16 new shoe models during the NCAA Tournament. It's swoosh logo is omnipresent: Five of the top six teams atop the Associated Press rankings wear Nike, including Duke, Virginia, Kentucky, Villanova and Arizona. Toss in Oregon, and multiple title winners such as the Connnecticut and Florida.
Little wonder then that Nike hardly buys television advertising during the tournament. The Beaverton, Ore.-based sportswear maker doesn't even rank in the top 10 of March Madness TV advertisers, i.e., a major sponsor of the NCAA.
Of course, other shoe sellers are also winning college sponsorships, including adidas (ADDYY) , which has taken its lumps in recent years as it's tried to enter the U.S. market.
Adidas sent out a digital blitz a week ago, promoting those schools that will be wearing the Germany-based sportswear company's logo during the tournament: Louisville, Kansas, Indiana, UCLA, Michigan, Nebraska and Wisconsin. Adidas' lineup may not be as formidable as Nike's, but with Wisconsin, it has the sole No. 1 seed not wearing Nike, and a team that could make it to the Final Four.
But another company not usually viewed as a threat to Nike is making an ambitious play for space on the jerseys and shoes of college athletes, and that's  Under Armour (UA) - Get Under Armour, Inc. Class C Report. Indeed, the Baltimore-based company "is taking some share," according to an analyst who covers retail clothing manufacturers.
Schools sponsored by Under Armour include Notre Dame, Auburn and Maryland, hardly a lineup that will cause Nike to shake in its high-tops, but there's a wrinkle, a bit of untapped magic that could propel the company to greater heights. That bit of magic is named Stephen Curry.
Curry is the hottest and perhaps most unlikely star in the NBA. His backstory dates back only to his college days, which makes him a marketing dream for Under Armour.  If Under Armour can attract more young athletes to its footwear, it's likely to have brand loyalists for life. 
Here's why: LeBron James, the all-world all-star for the Cleveland Cavaliers was destined to become a superstar. In junior high school, James was already a national figure; he didn't even need to set foot on a college campus. Kevin Durant, who played his college ball at Texas, was similarly on track for stardom. Durant was the first freshman ever to win national player of the year. Greatness was nearly a fait accompli for both of them.
But not for Curry.
As the son of long-time NBA player Dell Curry, Stephen Curry certainly had basketball pedigree, but as a teenager he was small, and not a single school from a major conference offered him a scholarship. Not one. So, the young Curry went to a midmajor with a middling history of success: Davidson College in North Carolina, an hour's drive north of Charlotte. At Davidson, Curry put the school on the map as he became a March Madness star. (Apologies to those who recall Lefty Driesell, the onetime Davidson coach who later made his mark at Maryland.)
But Under Armour to its credit went out and signed Curry, who was later was selected No. 7 in the 2009 NBA draft, behind Jonny Flynn of Syracuse. Jonny who? Exactly. Six years later, there isn't a player in the game who makes more 3-pointers, and he too is signed with Under Armour.
"The basketball category is a culture, and brands have to be accepted  into that culture to be successful," said Adam Peake, a marketing executive at Under Armour. "Under Armour has become a voice in that culture especially with the success and demand for the CurryOne.
With Curry comes credibility, and it comes inexpensively. Right now, the millions of dollars that Curry gets from Under Armour pale in comparison to the nine figures the company offered Durant when it unsuccessfully tried to lure him from Nike last year.
The folks at Under Armour had been hoping for a star to emerge from its sponsorship roster, and now they have one in Curry, and that should help the company's college business as much as its NBA sportwear business.
And it all starts with getting its logo on college jerseys and shoes. Welcome to March Madness, corporate-sponsorship style.
This article is commentary by an independent contributor. At the time of publication, the author held no positions in the stocks mentioned.