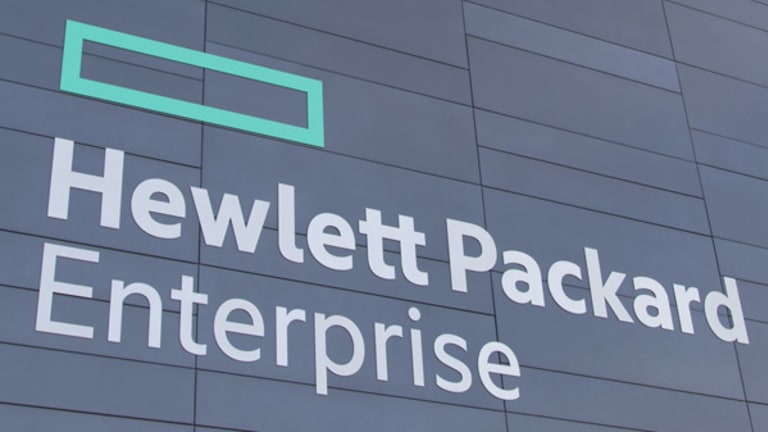 As Hewlett Packard Enterprise Buys SimpliVity, Does Cisco Go for Nutanix?
The sale represents a haircut from a 2015 fundraising that valued SimpliVity at more than $1 billion.
This story was updated from Jan. 17 with additional details.
Even as Meg Whitman breaks apart Hewlett Packard Enterprise (HPE) - Get Hewlett Packard Enterprise Co. Report , the Silicon Valley enterprise technology group announced the $650 million purchase of IT infrastructure outfit SimpliVity after the market close on Tuesday.
The move focuses Hewlett Packard Enterprise on a growing IT market, and could prod Cisco (CSCO) - Get Cisco Systems, Inc. Reportto look at Nutanix (NTNX) - Get Nutanix, Inc. Class A Report as a possible buyout target.
SimpliVity develops hyperconverged infrastructure, or an evolving IT segment that provide the economics of cloud computing with reliability and other benefits of operating from integrating servers and other networking equipment. The company is a former "unicorn," having had a valuation above $1 billion at the time of a 2015 financing.
"While HPE is not new to hyperconvergence -- the company currently offers the HC 380 and HC 250 products -- it has struggled to compete effectively in this key growth market," said Jim Cramer, TheStreet's founder and manager of the Action Alerts PLUS portfolio, which owns HPE and CSCO. "SimpliVity will provide HPE with the ability to defend its server footprint through bundled and software-only solutions."
UBS expects the hyperconverged market to total about $2.5 billion in 2017. SimpliVity is the second-largest pure hyperconverged IT company next to Nutanix, which went public in September 2016 and has a nearly $4.3 billion market cap, UBS analyst Steven Milunovich wrote earlier in January. Large players like Dell EMC and Cisco have entered the market as well.
RBC analyst Matthew Hedberg suggested in a note that Nutanix does not have to worry about its position in the market. "We think Nutanix (52% market share) was winning more than its fair share of business against both HPE (3% market share) and SimpliVity (18% market share) independently, and bringing the two companies together likely does little to change Nutanix's win rates," he wrote.
Cisco, which partners with SimpliVity, could feel pressure, however. "Thus far, Cisco has seen mixed success at best with its own hyperconverged solution, HyperFlex (built on Springpath's software), and its existing SimpliVity partnership will likely be terminated," Oppenheimer analyst Ittai Kidron wrote. "Cisco is left with limited options to address its portfolio gaps and could turn to Nutanix for a solution (partnership or M&A)."
Likewise, Pacific Crest analyst Alex Kurtz suggested that Nutanix is "a prime takeout candidate by Cisco."
Cisco and Nutanix declined to comment.

SimpliVity has backing from Accel Partners, Charles River Ventures, DFJ Growth, Kleiner Perkins Caufield & Byers, Meritech Capital Partners and Waypoint Capital. A March 2015 fundraising put SimpliVity's valuation at more than $1 billion.
Doron Kempel, CEO of SimpliVity, acknowledged the diminished value in a tweet.
Since breaking Hewlett Packard Enterprise from HP (HPQ) - Get HP Inc. Report in late 2015, Whitman has continued to refine the company's holdings.
In May 2016, Hewlett Packard Enterprise said it would spin out its enterprise services unit and merge the business with Computer Sciences (CSC) in an $8.5 billion transaction.
Then, in September, Hewlett Packard Enterprise said it would break off its software operations and sell the unit to Micro Focus International in an $8.8 billion transaction.
Whitman said in a press release that SimpliVity will dovetail with its hybrid IT services and storage offerings obtained in $2.35 billion purchase 3Par Inc. in 2010.
HPE expects to close the purchase of SimpliVity in the second fiscal quarter of 2017.