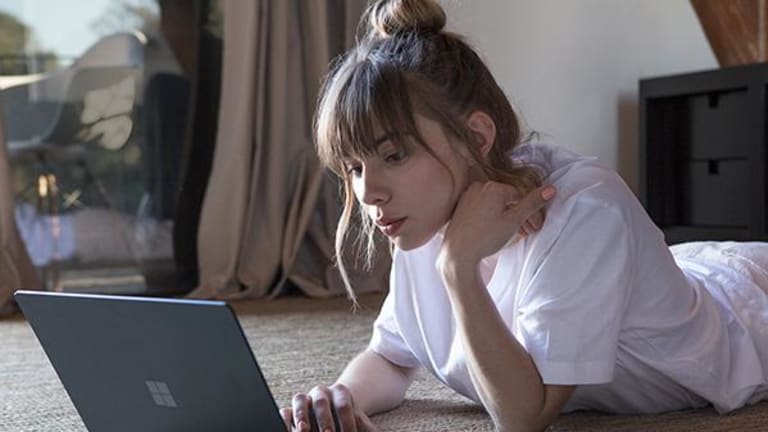 Microsoft Has Basically Given Up on Trying to Be the Coolest Tech Company in Silicon Valley
Microsoft CMO Chris Capossela said the tech giant is focused on other things besides being 'the cool kid.'
Microsoft (MSFT)  isn't trying to be the cool kid in Silicon Valley. 
That notion may come as a surprise to consumers who've followed the tech giant's latest slate of product releases, including its newest Surface Pro, which was released on Tuesday. The $799 laptop is being pegged by many members of the tech community as a killer competitor to  Apple's (AAPL) MacBook Air, thanks to its more powerful processor and supposedly longer battery life. And while Microsoft claims to not be thinking about its cool factor, the laptop is being marketed on the website with photos of young creative types. 
Intentional or not, Microsoft's chief marketing officer Chris Capossela said at the JPMorgan telecom, media and technology conference in Boston on Tuesday that the company does think about brand perception, but that being cool isn't its main focus. Capossela said a lot of consumers ask him what the company is doing to make itself cool and his answer is "nothing." 
"We're never going to worry about whether we're viewed as a cool company," Capossela said at the event. "...Is Microsoft Word cool? Not at all...but man is it a cool tool." 
Microsoft did, however, make direct comparisons between its Surface products and the MacBook Air at an event in New York City earlier this month. Panos Panay, the company's device chief, noted that the Surface Laptop (a slimmed down version of the Surface Pro) is 50% faster than the Air and has a longer battery life than the MacBook Pro.
But Apple isn't standing still. The Cupertino, Calif.-based company is expected to update its entire MacBook line up at its Worldwide Developers Conference next month, with reports speculating that Apple might release three new models with Intel  (INTC) chips that make it perform faster than current models. The models aren't expected to look drastically different from the current MacBook lineup, instead featuring newer internal components. 
The updated models come at a time when, by and large, the laptop market has slowed. Analysts expect 2017 global laptop shipments to fall about 2-4% year-over-year, according to market research firm TrendForce. The first quarter of 2017 was a bit brighter and, specifically, for Apple: Although the company sold 3.4 million laptops -- fewer than HP (HPQ) and Lenovo -- its sales increased 15.4% year-over-year, in part due to sales of the MacBook Pro with a Touch Bar that was released in November. TrendForce didn't give numbers for how Microsoft stacked up, but the company said in its most recent earnings report that sales of its Surface computers fell 26% year-over-year to $831 million. 
Amid slowing laptop sales, Microsoft has turned its focus to its other businesses, including its Azure cloud and Office 365 products, as well as other enterprise services. The company has also revised its core mission, with CEO Satya Nadella creating more of a brand focused on empowerment, Capossela explained. Nadella has revised Microsoft's mission statement to be in line with this idea, and it seems like the company has shaped its advertisements around this theme as well. The point is to have real people telling stories of how they use Microsoft, not just products that look good, he said.
"I think we're doing the right thing," Capossela added. "If people love the Surface, great, but we're not studying any metrics about being cool."
Microsoft's decades-long rivalry with Apple dates back almost as far as when the companies were founded. At one time, both tech giants were famous for trading insults: Former CEO Steve Jobs in 1995 remarked that Microsoft had "no taste" and was "unimaginative" with its ideas, while then-CEO Bill Gatestook major creditfor creating Apple's legacy Mac computer. 
Microsoft seems to have bigger plans than just taking on Apple. The company also released a new version of Windows 10 as part of its Surface event in Shanghai on Tuesday, showing that the tech giant is increasing its focus on the region. The new Windows 10 is tailored for the Chinese government, which marks a resolution from an otherwise rocky relationship. China in 2014 banned Microsoft 8 from government computers due to security risks, but Microsoft's executive vice president Terry Myerson said in a blog post that the company has "earnestly" cooperated with Chinese officials to mitigate these concerns. The move comes just as Huawei released three new laptops equipped with Windows 10 on Tuesday. 
Microsoft is also going after the Google Chromebook as part of its mission to regain footing in the sluggish laptop market. The new Surface Pro has several similar features to the Surface Pro 4, including a detachable keyboard and alcantara fabric, among other things. Beyond the specs, Microsoft wants the Surface Pro to become the preferred piece of hardware among educators -- a market that's currently dominated by the  Alphabet (GOOGL) unit's Google Chromebook.
Apple and Alphabet are holdings in Jim Cramer's Action Alerts PLUS Charitable Trust Portfolio. Want to be alerted before Cramer buys or sells AAPL or GOOGL? Learn more now.
This is where Microsoft may be trying to tie in its vision about empowerment, as Capossela said on Tuesday that it wants young consumers to view Microsoft products as a tool to help them from grade school to their first job.
"These are the workers, CEOs and inventors of our future," Capossela explained. "It's important to have today's students using Windows, Office, Minecraft and Skype."
To be sure, Microsoft has a lot of ground to cover, as more than half of U.S. primary and secondary-school students use Google applications like Gmail and Docs, while Chromebook use continues to surge just as quickly.
Apple and Alphabet are holdings in Jim Cramer'sAction Alerts PLUS Charitable Trust Portfolio. Want to be alerted before Cramer buys or sells AAPL and GOOGL? Learn more now.
Click here for the latest business headlines.
Editor's Pick: Originally published May 23.
Trending stories on TheStreet:
Dying Sears Could Be Quickly Running Out of Cash
Sears Mind-Blowing Loss and Evaporating Cash Should Only Question If It Could Survive
Amazon's New Bookstore in New York City Is More of a Showpiece Than Anything Else