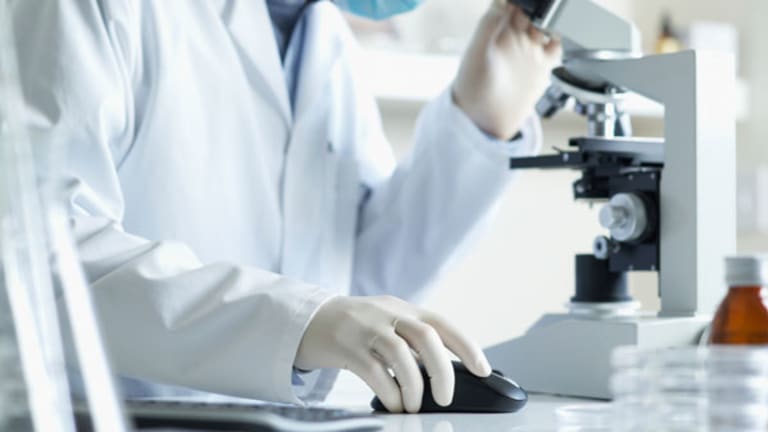 Amicus, Shire Team on Rare Gene R&D
They will jointly develop lead compounds for three disorders: Fabry, Gaucher and Pompe.
Amicus Therapeutics
(FOLD) - Get Amicus Therapeutics Inc. Report
announced it will jointly develop its lead compounds for three rare genetic disorders with
Shire
( SHPGY) in a deal valued up to $440 million.
Amicus will receive an initial licensing payment of $50 million and is eligible to receive an additional $150 million tied to clinical and regulatory approvals, $240 million in sales-based milestones and tiered double-digit royalties. According to the agreement, U.K.-based Shire will have the rights to commercialize the products outside of the U.S., and New Jersey-based Amicus will have the right to commercialize inside the U.S.
The companies will share equally the costs toward global approval of the Amicus compounds: Amigal, Plicera and AT2220. Amigal is in phase II development for Fabry disease, Plicera is in phase II clinical trials for Gaucher disease, and AT2220 is in phase I trials for Pompe disease. (Shire also owns Replagal to treat the genetic disorder Fabry disease.)
The diseases belong to a class of lysosomal storage disorders, which are caused by a mutation in the genes that control enzymes responsible for breaking down lipids, sugars and other materials that can build up to harmful levels in the body.
Genzyme
( GENZ) makes Cerezyme for Gaucher disease and said in October that it completed enrollment for the phase II trial of an oral therapy for Gaucher disease and has requested a meeting with the FDA to discuss an expedited development strategy, hoping to bring the drug to market in three to four years.
Genzyme also reported $53.6 million in sales from Myozyme therapy for Pompe disease and $104.6 million in sales of Fabrazyme, a recombinant form of a human enzyme to treat Fabry disease. It submitted an application to the FDA for approval of a larger-scale manufacturing process to supply Myozyme in the U.S., and it expects a decision from the agency in the first quarter of next year.
Amicus shares, which surged about 12% in early trading, were up 53 cents, or 3.3% at $16.61 around midday.