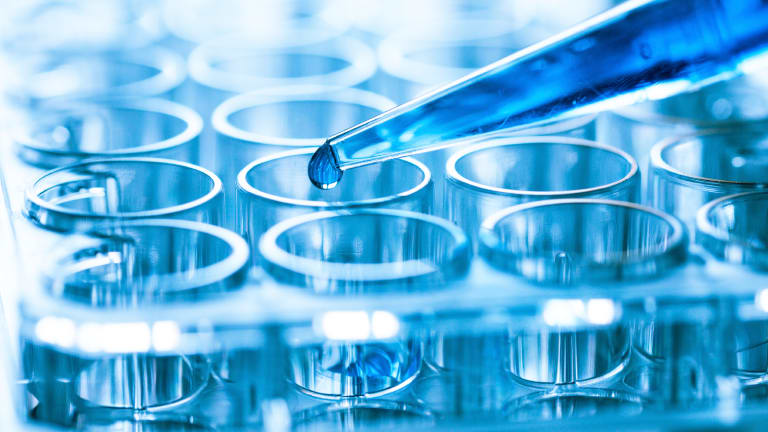 Publish date:
Amicus Acquires Scioderm, Adds Drug for Rare Skin Disorder to Pipeline
Acquiring Scioderm gives Amicus another late-stage orphan disease drug expected to have pivotal trial data in the first half of next year.
Acquiring Scioderm gives Amicus another late-stage orphan disease drug expected to have pivotal trial data in the first half of next year.
CRANBURY, N.J. (TheStreet) -- Amicus Therapeutics (FOLD) - Get Report is expanding its pipeline of rare-disease drugs by acquiring privately held Scioderm, the developer of a topical cream to treat patients with a genetic disorder that causes extremely fragile skin susceptible to blisters and tears from even the lightest touch.
Scioderm is being purchased for $229 million in cash and Amicus stock, according to deal terms announced by the companies Monday. Amicus will pay up to $618 million in additional cash and stock to Scioderm investors if future clinical, regulatory and sales milestones are met.
Acquiring Scioderm gives Amicus another late-stage orphan disease drug expected to have pivotal trial data in the first half of next year. Amicus' current lead product Galafold is under review in Europe for the treatment of Fabry disease and could be approved and launched commercially in 2016. The company plans to submit the same drug for U.S. approval before the end of the year, which also sets up the possibility of a 2016 approval and launch.
For much of the past year, Amicus has been looking for first-in-class or best-in-class rare-disease drugs to bring into the company, but "there are not a lot of opportunities out there," said John Crowley, Amicus' chairman and CEO. Eventually, Crowley found the desired acquisition target close to home. He's been a director on Scioderm's board for the past two years and got to know the company and the desperately ill patients its drug is trying to help quite well.
"We proposed this deal to [Scioderm] a few months ago. It was not a competitive process. We entered into an exclusive negotiating period and convinced them that we were best suited to drive them forward," said Crowley.
Scioderm's lead product Zorblisa is a novel, topical cream for the treatment of epidermolysis bullosa, a rare connective tissue disorder with no approved treatment options. EB can stem from different genetic mutations and vary in severity, but all EB patients have fragile skin that blisters and tears from minor friction or trauma. Patients with severe EB suffer from blisters and lesions covering a large portion of their bodies that can lead to infection, scarring and death. Children with the disease often die as young adults. EB patients are treated today with bandaging and bathing meant to keep torn skin and wounds free from infections.
Zorblisa works by inhibiting inflammatory response and promoting the growth of epithelial cells and tissues to promote wound healing, says Crowley.
An estimated 30,000 to 40,000 patients are currently diagnosed with EB in major markets, Amicus said. The company believes Zorblisa, if approved, could generate sales of $1 billion or more. The current palliative treatments of bandaging, wound cleaning and pain management for EB patients cost between $10,000 and $15,000 per month.
In 2012, Scioderm conducted a small study in which eight children with EB had Zorblisa cream applied to their entire bodies once per day. After three months, the treatment resulted in the closure of 85% of targeted chronic skin lesions and a 57% reduction in the body surface area of skin lesions and erosions. Based on these data, the U.S. Food and Drug Administration in April 2013 awarded Zorblisa a Breakthrough Therapy Designation for the treatment of EB.
In 2014, Scioderm conducted a phase IIb study comparing two doses of Zorblisa against a placebo cream in 48 EB patients. Overall, Zorblisa reduced the median time to complete wound closure by 67% compared to placebo but the difference was not statistically significant. In a subgroup analysis of the study data, the higher dose (6% concentration) of Zorblisa healed EB skin wounds significantly faster than placebo in EB patients with larger baseline wounds.
Scioderm brought these phase IIb data to the FDA and European regulators, which agreed on a phase III study design with a primary endpoint based on the findings from the phase IIb study. This phase III study, also randomized and placebo-controlled, is currently enrolling children and adults with EB. The study is designed to support approval filings in Europe and the U.S., dependent, of course, on positive results.
All biotech acquisitions come with risk. For Amicus, the risk in the Scioderm deal are the equivocal results from the 48-patient Zorblisa phase IIb study and the concern they raise about what might happen when the ongoing phase III study is completed.
Crowley expresses high confidence in Zorblisa but he's also a savvy deal maker, which is why the Scioderm acquisition is structured in a way that allows Amicus to hold back some of the total purchase price until Zorblisa delivers.
The $229 million upfront payment for Scioderm consists of $125 million in cash and $104 million in Amicus stock. Amicus will pay Scioderm shareholders another $361 million in cash or stock upon achievement of certain clinical and regulatory milestones and $257 million in cash or stock upon achievement of certain sales milestones.
EB qualifies as a rare childhood disease, so if Zorblisa is approved, Amicus will ask for and could obtain a Priority Review Voucher from the FDA. The voucher, which can be freely sold, is redeemable for a priority, six-month FDA drug review. The last Priority Review Voucher was sold by United Therapeutics (UTHR) - Get Report to Abbvie (ABBV) - Get Report for $350 million.
If Amicus is granted a Priority Review Voucher for Zorblisa and later sells it, the company could quickly recoup much of the money it laid out to buy Scioderm. But Scioderm shareholders will also be paid the lesser of $100 million or 50% of the proceeds from the sale of the voucher.
Amicus shares closed Friday at $14.87, ahead of Monday's Scioderm deal announcement.
Adam Feuerstein writes regularly for TheStreet. In keeping with company editorial policy, he doesn't own or short individual stocks, although he owns stock in TheStreet. He also doesn't invest in hedge funds or other private investment partnerships. Feuerstein appreciates your feedback; click here to send him an email.