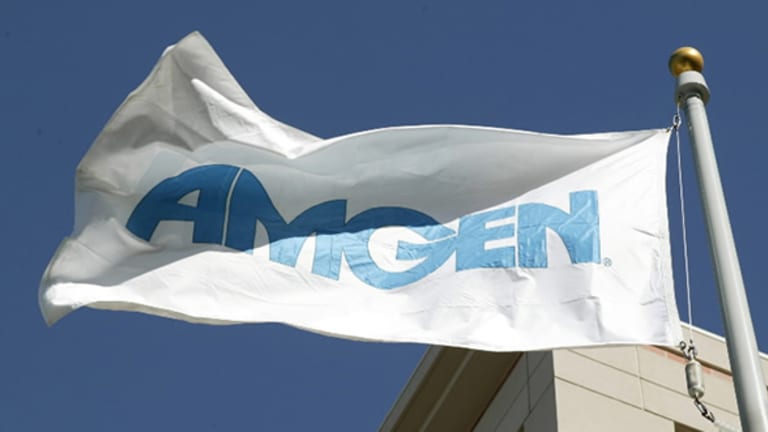 Publish date:
Amgen Wins Approval for Cancer-Killing Virus Drug
Amgen will market the new drug under the brand name Imlygic. Last Friday, Imlygic also won support from a committee of European drug reviewers.
Amgen will market the new drug under the brand name Imlygic. Last Friday, Imlygic also won support from a committee of European drug reviewers.
The U.S. Food and Drug Administration approved a first-of-its-kind drug from Amgen (AMGN) - Get Report which uses a re-engineered herpes virus to target and kill skin cancer cells by itself and with the help of a patient's immune system.
Amgen will market the new drug, known scientifically as talimogene laherparepvec, or T-Vec, under the brand name Imlygic. Last Friday, Imlygic also won support from a committee of European drug reviewers which should lead to approval there in the next few months.
Amgen said the average cost of Imlygic will be $65,000.
Investors and analysts have a modest outlook for Imlygic's commercial potential because the new therapy is suitable for only a certain segment of patients with skin cancer, or melanoma. Other types of cancer immunotherapies, most notably Bristol-Myers Squibb's (BMY) - Get Report Opdivo and Keytruda from Merck (MRK) - Get Report are already being widely used to treat melanoma patients.
Tuesday's FDA approval allow for the use of Imlygic as a standalone treatment, but Amgen is conducting follow-up studies to determine if combination therapy with other cancer immunotherapies can benefit patients more.
J.P. Morgan biotech analyst Cory Kasimov models $50 million in Imylgic sales next year for Amgen, growing to less than $300 million at peak. To put his Imylgic forecast in context, Amgen's 2016 total revenue is expected to exceed $22 billion.
Amgen reports third-quarter financial results Wednesday. Investors will be focused more on the early commercial launch of the cholesterol-lowering drug Repatha.
"Imlygic is the first clinical and regulatory validation of an oncolytic virus as a therapy, which Amgen is proud to bring to patients with a serious form of skin cancer. Not all melanoma patients currently benefit from available therapies, and Imlygic represents an important new option that can provide meaningful durable responses for patients with this aggressive and complex disease," said Sean Harper, Amgen's R&D chief, in a statement.
Imlygic is an oncolytic (cancer-killing) virus that started as a simple herpes virus, the kind that causes cold sores. The virus is genetically re-engineered in the lab to seek out and invade fast-growing cancer cells. The virus is designed to leave healthy cells, which don't divide as fast, alone.
Once Imlygic invades a cancer cell, it does what viruses typically do, hijack the cell's replication mechanics and starts making lots and lots of copies of itself. All these viral copies cause the cancer cell to burst and die.
On its own, this cell-bursting technique isn't enough to turn Imlygic into a viable cancer treatment, so two other alterations were made to the herpes virus.
First, a gene was removed from the virus that typically makes it invisible to a patient's immune system. With that gene gone, a patient's immune system is alerted when Imlygic starts replicating and bursting cancer cells. Second, a gene was inserted into the virus to produce a protein called GM-CSF that puts the immune system into a state of high alert. Now, immune system can more easily find the modified herpes virus inside tumor cells and mount a vigorous attack.
Doctors inject Imlygic directly into tumors unlike most cancer drugs that are administered orally (as a pill) or intravenously into a vein.
Tuesday's FDA approval is supported by a clinical trial in which Imlygic demonstrated superior and durable tumor shrinkage compared to a control arm of patients treated with GM-CSF along. In the same trial, however, Imlygic was unable to help skin cancer patients live longer although overall survival trended in the drug's favor.
Adam Feuerstein writes regularly for TheStreet. In keeping with company editorial policy, he doesn't own or short individual stocks, although he owns stock in TheStreet. He also doesn't invest in hedge funds or other private investment partnerships. Feuerstein appreciates your feedback; click here to send him an email.