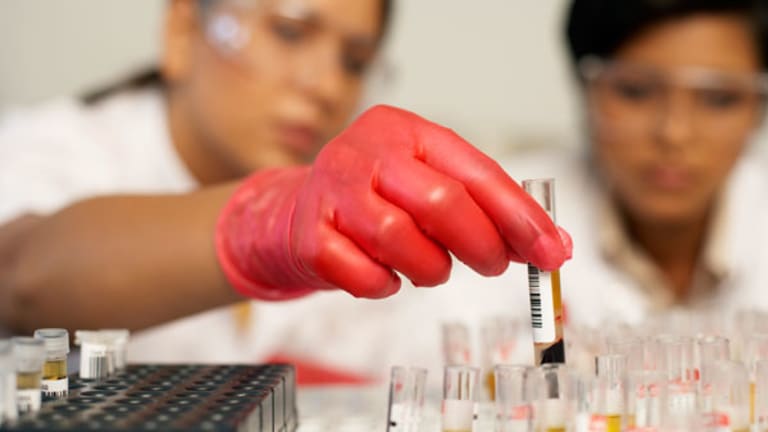 Amgen Trains Herpes Virus to Shrink Skin Cancer
Positive results from a late-stage clinical trial are the first for a so-called oncolytic virus.
THOUSAND OAKS, Calif. (
) -- A herpes simplex virus re-engineered to kill cancer cells shrank tumors in patients with skin cancer, according to results from a phase III study announced by
Amgen
(AMGN) - Get Free Report
on Tuesday night.
Amgen is the first to demonstrate that a so-called "oncolytic virus" can shrink tumors in a late-stage clinical trial, but it's too early to tell how successful the therapy might be or if it will be approved at all. The treatment of melanoma, or skin cancer, has become much improved in recent years with the approval of targeted therapies and immunotherapies from
Roche
(RHHBY)
and
Bristol-Myers Squibb
(BMY) - Get Free Report
.
Amgen shares rose $1.99, or 2%, to $94.40 in Wednesday morning trading.
In the Amgen phase III trial, more than 400 patients with advanced skin cancer were randomized to treatment with the engineered virus known as talimogene laherparepvec (T-Vec) or the immune booster GM-CSF. Sixteen percent of the T-Vec patients reported meaningful tumor shrinkage for at least six months, compared to 2% for patients treated with GM-CSF. The difference in durable tumor response was statistically significant in favor T-Vec, achieving the primary endpoint of the study.
Amgen said there was a trend towards T-Vec patients living longer in the study but the survival benefit over GM-CSF was not yet statistically significant. More mature survival data will be presented later this year, perhaps at the American Society of Clinical Oncology annual meeting in June.
Two recently approved skin cancer drugs -- Roche's Zelboraf and Bristol Myers' Yervoy -- both prolong survival significantly. In order to compete and perhaps even to be approved at all, Amgen will have to demonstrate that T-Vec can help skin cancer patients live longer and not just shrink tumors.
Amgen's development of T-Vec began in January 2011 when it acquired the therapy's original developer, BioVex, for $425 million plus another $575 million in potential future payments. In an interview at the time of the deal, Roger Perlmutter, Amgen's chief scientist, said, "What impresses me about about BioVex is the firm scientific approach the company has taken in engineering the virus but also the responses seen to date
in clinical trials."
Perlmutter has since left Amgen and is now leading drug research at
Merck
(MRK) - Get Free Report
.
T-Vec is an
oncolytic (cancer-killing) virus
that started as a simple herpes virus (the kind that causes cold sores) but was genetically re-engineered in the lab to seek out and invade fast-growing cancer cells. The virus is designed to leave healthy cells, which don't divide as fast, alone.
Once T-Vec invades a cancer cell, it does what viruses typically do, hijack the cell's replication mechanics and starts making lots and lots of copies of itself. All these viral copies cause the cancer cell to burst and die.
On its own, this cell-bursting technique isn't enough to turn T-Vec into a viable cancer treatment, so two other alterations were made to the herpes virus.
First, a gene was removed from the virus that typically makes it invisible to a patient's immune system. With that gene gone, a patient's immune system is alerted when T-Vec starts replicating and bursting cancer cells.
Second, a gene was inserted into the virus to produce a protein called GM-CSF that puts the immune system into a state of high alert. Now, immune system can more easily find the modified herpes virus inside tumor cells and mount a vigorous attack.
Doctors inject T-Vec directly into tumors unlike most cancer drugs that are administered orally (as a pill) or intravenously into a vein. In Jan. 2011, Perlmutter explained that BioVex wouldn't have been worth Amgen's investment if OncoVex proved capable of only eliminating tumors via direct injection. The tumor burden in advanced cancer patients, especially those with skin cancer, is too great to treat them effectively.
T-Vec, however, appears to activate a patient's immune system enough to target and eliminate tumors that are not directed injected. This so-called off-target or systemic response is what grabbed Amgen's attention and ultimately led to the company's decision to acquire BioVex.
Based on the data announced Tuesday night, Amgen took a significant first step in seeing its move into oncolytic virus development pay off. Few, if any, Wall Street analysts and investors, were expecting positive results from the phase III T-Vec study.
"While the regulatory strategy is current unclear, today's news is an incremental positive and T-Vec is not currently in our/Street models, due to overall low expectations for the drug and the practical/commercial limitations of immunotherapies. We await presentation at ASCO and OS data to better assess the clinical and commercial profile of T-Vec," said J.P. Morgan biotech analyst Geoff Meacham in a note to clients Tuesday night.
-- Reported by Adam Feuerstein in Boston.
Adam Feuerstein writes regularly for TheStreet. In keeping with company editorial policy, he doesn't own or short individual stocks, although he owns stock in TheStreet. He also doesn't invest in hedge funds or other private investment partnerships. Feuerstein appreciates your feedback;
to send him an email.