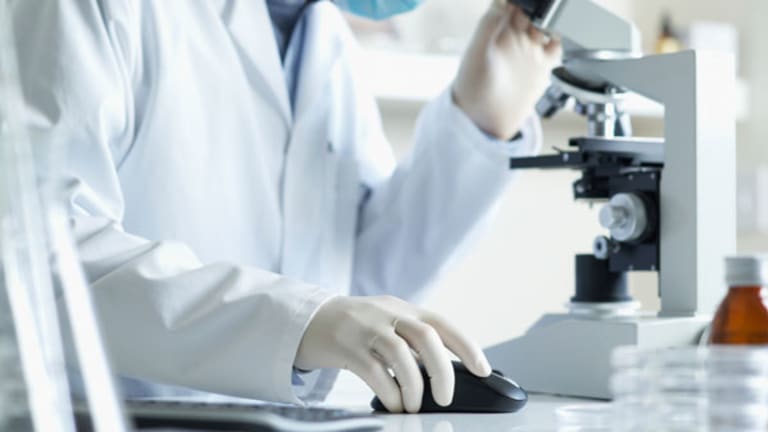 Amgen to Investors: We Feel Good
The biotech company's execs express enthusiasm for marketing prospects for bone-drug Dmab.
Investors listening to
Amgen's
(AMGN) - Get Amgen Inc. Report
business meeting Friday didn't receive answers to all of their questions about bone-drug denosumab (Dmab), but they did get a jolt of executives' enthusiasm for the drug and the company.
Amgen has suffered a major blow to its largest profit center, its anemia drug franchise, in recent years due to safety and reimbursement concerns and label changes. But executives indicated that, aside from one more 10% to 20% decline in sales of anemia drug Aranesp, they feel they have weathered the storm and are looking to build back their business with late-stage osteoporosis drug Dmab.
Executives said, in fact, that they now intend to become one of the top three performers in biopharma in the next five years. However, they declined two requests to expand on that comment.
"This is a rare opportunity in our industry," Amgen CEO Kevin Sharer said about Dmab, which he said had blockbuster potential both in postmenopausal osteoporosis as well as in a larger indication, bone loss that cancer patients experience due to chemotherapy.
presented promising late-stage study data in the third quarter and said on its recent
that it is close to filing an application for U.S. approval for the drug.
Street expectations for Dmab's market range widely, from $500 million to more than $2 billion, according to Cowen and Co.
One of the more pressing questions of the day, was how Amgen intends to market Dmab. Executives seemed fairly resolute on finding a capable and knowledgeable partner outside of the U.S. but are still undecided about the domestic route.
Amgen's Jim Daly, senior vice president of North American operations, said that the company is evaluating all partnership possibilities for Dmab, but the business rationale for partnering the drug was stronger in Europe than in the U.S.
"We think we can do it better in the U.S.," said executive Vice President of Global Commercial Operations George Morrow later in the call, noting that Amgen has "intense understanding" of reimbursement issues, while Big Pharma companies traditionally do not deal with reimbursement as much.
"We're taking it very seriously and we have an open mind," said CEO Sharer, offering that they were in the middle of a continuum with partnership on one side and go-it-alone on the other.
The launch will take about 500 to 1,000 reps, according to Amgen execs. As to what it will cost, Sharer said they would invest enough money to do it right. This will come from growth from the company's other products and also from within.
Sharer said that the company's culture has changed significantly as far as cost management since its anemia drug franchise took a beating.
"We think we can be very sophisticated in how we deploy ourselves," said Morrow, about management though the prospective drug launch.
The company outlined the possibilities for how
in the U.S. and Europe, another hot topic for investors and analysts.
Amgen didn't give exact guidance on when it will file its new drug application, but did say that it anticipate doing so at the end of 2008 or early 2009. "So far, so good," said Sharer about the filing process.
If approved, Dmab -- administered by a twice-a-year injection -- will compete with currently marketed osteoporosis treatments, which include generic versions of
Merck's
(MRK) - Get Merck & Company Inc. Report
Fosamax pill and a once-yearly intravenous drug from
Novartis
(NVS) - Get Novartis AG Report
, known as Reclast.
Amgen execs said Friday that of study participants they've surveyed, 77% prefer an every-six-month injection to oral biphosphonates like Fosamax.
CEO Kevin Sharer, when wrapping up the session said he'd hoped they gave, "A sense of the realism and optimism we have for the future," adding, "we feel good."
The company said it will give 2009 earnings and revenue guidance in January.
For more stories like this, check out
TheStreet.com's
Biotech Stocks section.