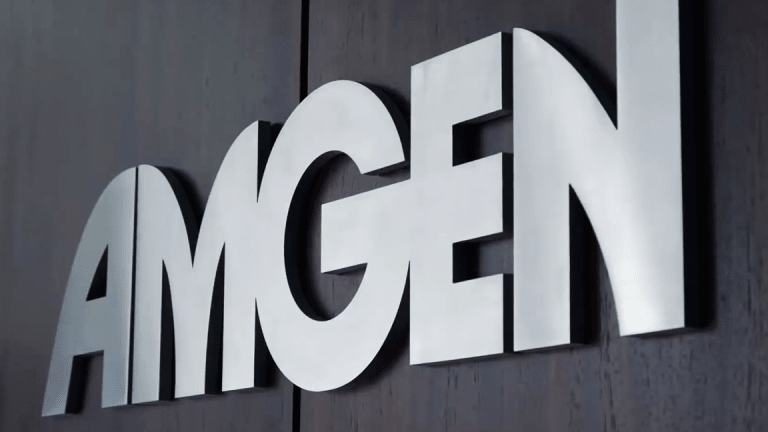 Amgen: This Beaten Down Blue Chip Is Priced To Own
As the healthcare sector sells off, it's time to look for attractive value. You don't have to go any further than Amgen.
The healthcare sector has been absolutely crushed lately.
Since the beginning of March, the iShares Healthcare ETF (IYH) - Get iShares U.S. Healthcare ETF Report has traded down roughly 7%, meaning that the healthcare space has nearly given back all of its year-to-date gains during the last month-and-a-half. This negative momentum appears to have been driven by a recent uptick in political rhetoric regarding healthcare reform.
Popular Democratic Presidential hopefuls appear to be campaigning on industry wide changes, including the potential transition to a single payer system. And while the Republicans aren't in that camp, they seem to agree that healthcare costs need to come down. It's rare to find an issue in Washington D.C. that has bi-partisan support, but healthcare reform seems to fit that bill. Because of this, the threat of legislation seems real and this is weighing on the sector as a whole.
I believe that this threat is real; however, that doesn't mean that the healthcare space should be avoided by investors. As the broader markets continue their climb higher, it's becoming more and more difficult for value investors to find investment opportunities. The beaten down healthcare space is certainly an area where they might look.
As always, it's important to pay attention to the fundamentals and see whether or not there are babies being thrown out with the bath water as the market sells off. At this point in time, healthcare reform is more speculative than anything and investors can use the fear it creates to buy attractively-valued blue chips like Amgen (AMGN) - Get Amgen Inc. Report .
A Blue Chip Baby In The Bathwater 
Amgen is one of the best growth stories of all-time in the stock market. This company went public back in June of 1983 at $18/share and since then the company has matured into one of the global leaders in the bio-pharmaceutical industry.
Amgen stock has split 5 times over the years. If you had bought just one share of the company back in 1983 at its IPO, you'd own 48 today; that total would be even higher if you had re-invested your dividends along the way.
And speaking of dividends, Amgen has become one of the best dividend growth companies in the market. The company initiated its dividend nine years ago and has increased it annually every year since. Amgen's 5-year dividend growth rate is 22.9%. And while we're on the subject of high growth rates, it's worth noting that over the last 35 years, Amgen has shown market-beating potential, providing investors with a compound average growth rate of more than 20% since its IPO.
Sure, much of the company's outstanding growth came in the early years. However, that doesn't mean that Amgen no longer has the ability to generate alpha. At Oppenheimer's annual healthcare conference, Amgen management highlighted the company's more recent performance trends, noting that from January 1, 2011 to December 31, 2018, it produced total returns of 320%, which dwarfed the S&P 500's 136% return. In addition, during the same time period, Amgen returned $57 billion to shareholders -- $40 billion in the form of share repurchases and $17 billion in shareholder dividends. 
Even though Amgen has been quite generous with regard to shareholder returns, it isn't some stodgy big pharma name content to rest on its laurels and become a high-yielding bond proxy. From 2011-2018, Amgen invested $48 billion, representing roughly 30% of its sales, back into the business. It spent $29 billion on research and development, made $13 billion worth of acquisitions, and dedicated $5 billion towards capital expenditures to ensure the modernization of its business.
A Well Diversified Portfolio
Unlike other names in the bio-tech/big pharma space, Amgen is not a one-trick pony. In 2018, Amgen had seven blockbuster drugs (drugs that produce more than $1 billion dollars in annual sales).
While Amgen's two largest drugs, Enbrel and Neulasta do represent roughly 42% of the company's sales right now,, management continues to believe that its mature brands will continue to generate strong cash flows for years to come, allowing it to continue to invest in growth, whether that's organically via the pipeline or elsewhere in the M&A market.
Amgen generated $10.6 billion in free cash flow during 2018 and currently sits on roughly $30 billion in cash. There has been consolidation in the healthcare space as of late and this cash hoard gives Amgen the opportunity to participate. This is a company with a lot of flexibility due to its strong balance sheet. Amgen has approximately $34 billion in debt outstanding; however, its strong cash flows allow it to maintain high-grade credit ratings.
And furthermore, while some fear upcoming patent cliffs and certain biologics being threatened by biosimilars elsewhere in the market, it's worth noting that Amgen has an attractive biosimilar business of its own. Right now, the company has two active biosimilar products and another eight in development that target current drugs that generated a combined $68 billion in worldwide sales in 2018. This is a big opportunity for Amgen to take market share away from its competitors and protect its bottom line.
Priced To Own
Right now, Amgen shares trade for roughly 13x earnings. Amgen's growth has certainly slowed in recent years; however, this is still an attractive price to pay for a blue chip name with a strong product portfolio and pipeline, a stellar balance sheet, and a safe, 3.1% dividend yield.
Amgen is a holding in Jim Cramer'sAction Alerts PLUS Charitable Trust Portfolio. Want to be alerted before Cramer buys or sells AMGN? Learn more now.
Nicholas Ward is long AMGN.