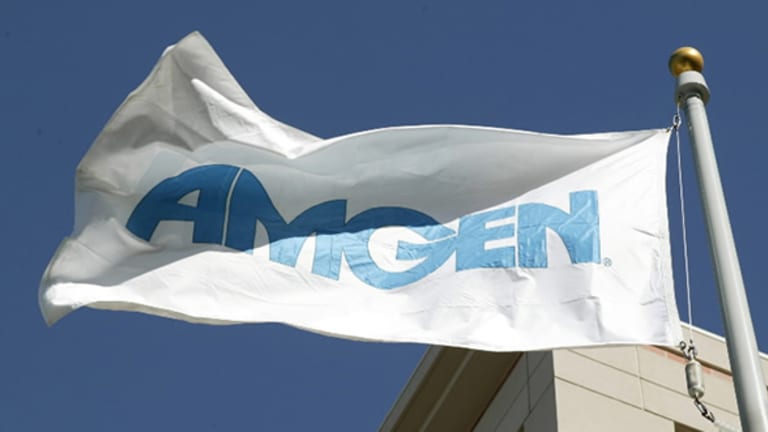 Amgen Shares Skyrocket on Surprise Patent Victory, Plus Jim Cramer's View
The Medicines Company, Alder also see share boosts on favorable implications. Jim Cramer weighs in on the implications for Amgen investors.
Updates to include Jim Cramer's comments.
A judge's decision in biotech Amgen's (AMGN) - Get Amgen Inc. Report lawsuit against Sanofi (SNY) - Get Sanofi Sponsored ADR Report and Regeneron (REGN) - Get Regeneron Pharmaceuticals, Inc. Report had a domino effect on share prices in the industry.
Amgen saw shares skyrocket ahead of market's open Friday, while Sanofi and Regeneron fell. Others, like The Medicines Co. (MDCO) - Get Medicines Company Report moved up ahead of market's open, while analysts believe Alder Biopharmaceuticals (ALDR) - Get Alder Biopharmaceuticals, Inc. Report  is poised to see a boost on the news. After opening at $159.89 Friday, up from from $153.25 late Thursday, the shares pulled back by late Friday to $156.87.
The judge in the case, which took place in the U.S. District Court of Delaware, barred the sale of Sanofi's new anti-cholesterol drug Praluent until two patents held by rival Amgen expire. Regeneron discovered the drug, ultimately licensing it out to Sanofi.
"This comes as a surprise, as most investors we've spoken with ultimately expected the companies would settle on some sort of royalty," JPMorgan analyst Cory Kasimov wrote in a note. 
This is a "big win" for Amgen, TheStreet's Jim Cramer, co-manager of the Action Alerts PLUS portfolio, said on CNBC's "Mad Dash" segment Friday. The company's drug could be a life saver for those with high cholesterol, he added.
Cramer noted that analysts at Goldman Sachs have already raised their price target to $218 from $202, while also pointing out that Amgen has a lot of cash overseas. Should a potential repatriation tax holiday occur, it would be very beneficial to the company.
As a result of the ruling, Cramer said the stock is a buy and argued that it can go much higher.
But technical analyst Bruce Kamich of Real Money, our premium site for active investors, cautioned that the stock "is probably hard to trade." Kamich wrote in hislatest analysis of AMGN's charts that the stock's rallies typically "only last one to two months, while the declines or pullbacks have run around two months and have been deep," as this chart shows:
Amgen "rallies only last one to two months while the declines or pullbacks have run around two months and have been deep," Kamich wrote.
Both Sanofi and Regeneron said they will appeal this decision. In the meantime, though, shares of both companies are falling. Sanofi fell 3.4% ahead of market's open, hitting $40.09 per share. Regeneron, meanwhile, fell 5.5% to $360.13 per share ahead of market's open.
But the news was a boost to Amgen, which saw shares rise nearly 5%. The price hit $160.33 ahead of market's open.
"We do believe Amgen offers investors a differentiated investment opportunity versus other biotechs given its capital allocation strategy and the relative consistency of its financial results," Kasimov said.
Kasimov has a neutral rating on both Regeneron and Amgen.
The Medicines Co. saw shares move higher ahead of market's open as well Friday. Shares were up nearly 6% Friday, hitting $37.13 apiece.
"We believe the ruling could have a favorable impact on Medicine Company's inclisiran given that it operates by a mechanism that is completely unique to the monoclonal antibody approach," Jefferies analyst Biren Amin wrote in a note.
He explained that the ruling will likely bar other companies from making monoclonal antibodies, or those that are cloned from immune parent cells, to target PCSK9, which is a molecule that indicates patients could have high cholesterol.
Because inclisiran works differently than Amgen's drug (it interferes with RNA, rather than acting as an antibody), Amin believes this will be a boon to the company.
The Medicines Co. isn't the only biotech that could see a boost from the news.
Analyst Brian Abrahams of Jefferies believes Alder Biopharmaceuticals could also see shares go higher. Alder is currently entangled in a similar case against Teva Pharmaceuticals (TEVA) - Get Teva Pharmaceutical Industries Limited Sponsored ADR Report over its migraine drug.
"The devil is in the details -- while the judge decided this case in Amgen's favor, most importantly, she decided the public interest component in favor of Regeneron -- which is a clear positive precedent for Alder," Abrahams wrote in a note.
Abrahams noted that Alder has already established case law on its side. He previously believed that Alder could lose the court case.
Alder moved up slightly Friday morning, hitting $23.02 per share. Meanwhile, Teva fell 4.5% on a poor earnings forecast, hitting $36.25 per share.