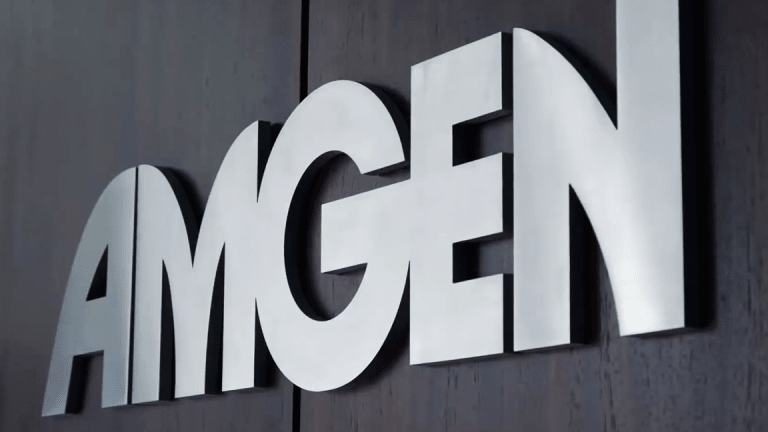 Amgen Still Has Plenty of Upside Potential
Amgen has a number of biosimilars under development. Plus, its newest drugs will drive revenue and cash flow.
Amgen  (AMGN) - Get Report  shares have been showing some weakness this month as the biotech firm heads into the release of its first-quarter earnings report after the close on Tuesday. 
After trending lower late last summer in 2018, the stock managed to hold the $180-$200 range for a while. But that changed this month when the stock fell to as low as $175 before trading recently at around $181.
At a valuation of 14 times earnings and 12 times forward earnings, Amgen looks like an attractive value play. And even though the debt levels are somewhat unfavorable, the company generates plenty of free cash flow. Plus, the company has a strong portfolio of products and drugs under development that could justify buying its stock.
Keeping Patient Costs Low
Since Amgen is sensitive to the political pressures on drug prices, it is managing its relationship with the government to reduce customers' out-of-pocket costs. Investors need to watch for the company maintaining a strong balance sheet and keeping cash flow steady despite the potential imposition on drug price hikes.
Amgen is managing cash flow levels by investing in the development of a number of molecules. With $10 billion in cash flow generation annually, the company has plenty of ways to spend it. It succeeded in bringing a record number of molecules into clinical studies in the last few years.
Within the one dozen of Amgen's BiTE molecules, AMG 420 (BCMA Bite) has plenty of potential. By targeting multiple myeloma, this immunotherapy uses the body's own immune system to attack the target cells. Last year, the company launchesd Amgevita, a Humira biosimilar, in Europe. The Herceptin biosimilar, Kanjinti, was also launched. Looking ahead, Amgen will expand its offering of biosimilars. Late-stage molecules, including Tezepelumab and Omecamtiv Mecarbil, will add meaningfully to results in two or three years.
Amgen acquired the BiTE platform from Boehringer Ingelheim in 2016, and the investment is now paying off. Innovation is going to only improve the prospects of delivering new products or technologies.
Growth Through Acquisitions
Amgen has a debt-to-equity ratio of 2.7 times. Though this level is manageable, the company does not want to add more leverage to its balance sheet, which will limit the company's acquisition opportunities. But Amgen's focus on smaller deals with companies having early-stage drugs in development should help it succeed in its multi-year transformation.
Having a disciplined approach in acquisitions actually lowers a long-term investor's risk in holding AMGN stock. Management is cognizant that anything it acquires has salaries and other operating costs that get passed on to the shareholder. Still, if an opportunity comes up and there are any businesses that complement Amgen's business, management will act on it.
Strong Product Growth
Products like Repatha, which lowers LDL or high cholesterol, grew 70% year-on-year. Reducing its drug price will lead to higher adoption and ultimately accelerate revenue growth. Equally impressive are starting sales of Aimovig, a drug that treats migraines. The drug benefited from 18,000 prescribers to 150,000 by the end of last year.
Sales of a number of oncology drugs -- Kyprolis, Nplate, Xgeva, and blinatumomab -- increased 14% year-over-year and represented $4.5 billion in sales.
Zev Fima, research analyst for Jim Cramer's Action Alerts Plus portfolio, which owns Amgen, says that "the main factors we'll be looking out for on Tuesday's earnings report and call are Aimovig trends, as competition has been increasing; Enbrel patent-related updates, though commentary may be limited we will look for management to quantify the potential outcomes of the ongoing case against Novartis; drug price dynamics given the ongoing pressure out Washington for lower drug prices; and share repurchase activity as well as additional capital return initiatives."
Valuation
Most of the DCF (discounted cash flow) models available on finbox.io suggest that AMGN stock trades at close to fair value, so investors could assume a worst case scenario to establish an entry price. In this scenario, governments would limit any price hikes and Amgen would face limited success in drug launches. Plus, assume Amgen's revenue will only grow by no more than 1.5% in the next five years. Amgen would have an upside of around 10%.
If investors look at price targets from Wall Street analysts, the upside case is higher. Fifteen analysts covering Amgen stock have an average price target of $214, according to Tipranks.
The Takeaway
Amgen and other drug manufacturing stocks are out of favor. This negative sentiment may reverse course if the government does not end up imposing any price hike limitations against the companies. That would allow Amgen's stock to rebound, potentially giving investors a return of at least 10%.
The author does not hold a position in any of the aforementioned securities.