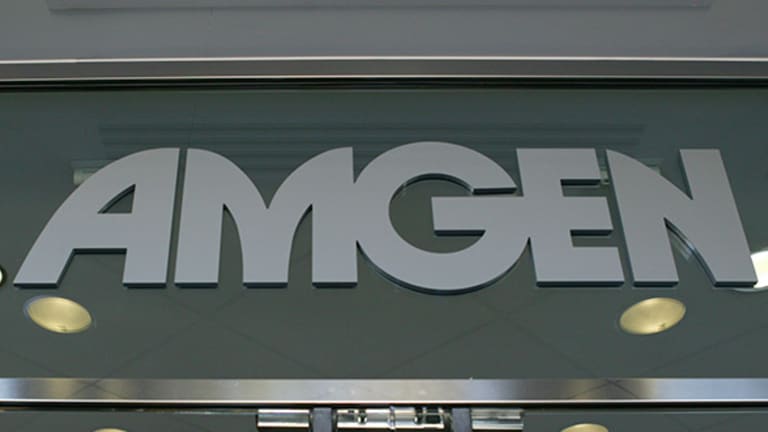 Amgen Earnings Reveals Ugly Truth About Drug Pricing and Sales 'Growth'
It's common for drug companies to raise the price of their existing products once or twice per year, every year. The price increases far outpace the rate of inflation.
BOSTON (TheStreet) -- On Tuesday night's first-quarter earnings call, Amgen (AMGN) - Get Free Report said Enbrel sales totaled $1.1 billion, or 13% higher than the year-ago quarter. Enbrel is an old rheumatoid arthritis drug (it received U.S. approval in 1998) so generating low-teens sales growth after all these years is pretty impressive, right?
It is, until you examine how Amgen delivered those first-quarter Enbrel sales. A closer look reveals an ugly truth about how drug companies sometimes generate sales "growth" for mature drugs. The fact is that Enbrel isn't being used by more patients. The drug just costs more. A lot more.
Rheumatoid arthritis is a chronic condition, and so too are the regular, consistent price increases Amgen relies upon to keep Enbrel sales growing.
The price and pricing of prescription drugs has come under intense scrutiny recently, so it seems only a matter of time before critics start to ask questions like, "Amgen, you keep raising the price of Enbrel without making any improvements to the drug. Why should rheumatoid arthritis patients and their insurance companies pay more for the same benefit?"
This slide, from Amgen's earnings call, brings the point home well:
The 13% increase in first quarter Enbrel sales was driven mostly by a 19% increase in the drug's price. Unit volume -- the amount of Enbrel actual sold in the quarter -- fell 2%. Excluding the price hike and inventory increase, Enbrel sales would have dropped 8% year over year.
It's common for drug companies to raise the price of their existing products once or twice per year, every year. The price increases far outpace the rate of inflation.
In the first quarter of 2015, the average price of 140 branded (prescription) drugs rose 12.1% compared to the year-ago quarter. For all of 2014, branded drug prices rose 11.5% over 2013, according to data compiled by Credit Suisse.
"We believe branded manufacturers will continue to increase prices in the U.S.... as branded manufacturers look for ways to offset volume declines due to an accelerating patent expiration schedule as well as mandatory price declines in Europe," Credit Suisse writes.
Translation: Faced with declining demand for their older medicines, drug companies simply maintain (or even increase) revenue growth by raising the prices of their products. I single out Amgen above, but it's certainly not alone.
From January through April, Acorda Therapeutics (ACOR) - Get Free Report raised the price of Ampyra by 11%. Biogen (BIIB) - Get Free Report hiked the price of Avonex by 5.5%. Celgene's (CELG) - Get Free Report Abraxane cost 2.5% more. Gilead Sciences' (GILD) - Get Free Report Atripla price tag rose twice -- 3.6% in January and then another 4.2% increase in April, according to data from Cowen.
Same drugs, higher prices. Imagine if Apple (AAPL) - Get Free Report increased the price of the iPhone every six months but made no changes or improvements to its features. This is what the drug industry does year after year.
Adam Feuerstein writes regularly for TheStreet. In keeping with company editorial policy, he doesn't own or short individual stocks, although he owns stock in TheStreet. He also doesn't invest in hedge funds or other private investment partnerships. Feuerstein appreciates your feedback; click here to send him an email.