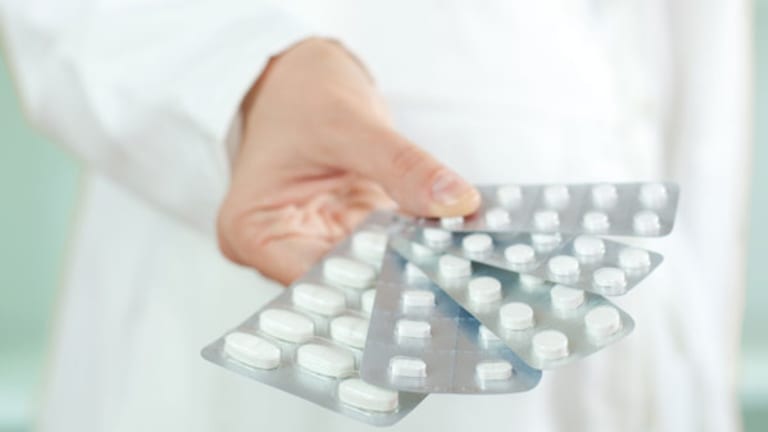 Amgen, Cytokinetics Report Mixed Results for Heart Failure Drug
The mid-stage study is one of two that Amgen and Cytokinetics will look at before deciding if the heart failure drug is moved into larger, phase III studies.
The mid-stage study is one of two that Amgen and Cytokinetics will look at before deciding if the heart failure drug is moved into larger, phase III studies.
AMSTERDAM (
) -- An experimental heart failure drug from
Amgen
(AMGN) - Get Report
and
Cytokinetics
(CYTK) - Get Report
failed to significantly improve shortness of breath in hospitalized patients, according to results from a mid-stage study announced Tuesday.
But heart failure patients treated with the highest dose of the drug, known as omecamtiv mecarbil, were able to breathe easier and showed sufficient, additional clinical improvements for Amgen and Cytokinetics to call the overall study outcome "encouraging."
The companies are waiting for results from a second mid-stage study of omecamtiv mecarbil expected early next year before deciding whether to invest considerable time and money to conduct phase III studies in heart failure patients.
Cytokinetics shares are down 25 percent to $7.84 in early Tuesday trading. Amgen shares are up 1% to $111.04.
The current mid-stage study, known as ATOMIC-AHF, enrolled 613 patients hospitalized with acute heart failure -- a serious and life-threatening condition in which the weakened muscles of the heart are unable to pump blood properly. Patients in the study were randomized to one of three doses of omecamtiv mecarbil given intravenously or a matching placebo injection over 48 hours.
Episodes of dypsnea, or shortness of breath, often force heart failure patients to be admitted to the hospital, so the main goal of the ATOMIC-AHF study was to determine if omecamtiv mecarbil could improve dypsnea response compared to placebo.
The dyspnea response rates were 42 percent, 47 percent and 51 percent in the low, middle and high dose omecamtiv mecarbil patient groups, compared to 41 percent in the pooled placebo group. The difference, while favoring omecamtiv mecarbil, was not statistically significant, so the primary endpoint of the study was not met.
The negative result, while disappointing, was not surprising necessarily. Amgen and Cytokinetics had been warning investors not to expect a statistically significant improvement in overall dypsnea response because the lowest dose of omecamtiv mecarbil tested was thought to be sub-therapeutic. Instead, the companies hoped to show improvements in dyspnea response that correlated with higher blood levels of omecamtiv mecarbil.
Improvement in dypsnea was reported at the highest omecamtiv mecarbil dose compared to its paired placebo -- 51 percent vs. 37 percent. Amgen and Cytokinetics said this difference was statistically significant.
An improvement in dypsnea will not be enough to get omecamtiv mecarbil approved in the U.S. or Europe. For approval, the drug will need to improve survival or significantly lower hospital re-admission rates in heart failure patients. Amgen and Cytokinetics incorporated some of these clinical endpoints in the ATOMIC-AHF study but with mixed-to-disappointing results.
The incidence of worsening heart failure within seven days of initiating treatment was 17 percent in the pooled placebo group compared to 13 percent, 8 percent and 9 percent in the low, middle and high doses of omecamtiv mecarbil, respectively. The difference, while trending favorably in the drug's direction, was not statistically significant.
There was almost no change in the median length of hospital stay for patients in the study. Placebo patients were hospitalized for a median of eight days, the same as patients treated with the highest dose of omecamtiv mecarbil. Patients treated with the low and middle dose of the drug were in the hospital for a median of eight and seven days, respectively.
Days alive out of hospital through day 30 in the pooled placebo group was 22 days, compared with 23 days for the low and middle doses of omecamtiv mecarbil and 22 days for the high dose.
Eighteen patients died during the study -- 10 treated with placebo and eight treated with omecamtiv mecarbil. (One death in the low dose, four in the middle dose and three in the high dose.)
Seven patients treated with omecamtiv mecarbil suffered heart attacks during the study compared to three patients on placebo (2.3 percent vs. 1.3 percent.) Five of the drug-related heart attacks occurred in patients treated at the highest dose.
A further safety analysis showed no relationship between increasing blood levels of omecamtiv mecarbil and increases in troponin, a biomarker for heart-muscle damage. Still, the imbalance in heart attacks observed in the study has prompted Amgen and Cytokinetics to add heart attack as an identified risk for omecamtiv mecarbil, Amgen said.
Cytokinetics CEO Robert Blum, in an interview, said the 1.6 percent incidence of heart attack observed in the study overall was considered reasonably low by study investigators who met Monday in Amsterdam to discuss the study results.
The ATOMIC-AHF study is being presented Tuesday at the annual meeting of the European Society of Cardiology.
"We're impressed and pleased with the study results because the drug behaved consistent with what we've seen in previous studies," Blum said from Amsterdam.
Omecamtiv mecarbil is designed to increase the amount of time the heart is in its contraction phase, or pumping blood to the rest of the body, without causing significant side effects or increased risk of death. Currently approved drugs known as inotropes also boost cardiac output but are associated with an increased risk for heart arrhythmia and deaths.
Amgen and Cytokinetics are developing an intravenous and pill form of omecamtiv mecarbil. The idea is that patients hospitalized with an acute exacerbation of their heart failure could be stabilized quickly with an intravenous form of the drug, then given pills to take when they're sent home. Hospital re-admission of heart failure patients is a significant medical problem, so any drug that could keep patients stable and out of the hospital could see wide use.
More than 5 million people in the U.S. are diagnosed with heart failure and the cost to treat the disease totaled almost $40 billion in 2010, with much of the expense coming from hospitalizations.
-- Reported by Adam Feuerstein in Boston.
Follow Adam Feuerstein on
.
Adam Feuerstein writes regularly for TheStreet. In keeping with company editorial policy, he doesn't own or short individual stocks, although he owns stock in TheStreet. He also doesn't invest in hedge funds or other private investment partnerships. Feuerstein appreciates your feedback;
to send him an email.